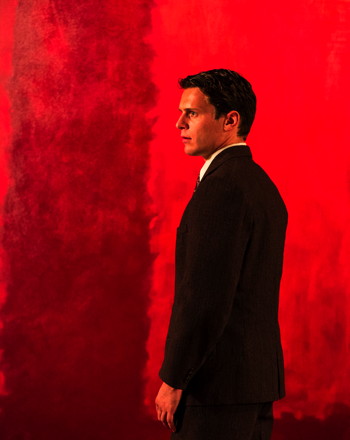 It's refreshing to experience a play about ideas, and not simply character or story. John Logan's incendiary play Red is a two-character bio-drama about abstract expressionist fine artist Mark Rothko in conversation with his young assistant.
Set the 1950s, the action takes place in painter Rothko's vast and airy New York studio. Industrial, barely furnished and mostly gloomy (Rothko preferred low light) the huge space is littered with large canvases splashed with red paint in various configurations, plus a canvas hanging rack. Scenic and costume designer Christopher Oram captures the loneliness and chilliness of the artist's dingy and solitary workspace.
Alfred Molina takes on the arrogant, domineering and dismissive artist with verve, opining wildly and with great vehemence and unnerving volatility. Jonathan Groff plays Ken, a timid and young aspiring artist who works as Rothko's assistant on menial tasks for the duration of the play, which spans about two years. Rothko occasionally imparts wisdom, at times explaining his process, at other times making cryptic comments such as, "There's tragedy in every brushstroke."
The play's main driving focus is the commission a series of paintings Rothko has undertaken to complete for the prestigious new Four Seasons restaurant in New York.
There are a handful of gripping speeches, including a lively discussion about Rothko's place in art history. When Rothko berates the commerciality of the emerging pop artists, such as Lichtenstein and Warhol, Ken reminds him how in his day he and contemporary artist Jackson Pollock, exemplifying abstract expressionism, contemptuously ejected the Cubist painters from their thrones.
The most riveting speech is when Molina scathing describes his dining experience once he finally visits the Four Seasons restaurant, the proposed site of his series of murals.
And while with a play about a great painter you don't necessarily expect to see any actual painting being done, the prepping of a massive canvas is demonstrated by the pair in an energetic and choreographed bout that leaves them splattered with red paint. It's thrilling stuff!
John Logan's Red is worth seeing.
Photos by Craig Schwartz.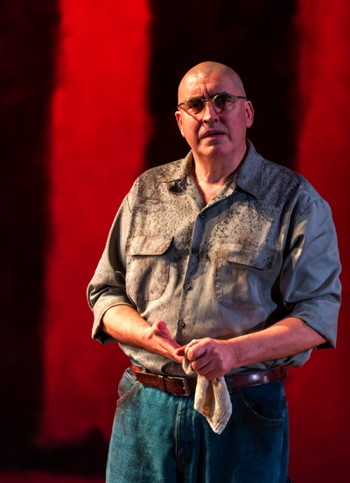 Red
Mark Taper Forum
601 W. Temple Street #111,
L.A., CA 90012
Performances:
Runs until September 9, 2012.
Fridays at 8pm;
Saturdays at 2:30 and 8pm;
Sundays at 1 and 6:30pm.
Running time:
Approximately 90 minutes, no intermission.
TICKETS:
$65.00—$100.00
Box Office:
Tickets and information are available here and at the Center Theatre Group box office, located at the Ahmanson Theatre, or by calling 213-628-2772.