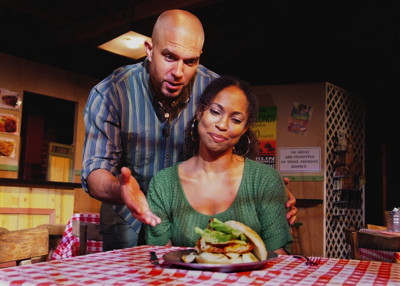 Gentle readers!
My theater review this week for the LA Weekly is of Elmina's Kitchen, a drama by Kwame Kwei-Armah, now playing at the Lost Studios on La Brea.
Click here to go to the LA Weekly's theater page and scroll down a little bit.
~ OR ~
You can just read it here!!
Happy reading!
Elmina's Kitchen
In Kwame Kwei-Armah's drama about three generations of West Indian males, set in a rough London neighborhood, central character Deli (Terrell Tilford) stumbles around like the washed up former boxer, ex con that he's become. Bringing a leaden, world-weariness to his performance, Tilford plays a man dogged by misfortune, beaten down at every turn.
As Deli waits for his brother to be discharged from prison, he strives to guide his cocky son away from an alluring life of crime. Eternally pessimistic, Deli's incapable of responding to sexual overtures from Anastasia (Tracey A. Leigh), a feisty woman who cruises into his café bar looking for a job, armed with schemes to revitalize his business. Meanwhile the café's only customer, local thug and 'wide boy' Digger (Noel Arthur), brings trouble to his door.
Kwei-Armah crams his play with colorful, sometimes amusing supporting characters but his scattered tale lacks drive and originality, meandering along an all too predictable trajectory.
Elmina's Kitchen: Directed by Gregg T. Daniel.
Starting Aug. 11, Fridays, Saturdays, 8 p.m.; Sundays, 4 p.m. Continues through Sept. 9, tickets here.
Lost Studio,
130 S. La Brea Ave.,
Los Angeles,
323-871-5830.