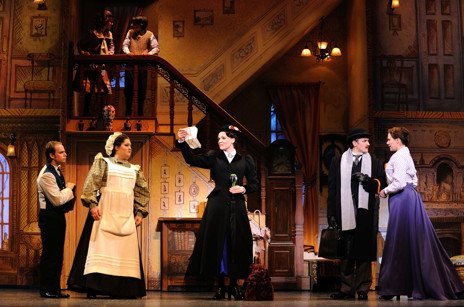 The beloved tale of the efficient Victorian nanny Mary Poppins is back at the Ahmanson Theatre for a four-week run. With its magnificent staging, gorgeous costumes and sets and complicated song and dance numbers, the Tony-award nominated musical is pure magic and a show every child should experience.
Mary Poppins is a nanny of mysterious origins who unexpectedly arrives at the Banks home in Cherry Tree Lane, London. She takes charge of the unruly and obstreperous Banks children, Jane and Michael (played alternatively by Marissa Ackerman & Cherish Myers and Zach Timson & Zachary Mackiewicz), and during her brief stay teaches them valuable lessons with a light and magical touch.
From the moment the quaint two-storey set of the Banks' home trucks downstage and then opens and unfolds like a pop-up storybook, you know you are in for a treat. Scenic and costume design is by Bob Crowley and these elements virtually transport you into this darling storybook world. The fun and frothy songs are almost non-stop throughout and include treasures such as "Chim Chim Cher-ee," "Supercalifragilisticexpialidocious," "A Spoonful of Sugar," "Feed the Birds," and many more.
Based on P.L. Travers' cherished stories, illustrated by Mary Shepard, and on the classic 1964 Walt Disney film, Mary Poppins, the stage play features the Academy Award®-winning music and lyrics of Richard M. Sherman and Robert B. Sherman.  The stage production has been created, in collaboration with Cameron Mackintosh, by Academy Award®-winning screenwriter Julian Fellowes, who has written the book, and the Olivier Award-winning team of George Stiles and Anthony Drewe, who have composed new songs and additional music and lyrics.
Singing prettily, Rachel Wallace does a fantastic job as Mary Poppins, conveying the brisk and bossy Nanny with just the right amount of sweetness and charm. In her chic, ankle-length overcoats and sensible, flat hat, Wallace looks as if she stepped straight out of the 1964 Disney film that starred Julie Andrews.
A highlight is the scene when Mary Poppins moves into the children's attic room, magically extracting all manner of items, including a mirror and a pot of tea, from her voluminous carpet bag (shades of Felix the Cat).
There are numerous set changes that involve shifting painted flats and magical reveals. Some of the sets are ingeniously painted backcloths, including a trompe l'oeil 'set' for the banking establishment where Mr. Banks works. Another marvelous sequence is the transformation of the park from a glum, monochromatic vista on a rainy day to a vibrant riot of colors and flora. Here the stone statues come to life to perform a delightful ballet. The entire cast is excellent, but it was the gifted dance ensemble that really impressed with their energy and crisp dancing.
Playing Mary Poppin's love interest is Nicolas Dromard as Bert, and he leads a exciting tap routine of chimney sweeps on the rooftop.
All in all a delightful show.
Production photos by Deen Van Meer.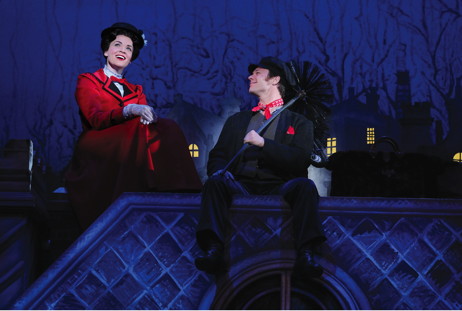 Mary Poppins
Ahmanson Theatre
135 N. Grand Street,
Los Angeles
Performances:
Runs until September 2, 2012
Tuesdays through Friday at 7.30pm *** NOTE early start time.
Saturday and Sunday at 2pm and 7.30pm.
*No performances Mondays.*
Running time:
Approximately 2 & ½ hours, including a 15 minute intermission.
TICKETS:
$20.00—150.00
Box Office:
Purchase tickets here, or at the Center Theatre Group box office located at the Ahmanson Theatre, or by calling (213) 972-4400.