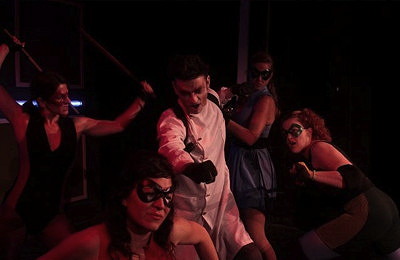 A chop-socky cartoon on stage, Hearts Like Fists, written by Adam Szymkowicz, is an action-packed adventure romance set in the surreal world of female crime-fighting superheroes. Nurses by day, skilled warriors by night, a band of ferocious and feisty femmes battle the dastardly and elusive Dr. X and his deadly war against romance.
The one act, comic book-inspired satire starts on a serious note, with the specter of our demonic villain looming to explain his tortured back-story. Clutching a fat syringe loaded with neon blue serum and naked to the waist (also sporting a seriously cut physique – rarw!) Keith Allan's grim monologue is disturbing and spooky, thanks to some atmospheric music by Michael Teoli and sound design by Mark McClain Wilson.
Ingeniously, director Jaime Robledo then stages a series of freeze frames and snippets of the ensuing plot, whetting our appetite for the story that is to follow. It's exactly like flicking through a comic book.
The ominous mood gives way to broader comedic scenes. While the often hard-boiled dialogue is packed with laugh-out-loud moments, serious themes (murder, unrequited love…) lurk beneath.
While a trio of crime fighters (played well by Alysha Brady, Alina Phelan and Jennifer Lee Weaver) are eluded by the murderous night stalker Dr. X, a new recruit Lisa (Lauren Dobbins Webb) is torn between pursuing a new romance with dreamy doctor Peter (Rick Steadman) and answering her calling to be superhero. Can she be in a relationship as well as saving lives? Meanwhile, Peter has his own obsession…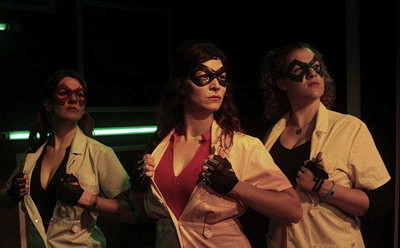 Robledo brings his usual ingenuity to the fluid staging of numerous brief scenes, coaxing some hilarious line-readings and reactions from his talented cast. Keith Allan is especially magnificent as the arch villain.
Hearts Likes Fists features several fantastic and intricate fights, choreographed by Andrew Amani, that involve cutthroat timing synched to multiple technical cues (there are over 400 for this fast-paced, 100-minute show). The climactic showdown has it all – aerial maneuvers, flying leaps, slow-motion action and even pussy power!
Don't miss this show!
Adam Szymkowicz' play is making its world premiere at Theatre of NOTE.
Production photos are by Mandi Moss.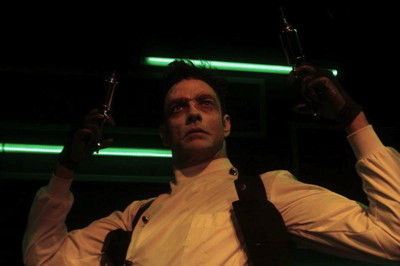 Hearts Like Fists
1517 N. Cahuenga Blvd., (just north of Sunset) in Hollywood.
Performances:
Runs until Saturday, September 1, 2012
Fridays and Saturdays @ 8pm; Sundays @ 7pm
Running time:
Approximately 1 hour 40 minutes, no intermission
TICKETS:
$25.00; Seniors, Students: $20.00
Box Office:
Purchase tickets here or call (323) 856-8611
About Theatre of NOTE:

We at Theatre of NOTE are an enduring ensemble of diverse theatre artists in the heart of Hollywood who inspire, inform, and ignite our audiences by discovering courageous voices and creating entertaining, provocative, and revelatory theatrical works.

NOTE was founded in 1981 by Kevin Carr, along with Kitty Felde, Marc Gordon, Melanie MacQueen, Heather Carr, & Ted Parks as a forum for original one-act plays (N.O.T.E. stood for "New One-Act Theatre Ensemble"), and to provide a stimulating environment for new playwrights. Since its inception, NOTE has been through several transitions, but the integrity of the original idea has always remained intact. We premiere an average of four main stage productions a year, by writers such as W.H. Auden, Bertolt Brecht, Sheila Callaghan, Christopher Kelley, Tony Kushner, Jennifer Maisel, Leon Martell, Murray Mednick, Dennis Miles, John O'Keefe, Erik Patterson, Bill Robens and Jacqueline Wright.

NOTE also upholds a tradition of acclaimed late-night shows, first launched in 1988, in addition to the now-annual, notorious, celebrity-crowd art magnet, The Hollywood Performance Marathon. We have earned consistent commendation from the Los Angeles press and national acclaim from such publications as American Theatre. In all, NOTE has accumulated almost 100 honors and nominations, including awards from the LA WEEKLY, Backstage West, L.A. Stage Alliance (Ovations), and PEN International. Thanks to over 25 years of advancing theatre in Los Angeles, NOTE has received generous government and corporate support, including grants from the California Arts Council, the Cultural Affairs Department of Los Angeles, the Flintridge Foundation, the Libby Holman Foundation, the Los Angeles County Arts Commission, Robinson's/May, Sedgwick James Inc., the Audrey Skirball-Kenis Foundation, Verizon, Time Warner and, most recently, The Hollywood Chamber of Commerce in recognition of our Young Writers Project (www.myspace.com/futureofwords), an outreach program benefiting local high school students.