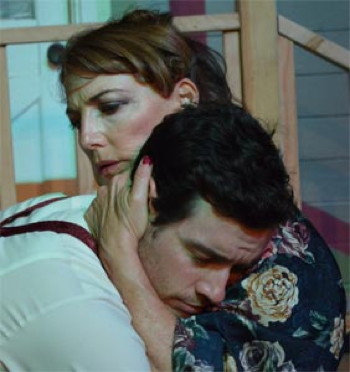 Hello readers!
My theater review this week for the LA Weekly is of Arthur Miller's classic tragedy All My Sons.
Click here to go to the LA Weekly's theater page — it's at the top this time!
~ OR ~
You can just read it here!!
Happy reading!
All My Sons
Often staged, Arthur Miller's 1947 tragedy is a modern American classic for good reason: Its powerful message endures. On the surface, All My Sons is a slice of post-WWII, small-town family life. Beneath that homespun layer lurk cold-hearted monsters.
Joe Keller (Ronald Quigley) is an old-fashioned patriarch and self-made industrialist whose factory and fortune have prospered thanks to military contracts. His domineering wife, Kate (Caroline Westheimer), refuses to accept the loss of their eldest son, a pilot missing in action. When youngest son Chris (Patrick Cavanaugh) brings home his lost brother's fiancée, Ann (Jacqueline Hickel), dark family secrets are revealed, with devastating results.
While Miller's play is almost actor-proof, performances here are unremarkable until an impassioned finale to Act 2, though Leona Britten is good as the venomous and gossipy neighbor.
A richly complex drama, All My Sons resonates as a scathing indictment of greed and corruption and all who profit from war.
Dreamhouse Theater Company
5126 Lankershim Blvd.,
N. Hlywd.;
Fri.-Sat., 8 p.m.;
Sun., 7 p.m.;
through Sept. 3, 2012