Dearest readers,
Here is a link to my in-depth article for LA Stage Times where I chatted with Jaime Robledo, the director of an exciting new show, Hearts Like Fists, which opens at Theatre of NOTE in Hollywood this Friday.
You can go here to read it.
~ OR ~
You can just read it here!!
Happy reading!
Jaime Robledo interview – article for LA Stage Times
On the directing page of Jaime Robledo's personal website a quote leaps out –  "I seek out high concept projects with a smart, twisted sense of humor."
It's a guiding objective that is very much in evidence in the work of this imaginative 36-year-old writer, director and actor.  Robledo's star is ascending. He's receiving accolades for directing the current hit at Sacred Fools Theater, Stoneface: the Rise and Fall and Rise of Buster Keaton. Written by actor/singer/playwright Vanessa Claire Stewart, Stoneface stars her husband French Stewart, who plays an older version of the iconic movie comic whose career was almost destroyed by alcoholism, while Joe Fria appears as the younger Keaton.
Now Robledo is directing Hearts Like Fists, an ambitious one-act comedy about female superheroes opening Friday at Theatre of NOTE. In October Robledo will direct Kong: A Goddamn 30-foot Gorilla for SkyPilot Theatre. He's currently writing the sequel to last year's highly acclaimed Watson: The Last Great Tale of the Legendary Sherlock Holmes. Besides writing it, Robledo will also direct the sequel, entitled Watson and the Dark Art of Harry Houdini— scheduled to open at Sacred Fools in June 2013. It's shaping up to be a busy year for the talented artist.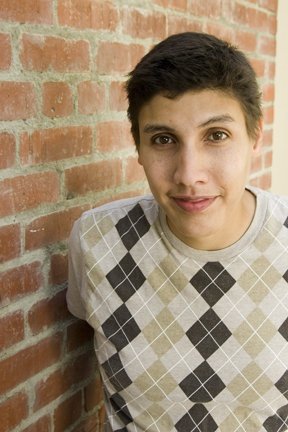 Sketch Comedy Roots
Robledo graduated with a BA in theater from the University of Mississippi in 1998 and moved to LA shortly thereafter. He says he's been "bouncing around" Sacred Fools since 2003, admitting, "I wasn't really a company member until about 2007-2008."
Making the transition from acting to writing and directing was a natural evolution of his skills. Robledo formed a sketch comedy troupe with Henry Dittman and Scott Leggett (stars of Watson) called Prank. Recalls Robledo, "It was me, Henry, Scott and a guy named Rob Hubler who has since switched careers. We did that for a time, just trying stuff out." The Prank team appeared at various spots around town, including the Comedy Store in LA, where it presented an hour-long evening with a conceptual thread, with one sketch flowing into the next.
"Every other week we'd have a new hour-long show. We would rehearse constantly – just us in Scott's apartment trying out material. 'No, it's not good, let's re-work that.' And I loved doing that." That was when Robledo realized he had a knack for writing and directing. "I've never stopped," he grins a little bashfully.
Around 2003, he parlayed those sketch-writing skills into a late-night series at Sacred Fools called Crime Scene, which was the precursor to the company's late-night Serial Killers series. "Then I got into Serial Killers and I just took to it."
Serial Killers is a cutthroat showdown between episodic plays. Describes Robledo, "At its most basic, it's 'five plays enter, three plays leave.' You have from five to 10 minutes to tell a chapter of your story and then the audience votes to see which three of the five come back the next week to continue their story. If you lose after the first week, then you write something else. You continue until you're voted out, or you have a play-off where you may get to win, essentially. You finish your story and then the audience votes for the final serial."
Watson: The Last Great Tale of the Legendary Sherlock Holmes was developed in this intense, hothouse environment where the writers are given only six days to write, cast, rehearse and tech each new chapter in their saga. The competition went on for 21 weeks (in tandem with the regular season). In 2009 it was Watson and Robledo that emerged victorious, having escaped elimination each nerve-wracking week.
Says Robledo, "The people who write the whole story in advance usually don't win. You want to watch the audience, you want to know what plays, what sells. So if you have a joke that you've written in the first week, then you call back to it the sixth week, it's no good if it wasn't funny the first week. Or if you find a character that everyone loves, you keep bringing him in. And that's what French was as Sigmund Freud; I realized I couldn't get rid of him. He originally was supposed to be just in two episodes, but I had to write him into the play." Stewart portrayed a wildly eccentric Freud as well as a bizarre Queen Victoria.
Watson was Robledo's first full-length play that he both wrote and directed. The long-running and extended production gained raves and award nominations, including five 2011 LA Weekly Theatre Award nominations for cast and creative team, winning the award for outstanding comedy direction for Robledo. Watson was also nominated for four Ovation Awards: best actor in a play – Joe Fria; best featured actor in a play – French Stewart and Henry Dittman; and best director of a play – Robledo. Dittman, alone, took home a coveted prize.
Watson examined Sir Arthur Conan Doyle's most famous creations – Sherlock Holmes, Dr. John H. Watson, the villainous Professor Moriarty and the elusive and ravishingly beautiful Irene Adler, positing Watson as the central character. "My first draft was basically taking the best stuff from the 15-16 episodes from Serial Killers that I patched all together. Some of the bits, like the horse chase scene and all action sequences worked very well. But the play seemed to be like going from action sequence to action sequence to action. The main thrust of the show — what's in the mysterious box and the political intrigue — that was all new."
Stewart has nothing but high praise for his frequent collaborator. "I love Jaime Robledo. Love him. Through sheer imagination, he can make a hundred dollar budget look like a million. He turns paper into storms and chairs into horses. I've worked with him four times now and the process is always the same. He does a stunning amount of homework, and then shows up at rehearsal and stares at the wall for the first 20 minutes. But at a certain point something locks in and his eyes change. He gets to work and he doesn't stop. I don't believe Stoneface would be possible without him. He is completely primed to move up the theatrical food chain for one reason. The more toys you give him, the more he gives you."
Stoneface – A Silent Movie on Stage
Vanessa Claire Stewart, who had written and co-starred as Keely Smith in Louis and Keely: Live at the Sahara, was inspired to research Buster Keaton after learning that her husband was interested in playing the legendary comedian. Her resulting play unfolds as a series of vignettes of Keaton's troubled life and fluctuating career, in which real life and reel life are merged.
While the subject matter is often dark, there are definitely laughs to be had, especially in the sequences of silent comedy bits — one-take gags and elaborate physical routines taken straight from some of Keaton's most famous silent pictures and reproduced live on stage by the cast, as guided by Robledo.
The show launches with a film prelude. The main cast members (Stewart as Buster, Scott Leggett as Roscoe "Fatty" Arbuckle and Tegan Ashton Cohan as Natalie) individually emerge from the small theater's foyer, behind the audience, and cross upstage to a large projection screen. Each character then steps into a silent, black-and-white movie-in-progress. It requires careful planning, visual trickery and split-second timing.
"When we first started working on Stoneface," says Vanessa Claire Stewart, "Jaime said the most beautiful thing that a writer could ever hear –  'Write what you want and I'll figure out how to do it.' From the moment he said that, I knew I had no limits and was able to have free rein on the contents of Buster Keaton's head — a world that had one foot in movie magic and another foot in the tragic circumstances of reality. Whatever I threw at him, be it an underwater scene or a boxing match where he battles his own memory, Jaime was able to pull off. He's one of the most imaginative theater directors I've ever met and we were lucky to have him on board. Stoneface could not have been done without him."
Hearts Like Fists
Robledo's current project Hearts Like Fists has "kick-ass chicks wielding nunchucks, epic love stories and a villainous mastermind who just wants to be loved," he grins. Written by Adam Szymkowicz, this is an action-packed adventure romance set in the surreal world of female crime-fighting superheroes. Nurses by day, skilled warriors by night, these ferocious femmes battle the dastardly and elusive Dr. X and his deadly war against romance.
Early reports indicate that Hearts Like Fists is ambitious, featuring intricate fights choreographed by Andrew Amani, and cutthroat timing to multiple technical cues (over 400 for a 90-minute, one-act show).
Sound designer Mark McClain Wilson describes it as "a film on stage," adding, "As a designer, working with Jaime is great for two reasons. First off, Jaime's vision for the theater is quite large in scope, sometimes almost cinematic, so he gives you a very large field to play in. Secondly, what's refreshing is that he has great trust in the artists he surrounds himself with, both actors and designers. He trusts that his people will bring in the goods. When he guides, he does so with a very easy but steady hand. His decision-making is sharp and direct, but it is never something that hovers over you. That fine line between knowing what you want, yet not micromanaging to the point where you stifle the impulsive and creative freedom of the artists around you is a difficult one to find.  Jaime walks there quite dexterously, and it makes for a very engaging and fun creative experience."
Robledo describes Hearts Like Fists as a satire that is "comic book-inspired. The dialogue is very much like what you would see in a thought bubble. There is no subtext — it's what they're feeling. We deal with a lot of superhero traits such as secret identities. The main crisis for the lead character is whether she can handle being a superhero and be in a relationship at the same time. It is kind of a metaphor for dealing with a broken heart."
Musing over his recent successes, Robledo says, "With Watson and then Stoneface, I couldn't have imagined any better 'one-two punch' in a career. I mean, Stoneface is only the fourth play that I've directed. We have a lot of people that really care about the show and so do the audiences."
"If I said, 'All right. I want to direct a play, and it's going to have these reviews and it's going to over-sell and have standing ovations every night…' – that's a pipe dream, and yet it's happening with this show. I decided after Watson that this year I wasn't going to say 'no' to anything. I'm just going to put my head down and work and when I come out at the end of it, I'll be where I want to be. That's starting to happen."
Hearts Like Fists. Opens Friday. Fri–Sat 8 pm; Sun 7 pm.  Through September 1. Tickets: $25; students & seniors $20.
1517 N. Cahuenga, Hollywood 90028.  323-856-8611.
***All "Watson" Production Photos by Brian Taylor
***All "Hearts Like Fists" Production Photos by Mandi Moss