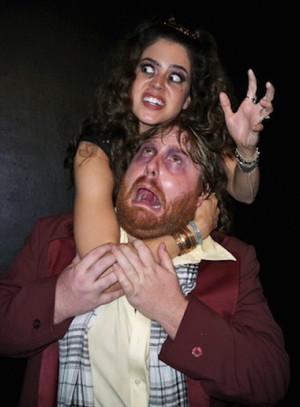 Dear readers and ghost busters!
My theater review this week for the LA Weekly is of The Para Abnormals, a spooky comedy by Thomas J. Misuraca, now playing at Zombie Joe's Underground Theatre, in NoHo.
Click here to go to the LA Weekly's theater page and scroll down towards the bottom.
~ OR ~
You can just read it here!!
Happy reading!
The Para Abnormals
A trio of paranormal investigators has several close encounters with menacing spirits in The Para Abnormals, Thomas J. Misuraca's comedy thriller now playing at Zombie Joe's Underground Theatre in NoHo.
Just the opening moments of this little low-budget supernatural chiller manages to offer far more effective shivers and scares than a recent staging of The Exorcist over at the Geffen.
Three wannabe ghost busters, college students Jill (Jessica Amal Rice) Stan (Tyler McAuliffe) and Chuck (Tucker Matthews), zero in on homes and libraries reporting inexplicable activity. Armed with their smartphones, the team attempts to communicate with and document the elusive evidence of ghostly entities. They seem to be making some progress when one of their own becomes possessed.
Meanwhile, an intense and eccentric gypsy medium Chai Tea (Lauren Parkinson) seems to be conjuring up spirits of her own.
There's a lot of screaming in the dark and quite a few genuine scares in this mostly hilarious one-hour play. The ghostly apparitions range from a Victorian doll that springs to life to creepy blood-drenched ghouls and wheezy zombies. The show is especially effective when the lighting is reduced to the soft glow from trio's smartphones, permitting all kinds of surprise appearances.
Silly jokes and spiky banter are often one-two gags such as, "You seem attract the paranormal, Chuck,"  "And yet repel women…" is Chuck's self-deprecating reply.
It's funny stuff.
The Para Abnormals: World premiere of Thomas J. Misuraca's supernatural thriller comedy.
Saturdays, 8:30 p.m. Continues through Sept. 29.
Zombie Joe's Underground Theatre,
4850 Lankershim Blvd.,
North Hollywood,
818-202-4120