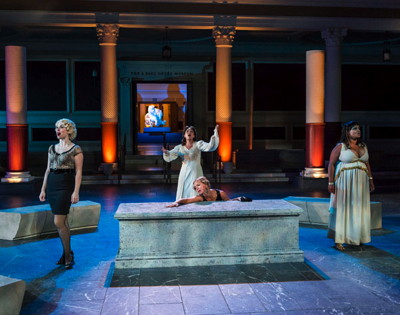 Hello readers,
This week my theater review for the LA Weekly is of classic Greek playwright Euripides' Helen, now playing at the Getty Villa amphitheater in the Pacific Palisades.
Click here to go to the LA Weekly's theater page and scroll down towards the middle.
~ OR ~
You can read the full version here!!
Happy reading!
Euripides' Helen, adapted by Nick Salamone.
Euripides' fanciful version of the legend of Helen of Troy (the beauty whose abduction triggered a ten year war between the Trojans and the Achaeans) was first produced in 412 BC. In it he posits that Helen was supplanted by a phantom (fashioned by the mischievous gods) to ensure a war while the real Helen was spirited away to exile on a remote Egyptian island.
Playwright Nick Salamone has re-imagined Helen for a contemporary, movie-savvy audience, taking vast liberties with the text in order to grant it a late-20th century Hollywood setting. Thus, instead of a dusty old slab of classic theater we get a visually splendid romp (striking video design is by
Adam Flemming) and a Greek chorus of Hollywood starlets (representing three facets of Helen), including Jayme Lake as a breathy Marilyn
type.
Salamone also successfully maximizes the humor, alleviating the moderate discomfort of enduring 90 minutes of backless seating in the otherwise gorgeous setting of the Getty Villa amphitheater. Lovely songs, composed by David O, are rendered ethereal by soulful harmonies. Rachel Sorsa is great as the titular Helen, even if her outrage is too often tempered by comedic flourishes. Maxwell Caulfield is good as hunky Menelaos, and his evidently dedicated workouts prepared him for the almost-naked role.
Getty Villa's Barbara and Lawrence Fleischman Theater
17985 Pacific Coast Hwy,
Pacific Palisades.
Thu.–Sat., 8 p.m.;
Thru Sept. 29.
(310) 440-7300