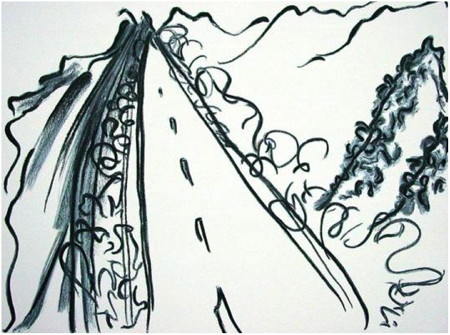 "Happiness is that funny little place halfway between fantasy and reality." — MG.
From his website:
Michael Gardner seeks to create works of art that reflect his struggles with the world he finds himself living in, encompassing the commonalities that we all share; Desire, Defeat, Acceptance, Judgment, Love, Fear, Time and the space in which it all inhabits.
Each series of paintings that Michael produces has a specific story or idea that compels the work, in the same narrative manner of a movie, book, play or opera. This thematic device is the origin of inspiration, and where Michael invites the viewer to go with him on his journey.
Themes are generated through a reflection of the world Michael finds himself living in. His works indicate a searching for understanding of his place in the grand scheme, and the commonalities we all share in this. Applying spiritual questions and insights to his painting, with the aim of visually simplifying what may be explicitly overwhelming. These themes are important to Michael and are sincerely rendered.
His newest series, The Word, scripts literature with technology, memory, belief and faith. Here Michael indexes a previous work and then transfers that into a weave, reflecting our histories, connections, differences and commonalities.
The Space Between and The Shells are mediated in oil and oil stick and together compose the painting. Michael uses these post modern approaches in his latest works, rendering a graphic nuance, commenting on our technology and seeking a re-purposing of what we already have created.
Michael's studio is Downtown Los Angeles in the Spring Arts Tower.
Watch our video interview with Michael at his sunny studio.
Video produced and hosted by Pauline Adamek, edited and styled by Ash Revell. Filming by Charlie Kanganis.
httpv://www.youtube.com/watch?v=p5k26yDrYEk&feature=youtu.be
Michael Gardner is represented by Michele LaRocco.
See examples of Michael's art on his website.
Read more from Michael in his blog.