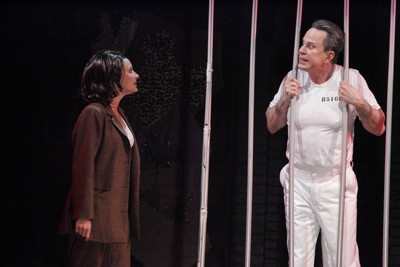 ::STOP PRESS:: SILENCE! The Musical has been extended. A new block of tickets through Sunday, November 18 is now on sale.
Fans of Jodie Foster, Anthony Hopkins, serial killers and musicals – look no further for a rollicking night of entertainment with Silence! The Musical, an over-the-top and ultra-broad spoof of the Oscar-winning high-brow horror movie Silence of the Lambs, all set to music.
Rookie FBI agent Clarice Starling matches wits with the brilliant but insane cannibal, Dr. Hannibal Lecter in order to catch the serial killer known as Buffalo Bill. Clarice faces her own demons while racing the clock to decipher Lecter's clues before another innocent girl is killed and skinned by Buffalo Bill.
Christine Lakin is excellent and proves a dead-on mimic of Foster's Oscar-winning performance of Clarice. I'm convinced she practiced facial expressions in the mirror; she's that good. (I know the film well and remember things Jodie did in it.) Lakin gets the Southern accent down, and there are more laughs in her opening utterances alone than in most comedies.
Lakin is backed by a brilliant cast, including Davis Gaines as spooky Hannibal Lecter. Gaines' first big solo song has a profane title (you have been warned) and features a screamingly hilarious pas de deux. There is fantastic choreography and excellent and fluid staging throughout. There are lots of silly gags, including low-tech bits such as someone running onstage and banging chalky erasers to create a cloud of white dust for a scene where Clarice imagines talking to her dear departed father.
The various songs are funny and spoof famous musicals. I spotted references to Cabaret, Funny Face, Dreamgirls and so on. We get puppets, a fan dance, chorus members in silly lamb outfits and outrageously fast costume changes.
While I definitely was laughing more at the beginning than the middle and end of this 90-minute, one act show, it was extremely funny throughout (and better than a recent movie-spoof-musical Re-Animator.)
Silence! The Musical by Jon and Al Kaplan (music and lyrics) and Hunter Bell (book).
Photos by Michael Lamont.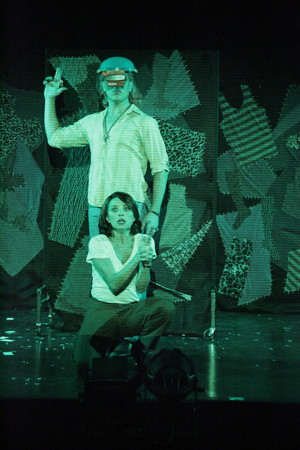 Silence! The Musical
Hayworth Theatre
2511 Wilshire Blvd.
Los Angeles, CA 90057
Runs through Sunday, November 18, 2012.
Performances:
Thursday: 6:30pm – 8:30pm
Friday: 6:30pm – 8:30pm
Saturday: 6:30pm – 8:30pm
Sunday: 1:30pm – 7:30pm
No shows MONDAY, TUESDAY, WEDNESDAY
Running time:
Approximately 90 minutes, no intermission
TICKETS:
$45—75.00
Box Office: