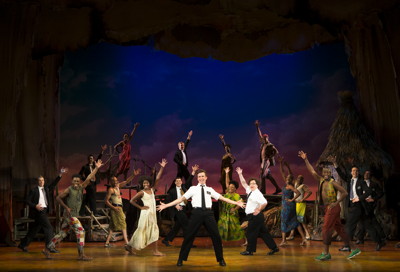 It's funny, it's outrageous and the company's energy is off the charts. Whatever you may have heard about The Book Of Mormon, check your preconceived notions at the door and surrender to an evening of laughter and song.
Written by the creators of South Park, Trey Parker and Matt Stone, in collaboration with Robert Lopez (Avenue Q), The Book Of Mormon is a super fun and clever musical satire that looks lavish and expensive and is extremely well staged. Yes, it's a mild send-up of the more wacky beliefs of the Mormon faith (and religion in general) and the storyline also touches on some seriously dark themes (such as AIDS, forced female circumcision, poverty and the brutality wrought by militia-run dictatorships), but the writers have also created a story that is brimming with heart and sweetness.
Gavin Creel gives a simply brilliant performance as a young Mormon, Elder Price, who we meet immediately following a comical prologue that attempts to explain the origins of the Mormon belief. Elder Price is one of a group of fellow Mormons, all male, who have recently come of age. The eager young missionaries are all getting paired up and being sent off to various locations to spread the Mormon faith. Elder Price expresses fervent wishes that he be sent to the most magical place on earth, Orlando Florida, so it is with a great deal of dismay that he learns he and a goofy young fellow (Elder Cunningham played by Jared Gertner) are heading to war-torn Uganda.
Once there, the pair of newbies joins a team of Mormon missionaries who are all facing the difficulty of spreading the word while trying to survive the local General's armed thugs.
So, while it is all funny stuff, there is a serious theme of the stark reality of life for Ugandans running beneath the show. The sudden murder of someone who tries to challenge one of the armed thugs is quickly swept off-stage lest it dampen the hilarity. Soon after, one of the lovely young Ugandan women, Nabulungi (Samantha Marie Ware) sings of escaping to Salt Lake City, "where flies don't bite your eyeballs, and human life has worth."  It's sobering stuff.
While the entire cast is top notch, and sing and dance their socks off, Creel's performance is especially outstanding. Every gesture and phrase feels true and endearing, and Creel manages to transmit right up to the balcony without ever looking as if he is overdoing things. He also has a superb voice that is not too 'Broadway-broad' or clichéd in its expression.
Tickets for The Book Of Mormon are jacked up because this is a popular, must-see show with a finite LA season, so investigate the daily $25 ticket lottery if you have the time. You might end up in the front row!
Photo credit: (c) Joan Marcus, 2012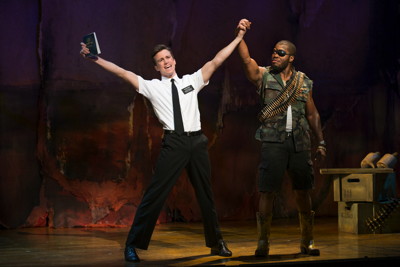 The Book of Mormon
6233 Hollywood Blvd.,
Hollywood.
Tues-Fri 8 pm, Sat 2 and 8 pm. Sun 1 and 6:30 pm.
*** Dark on Thanksgiving. ***
Added matinees Wed and Fri Nov 21 and 23, 2 pm.
Closes at the matinee of Nov. 25, 2012.
800-982-2787
A limited number of lottery tickets per show will be available, for cash only, at the Pantages box office. This lottery will be held prior to every performance (excluding tonight's gala opening).
Entries will be accepted at the box office beginning two and a half hours prior to each performance. Entrants will print their name and the number of tickets (1 or 2) they wish to purchase on a card that is provided. Two hours before curtain, names will be drawn at random for a limited number of tickets priced at $25 each. Only one entry is allowed per person. Cards are checked for duplication prior to drawing. Winners must be present at the time of the drawing and show valid ID to purchase tickets. Limit one entry per person and two tickets per winner. Tickets are subject to availability.