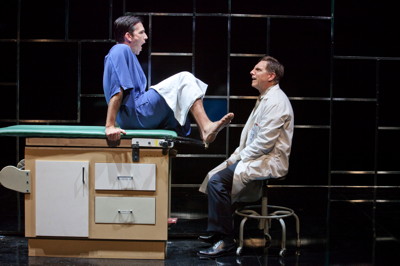 Jewish and Staten Island stereotypes, a sassy black angel from Heaven, a hirsute guy hobbling around in heels and a hot pink dress – clichés abound in Under My Skin, Prudence Fraser and Robert Sternin's comedy now playing at the Pasadena Playhouse.
Essentially an R-rated sitcom (the writers' TV background is brayingly trumpeted with every choice, set up and gag), comedies don't get much broader than this one. The only difference between this play and a TV comedy is that you probably won't see a character getting a blowjob on a network show.
Yes, Under My Skin is definitely low-brow fare, featuring 'borscht-belt' lowest common denominator humor and a familiar 'switcheroo' scenario that strives for 'screwball comedy' heights. Nothing you haven't seen a million times before now. Cringingly bad at times, funny at others, the show, nevertheless, is an amusing diversion from the Presidential campaign, recent mass murders, murderous Muslim outrage overseas and NFL drama.
In Under My Skin, a twist of fate leads to love and laughs when New York's most eligible bachelor and a single working mom hilariously experience each other's lives and see things from a very different perspective.
The cast acquit themselves well, playing up the ultra-broad humor to its fullest extent. Megan Sikora, in particular, deserves some sort of medal for portraying our heroine's wacky BFF to such a fearless extent. Shimmying, stripping, mugging and even meowing and purring like a kitten on heat – nothing is too much for this actress to tackle!
Supporting actors, such as Hal Linden as the most Jewish grandfather you could ever imagine, all give fine performances with exceptional comic timing. Danielle Soibelman is good as the bratty tween Casey and Monette Magrath and Tim Bagley are both excellent in their numerous roles.
Our leads are good as well. Matt Walton is convincing as the pompous, privileged billionaire who gets a sort of comeuppance, while Erin Cardillo is sweet and funny as the put-upon Mom with health issues.
The show feels slick, expensive and somewhat over-produced, thanks to John Iacovelli's glamorous scenic design that has hydraulics, trap doors and set pieces gliding on and off stage. Kate Bergh's costumes are perfectly devised.
Director Marcia Milgrom Dodge has done a good job with the material at hand.
I didn't love Under My Skin but I did laugh. There is definitely an audience for this kind of broad comedy fare.
Photos by Jim Cox.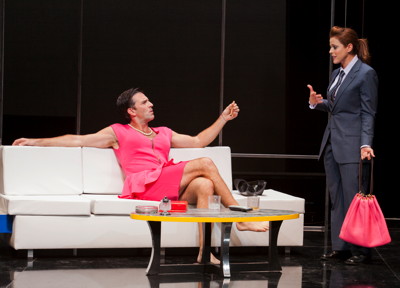 Under My Skin
39 S. El Molino Avenue,
Pasadena
Performances:

Runs through October 7, 2012
Wednesday–Saturday, 8pm
Saturday matinee, 4pm
Sundays 2pm and 7pm.
Running time:
Approximately 2 hours, including a 15 minute intermission
TICKETS:
$42–100.00
Box Office:
Purchase tickets here or call (626) 356-7529.