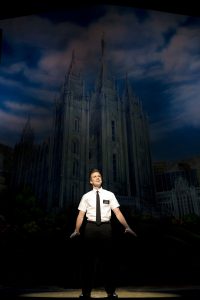 Hello dear readers,
Here is a link to my article for LA Stage Times where I chatted with Gavin Creel, one of the stars of The Book of Mormon, the musical which opens at Pantages Theatre in Hollywood TONIGHT.
~ OR ~
You can just read it here!!
Happy reading!
Gavin Creel interview – article for LA Stage Times
Valerie Frankel at the Huffington Post called it "Subversive… scatological sacrilege," and "pee-in-pants funny, outrageous, shocking…"
Ben Brantley in the New York Times described it as, "more blasphemous, scurrilous and more foul-mouthed than David Mamet on a blue streak. But trust me when I tell you that its heart is as pure as that of a Rodgers and Hammerstein show," going on to surmise, "Yet in setting these dark elements to sunny melodies, The Book of Mormon achieves something like a miracle."
Created by those masters of cartoon satire, the South Park guys – Trey Parker and Matt Stone – with help from co-writer Robert (aka Bobby) Lopez (best known for Avenue Q), The Book of Mormon has proved a smash-hit musical for all concerned. Igniting a storm of controversy since its announcement and Broadway season, The Book of Mormon created a different kind of tempest when it scooped up the top prizes at the 2011 Tony® Awards. Mormon won nine Tony® awards, including the coveted Best Musical prize, beating out Catch Me If You Can, Sister Act and The Scottsboro Boys.
In The Book of Mormon, two bright-eyed and optimistic missionaries from Salt Lake City bring their gospel to an isolated village in 21st-century Uganda. The show pokes fun at organized religion as well as musical theater, mining its humor from outrageous situations and scandalous lyrics.
Original Broadway cast member Jared Gertner stars as Elder Cunningham. Gertner joins Gavin Creel as Elder Price. Samantha Marie Ware plays Ugandan local Nabulungi, and other cast members include Grey Henson as Elder McKinley and Kevin Mambo as Mafala Hatimbi.
Triple threat Gavin Creel first appeared on Broadway in 2002 playing the male lead, Jimmy Smith, in Thoroughly Modern Millie and starring opposite Sutton Foster at the Marquis Theatre. His performance was noteworthy enough to gain a Tony® Award as Best Actor (Musical) that year. Over the next decade Creel went on to star in several musicals including La Cage au Folles, also at the Marquis Theatre, in 2004.
Creel played the dance-intensive role of Bert in the London (West End) production of Mary Poppins at the Prince Edward Theatre from mid 2006 through its finale on January 2008.
He performed as Claude in HAIR: The American Tribal Love-Rock Musical in 2009 in New York at Broadway's Al Hirschfeld Theatre and in the West End, at the Gielgud Theatre, in 2010. That role led to Creel being nominated for the 2009 Tony® Award for Best Performance for a Leading Actor in a Musical.
Now, ten years since his Broadway debut, Creel reflects on how the man he is today informs his role as Elder Price on the first U.S. tour of Book of Mormon.
For Creel, the tour commenced late August in Denver at the Ellie Caulkins Opera House, as a sort of 'out of town tryout' prior to its twelve-week engagement at the Pantages in Los Angeles. The U.S. touring company will then travel to over fifteen cities during its 2012-2013 season, including San Francisco, Portland, Detroit and Washington.
Creel admits his role is grueling, saying, "It's tough. If I was to compare it to other jobs… In Millie I was 26, and this role is definitely more physically, vocally and emotionally demanding. I know that if I was playing this role at 26, I would not have the job because I wouldn't have been prepared for it." Now aged 36, Creel marvels at how his maturity is his secret weapon. "It's kind of great. I'm playing a 19-year-old here, and emotionally I actually feel like I'm about 19. It's kind of perfect." He laughs, joking, "The only thing that doesn't feel 19 is my joints, but other than that, I feel great. I was very blessed by my mother and father to have a young-looking face and manage to stay slender and have a lot of energy and hyperactivity, but me being able to do this job now feels ideally timed and I feel like I'm perfectly suited to do this incarnation of it, too."
Creel hastens to give tribute to Andrew Rannells, who originated the role of Elder Price on Broadway, describing him as "One of my closest friends in the world. He [Andrew] was the perfect person to bring it to everyone in New York and I feel like he sort of passed me the torch. I'm proud to be the guy who's going to light the fire across the country and get people excited."
Holding your moral compass steady within a religious satire sounds like no mean feat. Creel explains that what he finds rewarding about his role is the conflict his character is forced to confront. He describes his essentially naïve character as "a person who has not struggled in his 19 years. He has been blessed and has grown up in a wonderful family. He was supported in everything that he has been given and so he is the 'blessed child,' the oldest of the family and everything is figured out and knows exactly how his life is going to work." Creel adds drolly, "And we all know that that's not how life works…"
Creel says he embraced that notion of deep-seated innocence and optimism, admitting that he can definitely relate. "When I was his age, I knew what I wanted. It was, 'I'm going to go to college and I'm going to become a Broadway star and I'm going to do X, Y and Z! And then you get out and people are like 'Yeah, definitely not dazzled by you – no, you don't get this job.' And you're like, 'But wait a minute!' And that's the most fun part to play because he's sort of white knuckling a reality that is not real. He's just trying his hardest to keep a hold of a sentiment of 'This is not what I expected and I've got to get it back, I've got to get it back!' and I love playing that."
Who wouldn't want the chance to immerse themselves in a character driven by determination mixed with naïveté? Creel laughs, "Yes, and I hold on to self righteousness for as long as I possibly can. I think all human beings do. By the end of the play, I look to [a particular companion] and realize he was the most unsuspecting person to teach me something profound."
Creel can't help waxing effusively about the musical, "It's so brilliant. Bobby and Trey and Matt have written, I think, one of the great musicals of our time, and it's wrapped up in the most unsuspecting package." Creel describes it as "an old fashion musical with an extremely modern sensibility and extremely topical subject matter. My character, Kevin Price, speaks out about how the greatest life lesson that expectation is poisoned and you just have to stay open to what the world can show you and it's about faith and not necessarily a specific text or a specific belief system or whatever, it's whatever works for you but you can't lose that faith."
Perhaps open mindedness is the best message that could be put out there? Creel enthusiastically agrees, opining, "You know, what if every human being came to see The Book of Mormon? Maybe then we'll have world peace!" His fervor feels honest and real.
Of course, a highlight of the whole experience has been getting to meet the South Park guys. Confirms Creel, "Trey is one of the co-directors so he's been directing us the whole time. They were all there in Broadway and they've been with us the whole way."
So what are these legends of comedy and satire like in person? Creel, "They are great. They are just so chill even though they have got a lot of stuff on their plate." According to Creel, director Casey Nicholaw and his team have taken on the workload of staging and the minutiae of direction. "Trey would come in and give notes once in a while, but Casey, who's so brilliant, is our leader in that regard getting the show together and getting it up."
Creel can't disguise his thrill to be working alongside guys who he feels – for the past almost 20 years – have been creating something that is now part of the social landscape. "Everybody knows what South Park is, whether you watch it or not, you know what's going on and they are not just making a stupid cartoon. They are creating social commentary literally with every episode."
It's a winning team of creatives who have come together to produce this controversial yet award-winning musical. "Anne Garefino [one of South Park's executive producers] is our lead producer on this with Scott Rudin and she's the woman who is in charge of checking to make sure that they can say what they say on national television and pushing the envelope with them. When Scott Rudin and Anne and these writers and Bobby Lopez – who has written Avenue Q which is the most heartfelt unexpected package of a musical that's come along in a long time – teamed up with Casey Nicholaw – who understands comedy and music for comedy and is a brilliant choreographer and director… When they all team up, you know you're going to get something that's singular."
So what can LA audiences expect? How extreme is the experience going to be? Explains Creel, "People expect it to be really offensive. The language is very bright and colorful.
It's as extreme as you've ever seen in a musical – ever. I mean, no one can get away with what they are getting with on stage in this country. Trey and Matt are the kings of this and they, along with Bobby and Casey and the team, have been given permission because of their courage and their fearlessness. You will never see a musical that does what this one does ever again."
Adds Creel, "This is possibly the biggest musical theater event of the last decade, and this show has been critically heralded and audiences are losing their minds. But to stay home because you think you know what it is would be the greatest mistake. It's better to come and see what the authors are trying to teach and illuminate because they are not just here simply to shock you. They are here to move you and that's the greatest aspect of this play. I mean, it's so important that people see this musical and at the same time you are going to piss yourself laughing."
But Creel emphasizes how the heart of the show is the key to its success. "Everything has to be rooted in the truth and there has to be a reason for it. Anybody who tries to just do a musical where there's a shock value probably will just be doing it to shock you.
Even the cast members are not immune to this show's charm and heartwarming messages stealthily wrapped inside satire and extreme, edgy comedy. Creel confesses, "There was a moment on Tuesday – and it doesn't happen every time – but I just started crying at the end because I was just so moved by what was happening on stage at the moment and I just feel so lucky to say these words and singing these songs. It turns out I'm in something that has such power and ability to change people's perceptions of faith and theater."
Concludes Creel, "This show is simply bleeding with heart. I'm so proud of being in this play."
-ends—
THE BOOK OF MORMON,
Pantages Theatre, 6233 Hollywood Blvd.
Los Angeles, CA 90028.
Opens Wed, Sept 12.
Tue-Fri 8pm, Sat 2 & 8pm, Sun 1 & 6.30pm.
Through Nov. 25.
Tickets $43—189. 800-982-ARTS (2787)  or purchase online here.
A limited number of lottery tickets per show will be available at Pantages Theatre box office, at $25 apiece; cash only.  This lottery will be held prior to every performance (excluding the gala Opening Night on Wednesday September 12.)
Entries will be accepted at the box office beginning two and a half hours prior to each performance; each person will print their name and the number of tickets (1 or 2) they wish to purchase on a card that is provided. Two hours before curtain, names will be drawn at random for a limited number of tickets priced at $25 each. Only one entry is allowed per person. Cards are checked for duplication prior to drawing. Winners must be present at the time of the drawing and show valid ID to purchase tickets. Limit one entry per person and two tickets per winner. Tickets are subject to availability.