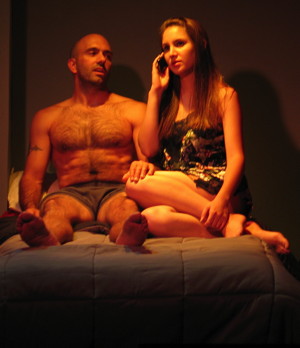 ::STOP PRESS::
Pauline Adamek of ArtsBeatLA has been named "The Critic's Critic" by Bitter Lemons.
Here follows the review that prompted the accolade:
The title of playwright Andrew Osborne's new play, No Love, says it all. No one is getting any love in this pitch black 'comedy.' Osborne presents a series of stories that are ingeniously presented like a daisy chain as each character leads to an interaction with another. Additionally, the punch line to the one-act, 85-minute evening of drama gives us a satisfying 'button' or ending to the piece. Plus, there's plenty of sex, nudity, violence, gunshots and foul language…!
The play begins with a powerful and revealing monologue that charts a fragment of one character's life – specifically the events that lead up to a disturbing episode. Maggie is played beautifully by LiLi Stephens-Henry; her performance is utterly endearing, with flashes of light comedy and shreds of strength beneath her vulnerability. When Maggie hits the road to escape her trauma, she encounters Larry (Blake Anthony) and relishes the opportunity to unload her grief on a perfect stranger on her bus journey. Larry is also vulnerable and lonely, and Anthony brings a sweet goofiness to his comedic character that is reminiscent of likeable comedian Harlan Williams. Next Larry encounters his high school girlfriend Lydia (LauraLee Bahr) who confides – in a shocking fashion – that she is in an abusive marriage with a sadistic dominant. Other linked character encounters follow.
Of course, most these scenes are played for laughs, but Osborne's comedy is laced with a murky black seam of drama or distress.
Ryan McDonough is especially good as the white-collar abuser and the controlling redneck husband – two sides of the same coin. Dustin Brooks is also outstanding as Brandon.
Director Kerr Seth Lordygan elicits excellent and beautifully nuanced performances from the entire cast. The renditions of these roles were all so credible, it was tempting to believe they were not acting.
No Love is worth seeing.
Photo credit: David Nott.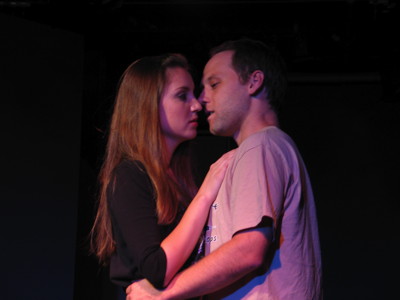 5312 Laurel Canyon Blvd.,
Valley Village
Fri. & Sat. at 8 p.m.,
Sun. at 7 p.m.
***Also Thursdays at 8 p.m. on September 20 and October 4. ***
Runs through October 6, 2012.
TICKETS: $18.00
Students $15.00
*** Pay What You Can on September 20 and 30. ***
Box office:  (818) 508-3003