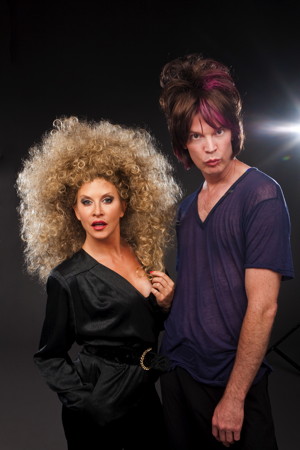 Dear readers,
This week my theater review for the LA Weekly is of the newest show at The Groundlings improv comedy spot on Melrose, called The Groundlings All-Night Diner.
Click here to go to the LA Weekly's theater page and scroll down towards the bottom.
~ OR ~
You can read the full version here!!
Happy reading!
The Groundlings All-Night Diner.
A fixture on Melrose since 1979, The Groundlings – an improvisational comedy troupe –continue to offer their own brand of sketch comedy blended with improvised scenes. With two 2-hour shows per weekend night, priced at $20, it's not too much of an investment and while you might not find yourself falling out of your chair with mirth, some laughs are guaranteed. A three-piece live band keeps the energy upbeat with their high-volume renditions of snippets of rock and blues songs in between comedy bits.
The cast of seven run on and off stage in various outfits and crazy wigs suited to the gags. Act One consists of about fifteen short and sweet scripted comedy skits that never overstay their welcome. They're interspersed with improvised scenes where director Deanna Oliver calls on the audience for cues such as "What's a good pick up line?" or "Name a style of music" to help create the basics of the skit that then unfolds.
Allison Dunbar demonstrates a quick wit and seems to be the go-to gal for unscripted scenes. A mildly funny sketch about a pro baseballer (H Michael Croner) receiving heartfelt tips from the ghost of his father (Mitch Silpa) quickly devolves into a fierce argument.  In 'Movie Talk' a couple arguing in the cinema gain some amusing advice from two Japanese stereotypes.
It's mostly hit and miss… Act Two offers more laughs with fewer but longer routines.
Groundlings All-Night Diner: All-new sketch and improv.
Fridays, 8 p.m.;
Saturdays, 8 & 10 p.m.
Continues through Sept. 29.
7307 Melrose Ave.,
Los Angeles,
323-934-9700.
$20.00