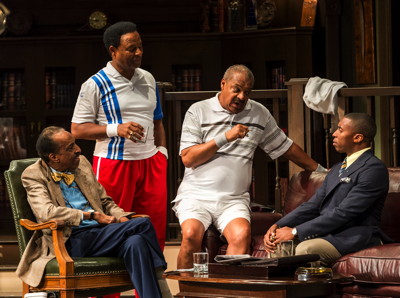 Dearest readers!
My theater review this week for the LA Weekly — the 'Pick of the Week' — is of Fraternity, an Ebony Repertory Theater production, now playing at the Nate Holden Performing Arts Center.
Click here to go to the LA Weekly's theater page and scroll about halfway down to read it.
~ OR ~
You can just read it here!!
Happy reading!
Fraternity
Jeff Stetson's all-male political drama, Fraternity, written 25 years ago, has a prescient power to it. Set in Birmingham, Alabama, the storyline presents a prosperous group of black men, members of a private gentleman's club, and the tragic history that shaped each of their lives. A shocking bombing of the 16th Street Baptist Church in their hometown resulted in the death of four little black girls, accelerating the civil rights movement.
Stetson's story is set in 1987 and explores racial issues, elitism, shifting loyalties and eroded principles. When a pompous senator Charles (2009 Tony winner Roger Robinson) competes with his former speechwriter, the younger and idealistic Paul (TV's Rocky Carroll, from NCIS) who's challenging his seat, Charles demands support from his privileged pals.
At first there's the typical clubby banter, comedy showboating and gentle ribbing between longtime friends. But it's not long before the gloves come off and some fiery exchanges turn accusatory and menacing. As the men reflect on the ideals that shaped their careers, the cast infuses their performances with the jaded weariness of compromise.
While Robinson capitalizes on the comedic elements of his arrogant Senator, Henry Miller directs with a firm hand, muting the drama to let its quiet strength emerge. Stetson's play proves bombastic, feels overlong yet is provocative viewing.
Fraternity
Nate Holden Performing Arts Center
4718 W. Washington Blvd.,
Los Angeles
Thursdays, Fridays, 8 p.m.;
Saturdays, 2 & 8 p.m.;
Sundays, 3 p.m.
Continues through October 28, 2012
323-964-9768