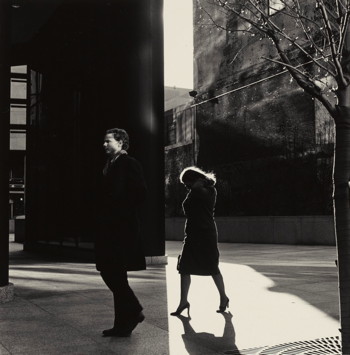 A compelling new photographic exhibition at the Getty offers an overview of innovative photographer Ray K. Metzker's long career and also includes inventive photographs by Harry Callahan, Aaron Siskind and others at Chicago's Institute of Design. 
Organized in collaboration with Keith F. Davis, senior curator of photography at The Nelson-Atkins Museum of Art in Kansas City, MO, the exhibition is curated by Virginia Heckert, curator of photographs, and Arpad Kovacs, assistant curator of photographs at the J. Paul Getty Museum. The exhibition features nearly 200 photographs, including approximately 80 from the holdings of The Nelson-Atkins Museum.
Ray K. Metzker (American, born 1931) is one of the most dedicated and influential American photographers of the last half century. His photographs strike a distinctive balance between formal brilliance, optical innovation, and a deep human regard for the objective world. This exhibition offers a comprehensive overview of Metzker's five-decade career, while also providing examples of work by instructors and fellow students at the Institute of Design in Chicago, where Metzker studied from 1956 to 1959.
The detailed exhibition has been tailored to the Getty photographic galleries and features a large number of loans, selected from local collections, as well as a few recently acquired prints that have been added to the Getty's collection.
The main component of the striking exhibition is the experimental photos Metzker produced when studying at the Chicago Institute of Design (I.D.) during the 1950s.
Metzker's teachers during this time – artists in their own right, such as György Kepes – were instrumental in his artistic development, as were several of his student colleagues.
Works by these artists also featured in the exhibition is work includes photos by a number of founding I.D. photography instructors and those who taught in the years Metzker attended the school, including György Kepes, Nathan Lerner, Henry Holmes Smith, Arthur Siegel, Edmund Teske, Art Sinsabaugh, and Frederick Sommer. Another gallery is dedicated to the work of I.D. students Kenneth Josephson, Joseph Sterling, Joseph Jachna and Charles Swedlund, all of whom, together with Metzker, were featured in a 1961 issue of Aperture magazine that extolled the virtues of the I.D.'s photography program.
Metzker's powerfully graphic career spans fifty years, and counting; works as recent as 2010 are on display.
As described by Davis (curator) the show has an overriding logic to it and a genealogical thinking behind it. From László Moholy-Nagy's move from Germany to the United States in the late 30s, to engender 'Bauhaus II' – the new Bauhaus in Chicago, leading to the foundation of the Institute of Design; to this US context providing a new twist and profound impact on US photography and education.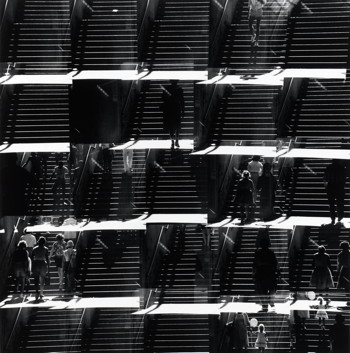 Metzker had an innate ability and good instincts (as well as a practical photojournalism background) but his studies in 1956 at Chicago's Institute of Design represent the right instruction at the right time. It was full creative achievement in a relatively condensed form and his shift in sensibility was accelerated.
From the texture of a 'lived life' seen in his photo-journalistic works, Metzker moved towards pure abstraction, as detached from the mundane depiction and description of the everyday. Yet one foot was always in the real world. His open-ended approach indicates his fluency in the language of the medium. He balances artistic ideas with creative ones.
A particular example of this is his thesis work entitled "The Loop" – depicting 'theater of the street.'  He experiments with planes of focus which profoundly change the content. He moves from formal humanistic composition towards more experimental renderings. He begins to develop a reductive approach, between light and dark, exploring the quality of shadow.
Composite photography.
In the late 60s he begins some radical experimentation, exhibiting conceptual daring and risk-taking, by experimenting with multiple images. He begins breaking the limits of the single, isolated image by exploring composites; creating a single image from numerous ones, reminiscent of the Eadweard James Muybridge studies of multiple and sequential imagery in the early part of the 20th century.
Metzker's photographic collages were unprecedented. He created grids of discrete images and would advance a roll of film in his Leica camera to create a single photo, layered and overlapping, created on an entire roll of film.
More than just enlargements, all the composite images are crisply rendered into a large-scale composition. The viewers activity is forced to change; our physical engagement affects what we see, either up close or far away.
Pictus 1.
Here Metzker inserted objects into the frame, such as a piece of cardboard, playing with focus to create structural, delicate and jazzy impressions. Here he's no longer describing a thing than playing with tone.
City Whispers 1980-83.
Here Metzker returns to a more straightforward approach in photographing the streets of Chicago and Philadelphia, building on his previous work. Shadows take on a more weighty presence, particularly the psychological weight of shadow (isolation).
Metzker truly explored what the lens can do to transform visual material. His body of work reveals him to be an emotional and instinctual artist.
The Photographs of Ray K. Metzker and the Institute of Design
Getty Center
September 25, 2012–February 24, 2013
The Photographs of Ray K. Metzker and the Institute of Design is organized in collaboration with The Nelson-Atkins Museum of Art in Kansas City, Missouri.  The J. Paul Getty Museum has added photographs from its own collection and other key loans to those on loan from The Nelson-Atkins Museum. The exhibition will be accompanied by a publication about Metzker's life and work by Keith F. Davis.
# # #
The J. Paul Getty Trust is an international cultural and philanthropic institution devoted to the visual arts that includes the J. Paul Getty Museum, the Getty Research Institute, the Getty Conservation Institute, and the Getty Foundation. The J. Paul Getty Trust and Getty programs serve a varied audience from two locations:  the Getty Center in Los Angeles and the Getty Villa in Malibu.

The J. Paul Getty Museum collects in seven distinct areas, including Greek and Roman antiquities, European paintings, drawings, manuscripts, sculpture and decorative arts, and photographs gathered internationally. The Museum's mission is to make the collection meaningful and attractive to a broad audience by presenting and interpreting the works of art through educational programs, special exhibitions, publications, conservation, and research.

Visiting the Getty Center:

The Getty Center is open Tuesday through Friday and Sunday from 10 a.m. to 5:30 p.m., and Saturday from 10 a.m. to 9 p.m. It is closed Monday and major holidays. Admission to the Getty Center is always free. Parking is $15 per car, but reduced to $10 after 5 p.m. on Saturdays and for evening events throughout the week. No reservation is required for parking or general admission. Reservations are required for event seating and groups of 15 or more. Please call (310) 440-7300 (English or Spanish) for reservations and information. The TTY line for callers who are deaf or hearing impaired is (310) 440-7305. The Getty Center is at 1200 Getty Center Drive, Los Angeles, California.

Additional information is available here.