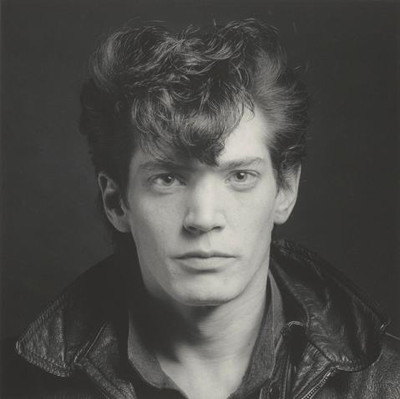 Both the J. Paul Getty Museum and LACMA are concurrently staging exhibitions of works by groundbreaking American photographer Robert Mapplethorpe. The two related exhibitions represent the first presentation of the artist's work since last year's widely publicized joint acquisition by LACMA, The J. Paul Getty Museum and The Getty Research Institute of Mapplethorpe's art and archives, encompassing Mapplethorpe's body of work.
The joint acquisition by these two major galleries of Mapplethorpe's collected works include more than 2,000 pieces of art as well extensive documentation of this important artist's celebrated career and working methods. Both museums are presenting Mapplethorpe exhibitions for the first time since this historic acquisition, in anticipation of a major retrospective planned for 2016.
On view now at LACMA is Robert Mapplethorpe: XYZ, which runs until February 3, 2013. The X, Y, and Z portfolios were created by Mapplethorpe during the early years of his career. Robert Mapplethorpe: XYZ features a total of thirty-nine black-and-white photographs, exploring three subject matters: homosexual sadomasochistic imagery (X, published in 1978); flower still lifes (Y, 1978); and nude portraits of African American men (Z, 1981).
[Review of
Robert Mapplethorpe: XYZ
pending.]
In Focus: Robert Mapplethorpe opens at the Getty today and runs through March 24, 2013.
The exhibition, which fills only one room, is a small but exquisite sample of Mapplethorpe's pioneering work as an artist and photographer. Containing 23 images that date from the early 1970s to the late 1980s, the Getty's exhibition includes important last of edition prints as well as a wide range of subject matter including self-portraits, nudes and still lifes.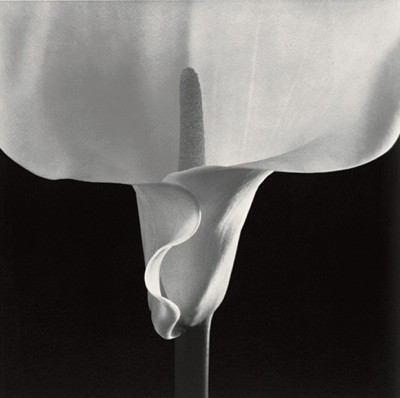 Associate curator of photographs at the J. Paul Getty Museum, Paul Martineau spoke about the Getty exhibition, commenting that it features a broad selection of Mapplethorpe's work from his early mixed-media objects, to his portraits, nudes, and still lifes. "While the show includes a number of Mapplethorpe's best-known works, the artist's early unique mixed-media objects and Polaroid instant prints are not well known by the public."
About the artist:

From 1963 to 1969, Robert Mapplethorpe studied for a B.F.A. at the Pratt Institute, Brooklyn, where he majored in graphic arts and took courses in painting and sculpture—but never attended photography courses. In the late 1960s, before he took up the camera, Mapplethorpe often used pictures he cut out of magazines as collaged elements to explore sexuality and eroticism.

As Mapplethorpe committed his focus to photography, he began to explore the subjects to which he would return throughout his career – portraits, self-portraits, and nudes. Photographs that feature these subjects are among his best-known, and continue to influence artists today. One of his earliest celebrity portraits, Patti Smith (1975), was carefully staged by Mapplethorpe and Smith, his lifelong friend. Dressed in men's clothes and channeling the American entertainer Frank Sinatra, Smith broke radically from the image that women in rock were expected to assume, and embodies the androgyny often found in Mapplethorpe's photographs.

Mapplethorpe also evoked classical themes in his work, particularly in his nude figure studies. Using the motif of the three graces as depicted by artists from ancient Greece to the 19th century, Ken and Lydia and Tyler (1985) features one female and two male models of different racial backgrounds.  Mapplethorpe chose a range of skin tones from light to dark in order to invite new, non-binary interpretations of gender, race and sexual orientation.
The iconic photo of American musician Patti Smith, which was used as the cover for her 1975 album release, Horses, which was her debut studio album released by Arista Records. The record was a key factor and major influence on the New York punk rock scene.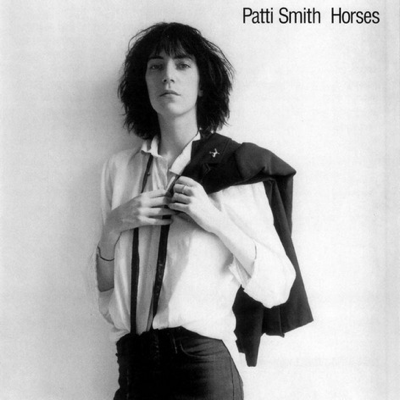 Mapplethorpe had her pose near the window of a friend's apartment, the pair waiting until a triangular shaft of light poured in. You can see the triangle of light just faintly to the right of Smith, with its apex hitting her clavicle.
Interestingly, Smith retained the copyright to this image and did not allow it to be airbrushed, artificially beautified or altered in any way by Arista Records for its use on her album cover.
Another significant and sculptural photo in this exhibition is one of Lisa Lyon, a female bodybuilder. Fascinated by her masculine and feminine qualities, Mapplethorpe developed a large body of work with her, eventually producing a book of photos about and dedicated to her.
Many of the Mapplethorpe works in this exhibition are large scale silver gelatin prints, a technique which Mapplethorpe was known for employing. Of note is the inky blackness in the background that almost appears wet.
Mapplethorpe is one of the best-known and most controversial photographers of the second half of the 20th century. As a tastemaker and provocateur, his highly stylized explorations of gender, race, and sexuality became hallmarks of the period and exerted a powerful influence on his contemporaries.
Most significantly, Mapplethorpe was a pioneer in creating gallery relationships and in his design and presentation of his works – works that were edgy and risqué. His sensual homo-erotic pictures paved the way for the acceptance of subsequent photographers such as Bruce Weber and Herb Ritts, whose work would not have been possible without Mapplethorpe.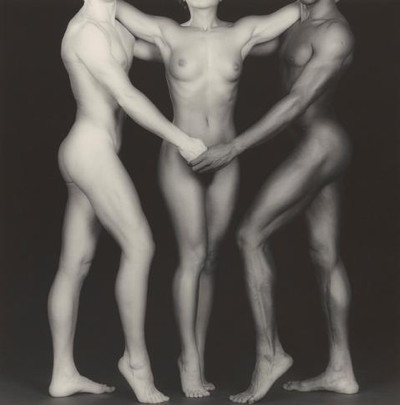 In Focus: Robert Mapplethorpe
J. Paul Getty Museum, Getty Center. 
On view October 23, 2012–March 24, 2013
Visiting the Getty Center
The Getty Center is open Tuesday through Friday and Sunday from 10 a.m. to 5:30 p.m., and Saturday from 10 a.m. to 9 p.m. It is closed Monday and major holidays. Admission to the Getty Center is always free. Parking is $15 per car, but reduced to $10 after 5 p.m. on Saturdays and for evening events throughout the week. No reservation is required for parking or general admission. Reservations are required for event seating and groups of 15 or more. Please call (310) 440-7300 (English or Spanish) for reservations and information. The TTY line for callers who are deaf or hearing impaired is (310) 440-7305. The Getty Center is at 1200 Getty Center Drive, Los Angeles, California.
Additional information is available at www.getty.edu.
The J. Paul Getty Trust is an international cultural and philanthropic institution devoted to the visual arts that includes the J. Paul Getty Museum, the Getty Research Institute, the Getty Conservation Institute, and the Getty Foundation. The J. Paul Getty Trust and Getty programs serve a varied audience from two locations:  the Getty Center in Los Angeles and the Getty Villa in Malibu.
The J. Paul Getty Museum collects in seven distinct areas, including Greek and Roman antiquities, European paintings, drawings, manuscripts, sculpture and decorative arts, and photographs gathered internationally. The Museum's mission is to make the collection meaningful and attractive to a broad audience by presenting and interpreting the works of art through educational programs, special exhibitions, publications, conservation, and research.
Sign up for e-Getty at www.getty.edu/subscribe to receive free monthly highlights of events at the Getty Center and the Getty Villa via e-mail, or visit www.getty.edu for a complete calendar of public programs.