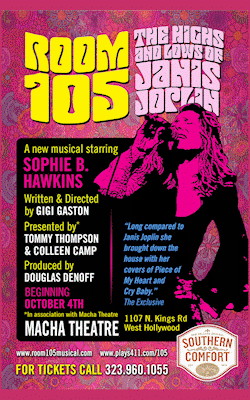 Gentle readers,
Here is a link to my article for LA Stage Times where I chatted with singer and musician Sophie B. Hawkins, and her writer/director Gigi Gaston, about their show Room 105, the musical tribute to Janis Joplin which opens at the Macha Theatre in West Hollywood TOMORROW NIGHT.
~ OR ~
You can just read it here!!
Happy reading!
A Piece of Janis Joplin's Heart Via Hawkins and Gaston interview – article for LA Stage Times
By Pauline Adamek
For years, people have been trying to tell the turbulent life story of rocker and feminist Janis Joplin.
The raw-voiced, bluesy rock singer-songwriter emerged during the late '60s, soared to stardom and lived a brief and incendiary life before she died of an accidental alcohol-and-heroin overdose alone in a hotel room. Her body was found on the floor of Room 105 of the Landmark Motor Hotel (since renamed the Highland Gardens Hotel) on Franklin Avenue in Hollywood.  At the time of her death, the music world was still reeling from the death of another rock icon, Jimi Hendrix, 16 days earlier. Both Hendrix and Joplin were 27 years old.
Several movies about Joplin have been proposed over the past few decades, with various songbirds such as Pink, Zooey Deschanel, Renée Zellweger and the late Brittany Murphy tipped to play the central role. None has been made. The Rose, starring Bette Midler, was released in 1979 and is, to date, the closest audiences have come to an unofficial biopic of the legendary singer, but it was fictionalized, reportedly to avoid any legal entanglements with the Joplin estate.
Now a musical tribute show, written and directed by Gigi Gaston, is being staged in West Hollywood for a short, three-weekend run. Titled Room 105, the show opens at the Macha Theatre on Thursday — the anniversary of Joplin's death in 1970. The Macha is just a few steps from Barney's Beanery, where Joplin was last seen before she died (but in 1970, the theater was called the Globe Playhouse).
Room 105 stars Sophie B. Hawkins, a Grammy-nominated singer-songwriter who, along with a live backing band, will interpret and perform classic Joplin music, plus some original songs composed by Hawkins. Three actors will play cameo roles (for example, Dick Cavett), with Lou Mulford portraying Janis Joplin's mother Dorothy.
Gaston is an American writer-director who directed her first documentary, The Cream Will Rise, in 1997. The intimate documentary concentrates on the troubled private life and difficult career of Hawkins. Gaston and Hawkins are in a long-term relationship and are raising a son, Dashiell Gaston Hawkins, who was born to Hawkins in 2008.
Wandering down a narrow lane in Venice last month, I came to an antique wooden gate and entered the walled courtyard of a large, two-story home. Vast and airy, the handsome home is the residence of Gaston and Hawkins. A recording studio where Hawkins works is out back.
The project's genesis.
The idea for the project came to Gaston in a dream, she says. "I've never been a Janis Joplin fan," she insists. "Of course, I know who Janis Joplin is, but as a kid growing up, I didn't have a poster of her on my wall. But then, as I became older, and you start hearing stuff about her at Woodstock and everything she did and the '27 Club' and all that stuff, I really started tuning into her. But it wasn't like,  'Oh, I've got to tell Janis Joplin's life' or anything like that."
The legend of Joplin was fashioned during her life and brief career. Contemporary accounts indicate that she had a hard time taking all the media scrutiny seriously. A Rolling Stone magazine story from 1969 has the prescient (and absurdly premature) headline Janis Joplin: The Judy Garland Of Rock? Her untimely death-by-drugs the following year elevated her to iconic status as part of a trinity of musical, countercultural casualties (along with Hendrix and later Jim Morrison)..
Says Gaston, "I woke up out of the dream realizing I had to write a play, not even a movie, about Janis Joplin — a musical, and it's got to be for Sophie. It was just the weirdest thing. I knew nothing about her other than what we know in the songs."
This was two years ago. "I went over to the computer and I started listening to YouTube tracks in the middle of the night and started writing it off of her singing. No research. I didn't want any research. I wanted to vibe it instinctually and creatively. I don't know if she channeled it and I don't know if people will like it, but I really feel Janis is here. I feel she's really helped guide us over some major obstacles that we've already had. I mean seriously, like when you go 'Oh God, we're never going to get this done now… We're in so much trouble, it's never going to happen,' and then some miracle happens.
"Even the producer [Tommy Thompson], he went to gamble and he said, 'All right, I want to win the money to start the pre-production on this.' And he won, like, 30 grand and he sent me a picture of all the money and said 'Janis was on my shoulder. I just saw a photo of her before I walked into the casino.' Isn't that totally cool? So, all this weird stuff has been happening," Gaston grins, adding, "You have to understand we pulled this together so fast. We're only going to have two weeks of rehearsal."
Gaston says getting the production off the ground has been a "weird" process. "That's how the documentary [The Cream Will Rise] was done, by the way. I knew nothing about filming. I'd only sold a bunch of scripts, I'd never picked up a camera and I got this weird feeling, when I met Sophie, to do a documentary on her because she was so interesting and so layered and her rehearsals were so fascinating."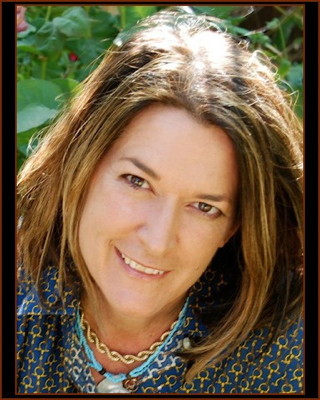 The director recalls meeting Hawkins through a mutual friend and being invited to observe a rehearsal. "Sophie had said that no one ever stays through them, they all get so bored," she laughs. "I got there and I guess because I was a writer I was fascinated with layers and how she taught the musicians to interpret her music, which is very subconscious and very similar, I think, to Janis. So I told her I wanted to do a documentary on her and she goes, 'Yeah right, well I'm leaving on tour in three days, you'd better learn how to shoot.'"
In other words, Gaston was invited to document Hawkins' forthcoming national concert tour. Recalls Gaston, "It was terrifying, but it was great. It was totally shot and cut on instinct and everything went wrong, as you can see in the documentary. It cut itself, do you know what I mean? Every problem that I encountered meant it sculpted itself, so I welcome problems. I'm very proud of it."
So why do a stage play and not a film? Sighs Gaston, "Everyone has tried to do the film and Sophie, to be honest, is too old to play Janis in a film, because she died at 27." Hawkins is now 44. "But on stage, you can cheat that. Also, in this play Janis comes back in spirit; it's her spirit coming through Sophie. She's going to be dressed like versions of Joplin. I'm starting with Sophie being Janis coming up out of the grave, through a trap door with lots of dry ice, singing 'Come on, come on…' and launching into 'Piece Of My Heart' and all of a sudden we're at Woodstock."
Tackling the subject.
Gaston is insistent that Hawkins approximate Joplin rather than attempt to impersonate the legendary singer. "I didn't want her to dye her hair. I don't want to see an impersonation…  What you see in Sophie, which is so magnificent, is she has the soul of her. They have a lot of similarities except, you know, Sophie didn't become a heroin addict. But they're both addicts, in a way. They both had hard childhoods."
Gaston has worked hard with her leading lady to capture the essence of the blues and rock singer, an authentic woman who, in performance, exuded ferocity mixed with nervous vulnerability, whose voice was compared to whiskey and whose laughter was that of pure joy."I think Janis actually knew she was the real deal," Gaston says, "but I think she thought it was going away at any minute. She was always prepared for rejection. If you really look back at her, she, you know, was called 'cake face' as a kid, and in college she was voted 'the ugliest man.' She was always ready for rejection, especially sexually, and there's a piece of my play where I describe when the fame came. 'It was like I was a kid in a candy store. I can have all the little tight-ass cuties,' and this and that. I really think that preparation for rejection, in every area, colored her life and I think that she hated to be alone. She was very lonely. Now these are points of view that I have just from listening to the music," the writer-director hastens to add.
Initially, Gaston wrote an impressionistic outline of the planned 90-minute show and then dug deeper to support some of her impressions with research and interviews. Her search led her to a meeting with Peggy Caserta — who, in 1973, wrote a book about her drug and sexual relationship with Joplin called Going Down With Janis.
"I haven't finished my interview with her," says Gaston, "but we had this great hour-long conversation just last night and Peggy couldn't believe that I picked up something about Janis Joplin that no other productions have shown, that Janis was incredibly intelligent. I'm not focusing on the drug-addict-rock-star who fucks everything."
Gaston says she has been struck by how well-read Joplin was. "She was really bright — three people have supported that." Gaston seems excited by a new scene in her play sparked by something Peggy told her the previous evening. "She never told anyone before. I've just finished the rewrite of it." The scene revolves around a well-known photo taken at Woodstock by Jim Marshall where Peggy is whispering to Joplin. Marshall was the chief photographer at Woodstock. Gaston reveals, "Peggy asked me did I want to know what she was whispering to her? She told me the story that led to it and it's historic when you hear what Janis Joplin said to her. It's historic."
Choosing the venue.
Gaston says she selected the Macha Theatre to open the show because it's so close to the last sighting of Joplin at Barney's Beanery. "I thought, along with one of the show's [three] producers, Colleen Camp, that we should have a place where you could really feel that her spirit would be."
She says that the company had also considered Garry Marshall's Falcon Theatre. A spokeswoman for the Falcon issued this statement: "Garry has known Gigi Gaston for many years. They did discuss the idea of doing the show at the Falcon. However, the Falcon didn't have an opening this season. We will look at it again for the future."
"The good thing I learned from Peggy last night," Gaston continues, "was that she said Janis would be really happy you're doing this. And we've had some threats from the estate, so that was really good to hear."
Gaston declined to elaborate, but admitted that as they were still in the process of gaining approval to perform various songs, the show has some strict parameters they need to remain within. "I'm sad about this, but Sophie will not be allowed to sing any songs that Janis Joplin wrote, so no 'Mercedes Benz', no 'One Good Man'."
The songs that will be featured in the show include: "Piece Of My Heart", "Crybaby", "No One Knows You When You're Down" and "Ball and Chain". "We don't get 'I Need A Man To Love', that was hers. We don't get 'Coo Coo', which had this really great drum section, it's so cool. We get to do 'Women Left Lonely' and 'Me and Bobby McGee', also 'Try a Little Bit Harder'. I'm not sure about 'Down on Me'. I think we got 'Get it While You Can', 'All This Loneliness', 'Little Girl Blue' and 'Summertime'."
Meaning "Summertime", the Gershwin classic from Porgy and Bess? Gaston confirms, "Yeah, but even that was hard to get."
Presented as a "modern-day retrospective on Joplin's turbulent life," Gaston's play promises to reveal the iconic singer's thoughts on love, sex, fame and belonging.  "It's like she's been dead for 42 years, but has been watching everyone down here."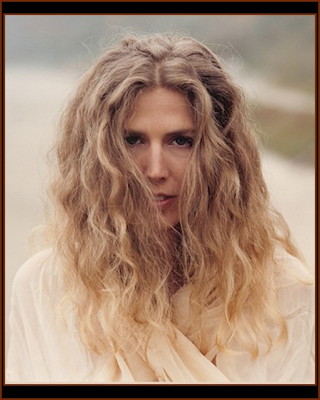 Channeling Janis.
Hawkins is best known for her early '90s chart-topping songs "Damn I "Wish I Was Your Lover" and "As I Lay Me Down".
The singer has been using recent concerts to workshop scenes from the show, telling audiences that she is taking them back in time before performing a monologue as Janis Joplin and then launching into one of the singer's signature tunes.
Recalls Hawkins, "The minute Gigi said 'You're going to play Janis Joplin,' 'Yes!' was my reaction, and my reaction probably to everything is usually 'No,' except in regards to my son. So 'yes' was my instant reaction." Gaston told her "this goes in for the song 'Piece of my Heart' or this monologue goes into 'Ball and Chain' and then, I don't know why, I just put it in my shows and my audience would be like — I guess they just accepted it from me. It was so fun." Gaston filmed these concert sequences for later perusal. "I did it in every show for the last year, different monologues, different songs, and then Tommy [Thompson] heard it and saw it and he got behind the show and that was our workshop."
This way Hawkins and Gaston got to test their ideas, to see what flew or didn't fly. Agrees Hawkins, "Oh my God yes, and then sometimes my audiences are very mixed, old and young, and some people bring their kids to the festivals like Madison. Some are [completely made up of] lesbians and when I get a straight lesbian show, I said, 'Gigi, I'm going to take this monologue that you wrote which I know the gay crowd is not going to like, but I'm going to make them love me'…and that's what I would do."
Adds Hawkins, "It's like how Janis, if she had stayed alive — and I think she fully intended to stay alive — I think she would have kept being a risk-taker, but actually nobody knows. That's the interesting thing about doing this show is that nobody knows who she would have become."
Hawkins says her approach will involve channeling the ghost of Janis from the beyond. "Yes," the singer confirms. "Janis takes over my body. I already have some of her habits and mannerisms, but Gigi has been careful. Sometimes I'll be listening to her on YouTube and I'll stop and imitate her. Gigi will tell me that's going too far. 'Now you sound like an imitation.'"
Hawkins says Gaston is pushing for a more complex performance from her. "I said to her one day I think I finally understand…It's as if Janis is still here but she's not here physically, so she's going to occupy different people's bodies to tell different versions of stories."
So Hawkins plans to play the role as if Joplin is able to look at her life through all these different prisms. "Each night it's a little different. The emphasis may be on regretting that she didn't reach Peggy one night…or regretting that she boozed it up and really hurt her voice another night, or regretting that she couldn't reach her mother, or regretting that she didn't actually conform and go back to Texas. Because you know she went back once and gave up singing and drugs and everything. She's really more interesting than I think people know. That whole persona of the big, tough broad was such a persona."
Hawkins seems unfazed by taking on one of the legends of rock and roll. "When you get the story of what you're doing in your mind, it doesn't matter about mistakes, it's just acting. When you get up there, as long as you know what you're trying to say, your emotions will follow and that's what I've loved about this. That's why this music — and Janis Joplin — is so addictive, because she was telling a story and she was in the era where you could be free to not be edited and cut and fixed and pitch corrected and have your tits done. Everything was so real and that's what her message was. She kept saying if these kids can accept me, then they will see that they can be themselves. It was so profound."
Room 105: The Highs and Lows of Janis Joplin. Macha Theatre, 1107 N. Kings Road., West Hollywood. Opens Oct.  4. Thu-Sat 8 pm; Sun 3 pm. Through November 25, 2012. Tickets $35.  Visit www.plays411.com/105. 323-960-1055.
***All Room 105: The Highs and Lows of Janis Joplin production photos by Gigi Gaston