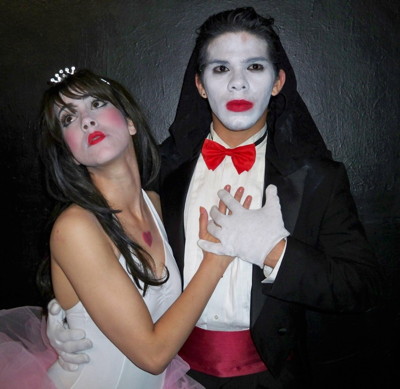 Hello dear readers,
Here is a link to my article for LA Stage Times all about the bizarre and mysterious Zombie Joe's Underground Theatre, and their newest presentation, The Fainting Couch by Robert Riemer, which opens in North Hollywood TOMORROW NIGHT.
~ OR ~
You can just read it here!!
Happy reading!
Zombie Joe's Underground Theatre presents The Fainting Couch – Interview / article for LA Stage Times.
By Pauline Adamek
Few places around town offer good old-fashioned thrills, shocks, laughs and gore. One that springs to mind is Zombie Joe's Underground Theatre Group. Happily ensconced in a tiny storefront theater space on Lankershim Boulevard in the NoHo arts district, this offbeat theater company has consistently offered its own brand of intimate, live horror and classical theatrical experiences — grand guignol, gore and horror plays so vivid and so close that you can almost touch the ghouls on stage.
Now approaching its 20th anniversary, Zombie Joe's Underground Theatre Group (ZJU) has a core troupe of dedicated artists and performers who devise and present an ever-changing roster of one-act shows for a devoted and loyal audience.
The founder and figurehead of this madcap troupe is Zombie Joe, a jovial and friendly fellow whose warm, inclusive and sweet demeanor belies his gruesome imagination and fascination with the macabre. "Even my mother calls me Zombie," he admits when pressed for his real name.
"We're definitely a horror-based company," Zombie Joe smiles. Indeed, ZJU is a true underground theater, where the art presented is often gritty, visceral, and sometimes funny. Experiencing a ZJU show may have you belly laughing one minute and scared out of your wits in the next instant. Unlike the one-note trickery of most modern horror movies and TV shows, ZJU's mission is to explore the whole spectrum of what can and does terrify when an audience is present in close quarters for live action.
ZJU's oft-restaged signature piece is Urban Death, an hour-long evening of 43 silent horror vignettes, ranging from 10 seconds to no longer than two minutes. The various dialogue-free scenarios ratchet up the fear factor by employing shock tactics and basic scares, while the "plots" both depict and prey on simple, basic human terrors. New pieces are added every time the show is re-mounted.
The North Hollywood theater space is intimate even for LA — more a shoebox than a 99-seat black box. (Audience seating can vary, but the average is 49.) With nothing but black walls, two curtained entrances on one side of the "upstage" wall plus a window that serves as a balcony, the combined stage/seating area is miniscule. Sets are generally as minimal as a black wooden box that can serve as a riser, or a cubbyhole for surprise appearances.
Often staging variations on classics by Shakespeare (recent productions include Blood of Macbeth and Hamlet) or Edgar Allan Poe (Masque of Red Death) ZJU also stages original works. The current playwright-in-residence is Robert Riemer, whose  The Fainting Couch will receive its premiere this month, directed by Zombie Joe. This will be the seventh Riemer play that ZJU has staged over the past four years.
More a disturbing drama than a horror piece, Riemer's Petrushka-inspired tale features a despotic Magician who dominates his charges — two fools and a ballerina.
Zombie Joe and his cast of four all studied Stravinsky and Nijinsky's Petrushka ballet as preparation. "This show is beautiful and ugly, elegant and ultra-violent, funny and sad – it can't really be classified," muses Zombie Joe. "The cast is completely devoted to making it a success. It's about the different parts of ourselves, and how they would be at odds with each other and also work together. These characters are figments of the Boss/Magician's imagination and mind that he's created. But because he's so oppressive, they form a plan of mutiny so they can break free."
The Fainting Couch is the first show that Zombie Joe has directed in six months. "I used to direct 10 per year. Now it's down to three," he explains. He has mentored several other directors who now share the workload.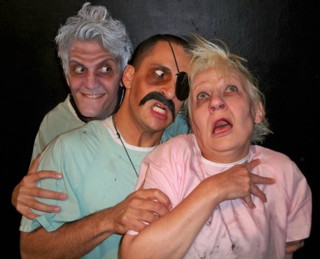 The secrets to their success.
The tireless troupe boasts around 70 core members, including general manager Adam Neubauer and lead director Denise Devin, one of the founding members of ZJU's NoHo incarnation. Not only does the troupe have a devoted following of audiences who return time and again, but the group itself has as its foundation an ethos that compels dedicated commitment. Ticket prices remain at an affordable $15 and the space is small, so box office receipts are modest. All productions are produced on a shoestring, with many directors reaching into their own pockets if they feel they must have a special costume, wig or prop to realize their artistic vision. Actors aren't normally paid by this non-Equity company, but payments have been arranged for The Fainting Couch.
Zombie Joe insists that everybody donate time and energy and whatever resources they can. Sometimes a director will raise a production's budget through Kickstarter funding.  "If you want to do a show here, it's pretty much known that the director will incur some costs, but we try to keep it low. We all serve the company's best interests…Nobody else does it the way we do; nobody else can put a show together and have it look the quality it does [here] on a shoestring."
These days scheduling is intensive. Offering shows on weekends only, typically ZJU offers a one-hour show at 8.30 pm on Fridays and Saturdays and a different one at 11pm. Sometimes a third show plays on Sundays.
Origins of the theater.
Zombie Joe says he has been "a stage actor since I could walk, mostly amateur, school-level plays. I did travel when I was young with a Shakespeare company. When I was 16 or 17, I started to take it more seriously. But I felt for a long time that I didn't belong in the theater, and there was a lot of attitude, even at the college level." He goes on to describe his epiphany moment. "I wrote this one play one night, overnight, and it all started from there. Something clicked. It sounds all goofy and dramatic, but that's how it was."
At the time,  Zombie Joe was 20 and in his third year studying drama at the University of California Irvine. He says he wanted to explore something that was edgier and more dramatic than the standard theatrical fare. "The play was called The Masterpiece and it was full of drugs, real sex and lizard men creatures. It was full-blown 'theater of cruelty.'"
The theater department soundly rejected his play. "Not only that," Zombie Joe emphasizes, "They rejected me."  Quitting the school in disgust, Zombie Joe decided to produce the play himself and enlisted Josh T. Ryan, a friend from Birmingham High School in Van Nuys. Zombie Joe sold everything he possessed, and together the two of them formed their first underground theater in a garage in Northridge. Ryan went on to direct and produce television shows but still directs a ZJU show from time to time.
Ryan's day job was a firearms dealer, which led them to using real guns onstage because it was cheaper and easier than finding prop guns. "Once we did hold up the audience and insisted on donation,"  insists Zombie Joe.
"The first few shows were really intense, we were doing super-shock theater, because I was so angry and self-abusive. Our early shows were ultra-violent with sex, drugs and horror." Zombie Joe says. Then he gets emotional, recalling the hardship of the early days. "The first year was rough. Those times were really tough going. I remember not even having any money for food or anything."
Expanding the brand.
After four years in the Northridge garage, ZJU moved to Reseda for another four years, then to its current headquarters in NoHo 12 years ago.
Robert Riemer first encountered Zombie Joe and his theater in 2008. Recalls the playwright, "I was looking for someone to put on any one of my plays, and someone told me he was perfect for understanding what I was trying to say." Riemer, who resides in Laguna Beach with his family, made the trek to North Hollywood to experience ZJU's signature show Urban Death, which was directed by Zombie Joe. Adds Riemer, "After seeing the spectacle, the cabaret of the style, the movement, the exaggeration, the make-up – I knew he was the man to direct my plays." Apparently Zombie Joe shared the sense they were kindred spirits.
At that time Zombie Joe was living in midtown Manhattan doing theater. It was a six-month plan — an attempt to branch out and have a ZJU presence in New York. "We were doing a bunch of shows. We were doing children's theater as well," he explains. "We were invited by Ed Gaynes at the St Luke's Theatre, who's a good friend. We've been there twice so far," adds Zombie Joe. "The first time was for seven months and we brought some of the group with us. There were about nine of us out there, finding places to live. The rest of the group, and our general manager kept things going here.
While it was a six-month plan, they stayed for seven. "We have property here. We quit our day jobs. We did go back again later, because it worked out really well," he explains. Plus, Zombie Joe was flying back and forth between the two coasts.
But while they were trying to establish the group in New York, things picked up in LA. Explains Zombie Joe, "We started producing more and more shows here. Our general manager, Adam Neubauer, he kind of started all that and soon we were doing four shows at once."
Riemer was keen for ZJU to stage one of his plays and proposed that they do it in New York City. "He loves New York and he wanted to come where I was," Zombie Joe recalls.
The Riemer show they staged was Splendid Misery, at the Actors Temple Theater, New York (March – April, 2010) with Zombie Joe directing. The New York Times favorably reviewed Urban Death.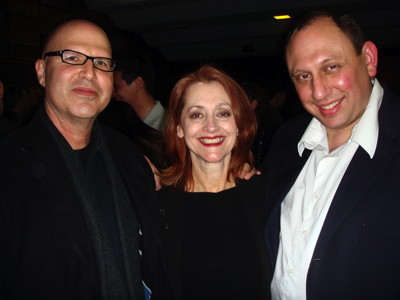 Collaboration with Robert Riemer.
Says Riemer, "I recognize how fortunate I am to have found what I truly believe is one of the only platforms for new theater. The seriousness that all the many projects are given, the amount of liberty the theater affords to its playwrights, and directors, is unmatched on either coast. And for me to be a 'playwright-in-residence' at ZJU is a gift."
After its early 2010 run in New York City, that show then transferred to ZJU in Los Angeles the following month, with Neubauer directing the remount. Next was A Memory of What Might Have Been, in June that same year, with Zombie Joe directing. Zombie Joe directed Sotto Voce and Hosea Nova, A Jealous and Violent Man, each of which was staged over a month during 2011. Two plays this year (again, with Zombie Joe directing) were Redhead in March and next up is The Fainting Couch in October.
Explaining his process, Riemer says, "The Fainting Couch started as many of my plays begin, with the title. I had a very rough idea of what I wanted to say, but very little idea of how I was going to say it. All I had was a title and a photo of a girl putting on lipstick. I also knew that I wanted to retell – in abstract – the story of Petrushka, as Nijinsky's Petrushka has always interested me as it related to Nijinsky and informed his personality, which was quite troubled, especially at the time of choreographing the ballet. And so I began, as I often do, facing the ocean, in the dark and in silence. I wrote the first scene without dialogue, as movement only; highly theatrical and tragic. And then almost every night after, late at night when my mind runs free, I sat and I wrote, almost like automatic writing – and the story took shape. And then in the editing the complete picture came to light. But, I have to say, this play in particular was somewhat of an anomaly, as I don't usually rely on pure feeling and instinct to drive me. But in this case I did, and the result is in many ways a testimony to my own inner life and struggle."
Reimer claims that The Fainting Couch is the most challenging play he has ever written.
Because he adopted this stream-of-consciousness approach, he found himself disconcerted by the absurdity and the disjointedness of what was taking shape. "I realized, near the end, that there was a parallel with only one occurrence that each of us share once a day, and that is dreaming. 'The Fainting Couch is a dream,' I said to myself. It is nothing more and nothing less. When I realized I was writing a dream, my mind opened even more. I allowed myself every liberty, every chance. When the play ended – abruptly – I didn't feel a need to expand further, to add, or to make clear the motivations of each of the four characters. Like a dream, the play ends with only some closure..[as in many dreams] the sleeper wakes with a sense of confusion and a deep feeling of mystery and self-doubt and momentary understanding of his true self."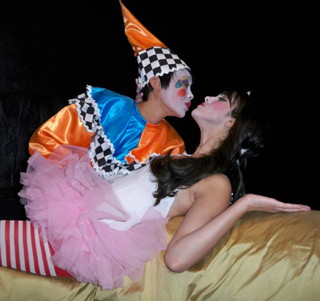 Upcoming shows:
Four ZJU shows are slated for October:
The Fainting Couch, Saturdays 8:30 pm, Oct. 6–Nov. 3.
The Para Abnormals, Thomas J. Misuraca's supernatural comedy thriller. Directed by Sebastian Muno. Saturdays 11 pm Oct. 6­–20.
Not With Monsters, Adam Neubauer's madcap race through time, complete with ghoulish encounters from classic horror monsters along the way. Directed by Sebastian Munoz. Fridays 8:30 pm, Oct. 12–Nov. 9.
Much Ado About Nothing, a stripped-down, high impact, turbo-charged version of Shakespeare's "battle of the sexes" comedy. Directed by Denise Devin. Presented in one hour. Sundays 7 pm, Oct. 14–Dec. 2.
Zombie Joe's Underground Theatre
4850 Lankershim Blvd.,
North Hollywood. 
818-202-4120