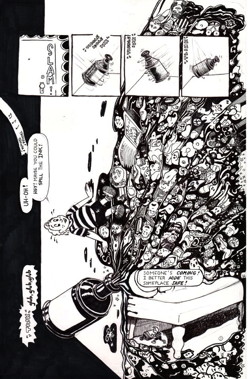 Hi and welcome back to ArtsBeatLA.
This week I headed down to Inglewood, California – the world's epicenter of creative arts, believe it or not – to chat with Jeffrey Edward Peters, artist extraordinaire. Jeff is an actor, a writer, a director and more significantly a comic book creator. Jeff has invited us to explore his studio and show us how he works.
Comics Creative is headquartered at the Artists' lofts and workshops at 1019 WEST Art Studios, 1019 W. Manchester Boulevard, Inglewood CA.
Jeff recently published Melvin G. Moose Toode Dick! #1, the first chapter of the Melvin G. Moose Toode Dick! graphic novel. Issues are offered separately to introduce readers to Melvin's world of Toodeopolis and beyond.
Melvin G. Moose Toode Dick! examines concepts such as belief equals life, creativity vs. control, greed vs. community, print vs. digital, murder and justice, creators and creations, ink, aspect ratios, brainstorms, sex, addiction, rock and roll, muses, dopplegangers, mirrors, dimensions, and a moose.
With Toodeopolis and the characters that inhabit it, Jeff Peters has invented an epic, world-changing mythology.
Melvin G. Moose Toode Dick! #1 can be purchased here. Issue #2 will be available very soon.
Write a Graphic Novel in 5 Simple Steps (Creative Writing in 5 Simple Steps)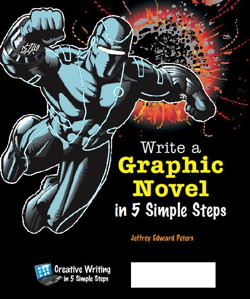 BIOGRAPHY:

As a performer, Jeff Peters is a regular on CBS's The Late Show with David Letterman. He has appeared Off-Broadway in the hit comedies Beau Jest and The Cocoanuts and is featured in the film American Splendor (2003). Jeff has also performed in over 50 feature films, 100 stage productions and 250 corporate events.

Jeff is also the Founder and CEO of Comics Creative, an all-media event and entertainment production company whose products include: The Great Show with David Ledderman (an industrial entertainment extravaganza), Comicology.TV (news, reviews and interviews about pop culture), and Melvin G. Moose, Toode Dick (a graphic novel). He is also the author of Write a Graphic Novel in 5 Simple Steps.

Jeff received his BFA from Carnegie Mellon University and currently lives in Los Angeles.
Watch our video interview with Jeff at his Inglewood studio.
Video produced and hosted by Pauline Adamek, edited and styled by Ash Revell. Filming by Charlie Kanganis.
httpv://youtu.be/AiMzETmNG_k
Purchase Jeff's books at Amazon here.
Read more from Jeff in his blog.
For more on Jeff, go here or follow him on Twitter here.