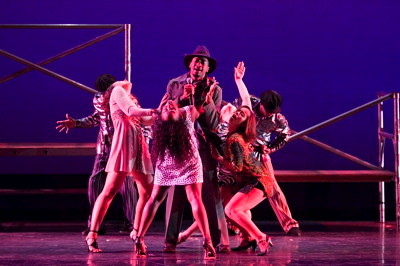 Gentle readers! This week my theater review for the LA Weekly is of a spirited dance tribute to the legendary R&B singer, James Brown, in Down Around Brown Town, now playing at The El Portal Theatre in NoHo.
Click here to go to the LA Weekly's theater page and scroll down a little bit to read it.
~ OR ~
You can just read it here!!
Happy reading!
Down Around Brown Town
One good thing about this exuberant jukebox song-and-modern-dance tribute to the legendary soul singer is that nobody tries to "do" James Brown. Instead, we have singers, such as Promise Marks, with powerhouse voices of their own, warbling classic R&B hit tunes such as "It's a Man's Man's Man's World" and "I Feel Good" (over taped accompaniment) while a multicultural troupe of classically trained dancers interpret the songs through modern ballet choreography. The groovy, toe-tapping and fun one-act show zips along in a swift 75 minutes.
Regrettably, the ballet corps lacks cohesion. It's as if the creators, dancer-choreographers Frit and Frat Fuller, glanced around their weekly dance class and decided to harness the phenomenal talent within. Hence we have an abundance of agile pirouettes and fleet-footed leaps and more than one nod to the style of Alvin Ailey and his dance theater. Soloists such as Princess Mecca Romero and Junji Dezaki shine when they take the stage, but all fail to move in pleasing unison when dancing in groups. Occasional distorted singing is an unfortunate byproduct of radio mics, but lends an authentic flavor; even James Brown's voice sometimes maxed out the electronics.
Down Around Brown Town
526 Lankershim Blvd., N. Hlywd.;
Thurs.-Fri., 8 p.m.; Sat., 2 & 7 p.m.; Sun., 3 p.m.; through Jan. 6.
(866) 811-4111