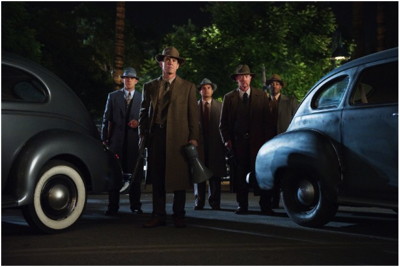 Pin striped suits, fedoras and tommy guns – Hollywood's latest addition to its film noir canon is Gangster Squad, featuring a prestigious and mostly macho cast led by Sean Penn as sinister mob boss Mickey Cohen. The story charts the LAPD's battle to keep east coast Mafia types from forming an organized crime foothold in Los Angeles during the 1940s and 50s.
An illegal intimidation unit, known privately as the 'Gangster Squad,' was formed within the corrupt LAPD and was led by Sgt. John O'Mara (played by Josh Brolin) and officer Jerry Wooters (Ryan Gosling).
Directed by Ruben Fleischer (Zombieland, 30 Minutes or Less), the stylish movie is based on a seven-part series of articles written by Paul Lieberman entitled "Tales From the Gangster Squad." Published in the LA Times in 2008, the series charts the attempts by the LAPD to take down 'Jewish Mafia' boss Meyer Harris Cohen, aka "Mickey."
Early footage showed Penn playing Cohen with a ruthless ferocity, his fiery, violent persona undiminished by the layers of prosthetic makeup. Eventually he comes up against members of the squad, who are played by Anthony Mackie, Michael Peña, Giovanni Ribisi and Robert Patrick. Sassy 'it-girl' of the moment Emma Stone co-stars as Mickey's moll who, predictably, falls for Gosling's staunch copper.
For the reportedly $70-plus million movie, Cohen's hangout and HQ, Slapsy Maxie's – one of Hollywood's top nightclubs during the 1940s – was recreated inside a cavernous and long abandoned grocery store in Bellflower, a middle class suburb in south east LA.
When I visit the set, the downstairs area has been converted into glamorous 1940's era nightclub set, replete with art deco detail. Upstairs is the heart of Cohen's bookmaking operation, including a wire room and a floor-to-ceiling blackboard charting the results from every racetrack across the States.
Today's shoot has several squad members disguised as musicians busting up Mickey's bookmaking operation. Brolin, sporting a crisp tuxedo, stands sentry as Mackie tosses a stunt man through a plate glass window. Three cameras (including a steadycam) are in place to capture the action. They need to get it in three takes as there are only two replacement windows. After the first take, the window is reset within 20 minutes. Take two is extra violent, with the stunt guy tumbling into three extras working the phones. Mackie seems to be keeping morale high on set with loud chatter and comedic posturing. Gosling is not in this scene, but later he strides past me with his felt hat pulled low, twirling his handgun.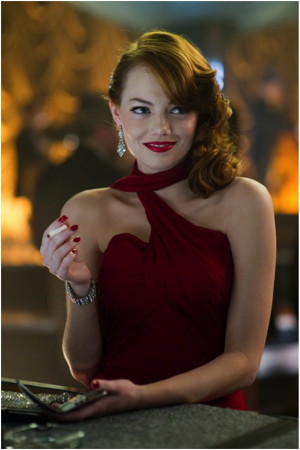 Looking dapper in his tux, Brolin has a meaty, hefty look about him that is well suited to the period. A floppy fringe of hair offsets his square head and stern jaw. "I'd never heard of the 'Gangster Squad,'" he admits. "These guys kept it under wraps." Plus, the actor was no pushover. "The movie as a forties thing wasn't like, 'I gotta do that.' I'd rather do something modern and fun where I get to laugh a lot. And I was trying to do Gatsby at the time, and we were trying to figure it out, time-wise." When Luhrmann's production schedule changed, Brolin reluctantly dropped out of Gatsby. Meanwhile Gangster Squad was experiencing its own casting issues. Recalls Brolin, "Sean was going back and forth and finally they came to me with Mickey Cohen. At first I was, 'I think I could do that.' But five foot five, Brooklyn Jew – I'm a decent character actor but that's pretty far-fetched. I told them Sean was perfect for this." The pair had enjoyed a good collaboration on Milk. "Sean and I love working together, so I agreed to play O'Mara and we'd figure it out. It became very exciting at that point. Even though we don't have that many scenes together, it's the big finale that we're both looking forward to shooting." The actor concludes, "It's been a fun movie to do."
Director Ruben Fleischer constantly fidgets with a prop firearm during our interview, twirling it and even dropping the gun at one point. Mercifully, it doesn't go off. Fleischer describes Gangster Squad as "a period movie with those classic, beautiful 1940's cars and tommy guns and those classic gangster tropes," adding that the main appeal was his love affair with his own city. "As a Los Angelino, I love celebrating LA. We're showcasing LA at what was possibly its greatest time, the Art Deco period. There was an exciting post-war exuberance. A lot of people were moving to California – it was a time of transition." Fleischer explains how while everyone was off fighting the war, Mickey Cohen was able to set up his criminal operations. "They'd been fighting for this greater ideal and then they came home to a crime-ridden city where people were being shot in the streets. These noble soldiers brought that same fight for right to the streets of LA and they succeeded. LA's never had organized crime since then. It's a classic story of good guys vs. bad guys."
Leading man Josh Brolin.
Donning the natty suits of the 1940s and wielding a variety of weaponry, Josh Brolin heads a team of no-nonsense police enforcers hell-bent on taking down one of the most dangerous mafia bosses of the twentieth century; Mickey Cohen, as portrayed by Sean Penn.
Brolin plays Sergeant John O'Mara, who is recruited by a gravelly-voiced Nick Nolte as Police Chief Bill Parker to lead a secret undercover squad of uncorrupted police officers. Under the direction of Ruben Fleischer (Zombieland), Gangster Squad is a vivid and violent retelling of events surrounding the LAPD's efforts to take back their city from ruthless, Brooklyn-born mob kingpin Mickey Cohen (Sean Penn) and his crew.
Set during the late 1940s and 50s, and filmed at iconic locations such as Griffith Park Observatory, Downtown's City Hall and Olivera Street and Grauman's Chinese cinema in Hollywood, the gritty mean streets of Los Angeles may prove to be this noir movie's biggest star. Though despite its gangster period flavor, the movie's emphasis is set squarely on action.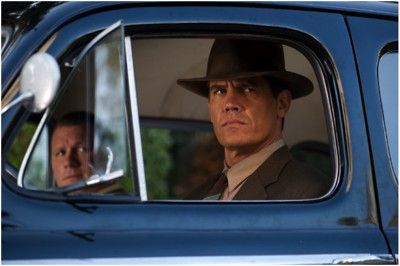 Appearing alongside a hard-bitten team including Ryan Gosling, Robert Patrick, Michael Peña, Navidad Ramirez, Giovanni Ribisi and Anthony Mackie, Brolin seems hard pressed to describe his tough cop character. "I don't know, man," he sighs. "I did my research and had to decide how much I wanted to base my character on the actual guy. He's extremely interesting. He was a romantic who lived his life for his wife and kid."
Research included watching crime dramas from the 40s, but Brolin insists he "didn't want to copy the cadence of the old movies." Knowing what he knows now about crime and corruption, is he afraid when he sees a cop on the street? Brolin shakes his head, "No. But having been to jail as many times as I have, I probably should. That's a funny question and that's a horrible answer, but it's the truth."
In elaborating on the "romantic" side of his character, Sergeant 'Jack' O'Mara, Brolin indicates how much he drew on his own romance with actress Diane Lane. The pair has been married since 2004. Recalls Brolin, "The first year we were together, even though Diane and I had only spent maybe one month apart, I'd go into the bathroom and write an email to her from there. It was that kind of lustful relationship, in every way. At the end of the year, I didn't know what to get her as a present. So I thought I'd take all those emails and make them into a book. I figured it would be like 40 or 50 emails. It was 492 pages of emails! So, yeah. It was that kind of output. She's really the love of my life. Not pretend, or 'I wish it was – I'll try to make it that way' but truly. It just is. So I felt a kinship with this guy, O'Mara. He was what the Seal Six team is today – those guys who killed Osama. He was devoted to his wife but he also had the ability to be a fairly violent guy. It's that contradiction that I liked a lot. He was a fairly honorable guy, but he had the potential for violence, especially in what he did during WWII and while studying at the OSS." [The Office of Strategic Services (OSS) was an intelligence agency formed in the US during World War II, and a predecessor of the CIA.]
Brolin had just completed filming another period flick, one that was set in the sixties. The actor maintains that Men In Black was "a tough shoot for me. Why? Because it's Men in Black. There was a lot of pressure. It was a character, so that's what I liked and that was the whole reason I did it." He then runs through an imaginary conversation aloud, "Are you interested in doing Men in Black? Not really. Are you interested in playing a young Tommy Lee Jones? That's kinda cool. Could I pull that off?" He humbly concludes with "Ultimately it was a great experience."
Facing off against Sean Penn's Mickey Cohen was another thing that helped sell The Gangster Squad to Brolin. "It's fun for us. Sean's a very gracious actor – whatever the reputation the guy has. He's a wonderful guy and a great friend. We understand each other, so it's an easy dance. We respect each other enough to go off on a tangent and know the other will back him up."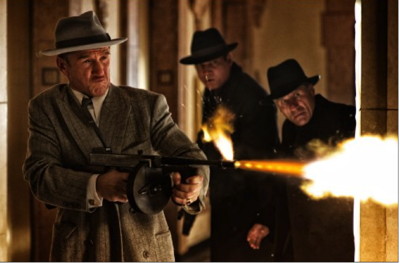 Gangster Squad is now playing in Los Angeles cinemas.