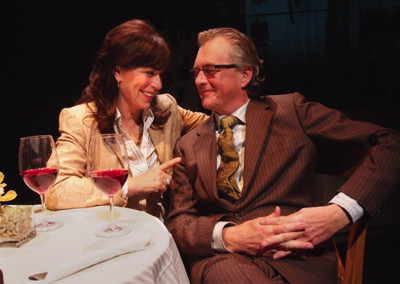 Hello readers! This week my theater review for the LA Weekly is of The Snake Can, now playing at the Odyssey Theatre in West LA.
Click here to go to the LA Weekly's theater page and scroll down about 1/3 of the way down to read it.
We gave it 'Pick of the Week'!
~ OR ~
You can just read it here!!
Happy reading!
The Snake Can
Writer Kathryn Graf (author of late 2011's hit play Hermetically Sealed) perfectly captures the easy and sparkling conversation between three longtime female friends, the kind that always resumes mid-sentence.
Nina (Diane Cary), Harriet (Jane Kaczmarek) and Meg (Sharon Sharth), now middle aged, are all successful in their careers but unlucky in love for different reasons. The trio frequently gets together to drink wine and share war stories and encouragement as widowed Harriet nervously dips her toe into the online dating pool.
Nina's enjoying a new direction with her fine art, but can't quite let go of her estranged famous-actor husband Paul (Gregory Harrison) whose wandering eye begins to size up Meg. What's superb about Graf's insightful play is its refreshing unpredictability, its allegiance to its focus (the women and their enduring friendships) and the raw scenes, of which there are several, where all six characters express themselves with searing honesty.
Plus, there are numerous memorable lines that transcend mere quippery; Meg confesses she feels "ruined by loneliness" while Harriet's new boyfriend, the bi-sexual Stephen (James Lancaster) confesses to his old flame Brad (Joel Polis) that sometimes being with a woman is "like eating on a full stomach."
Steven Robman's sensitive direction (and sensible, unfussy staging) permits the performances to chime with veracity.
The Snake Can
World premiere
2055 S. Sepulveda Blvd.,
West Los Angeles,
Runs:
Thursdays-Saturdays, 8 p.m.,
Sundays, 2 p.m.
Continues through February 24, 2013.
Box Office:
310-477-2055