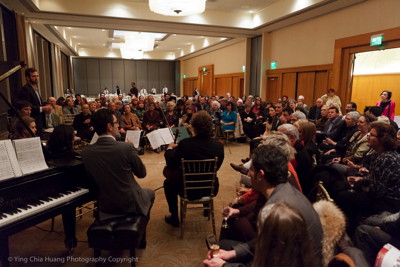 It was a packed and enthusiastic house that attended a recent Sunday's Le Salon de Musiques concert. During this, the fourth of eight concerts of Le Salon de Musiques' 3rd season, we were treated to J.S. Bach's Gamba Sonata n.2, Robert Schumann's Fantasy op 73 Cello & Piano and – most thrillingly – the US Premiere of an exciting work, Philipp Scharwenka's Piano Quintet op 118.
And what a splendid debut! The three movements of Scharwenka's exhilarating piece were enchantingly performed by a string quartet of Guillaume Sutre on violin, Helen S. Callus on viola, Antonio Lysy on cello and Searmi Park on violin, and accompanied by Steven Vanhauwaert on piano.
As always, the afternoon's program began with an introduction from the artistic director and curator of the series, Francois Chouchan, as well as one from musicologist Julius Reder Carlson explaining some of the historical background of the pieces. Together they fanned our anticipation of the afternoon's musical entertainment.
Part of our pleasure included watching the setting sun from the 5th story of the Dorothy Chandler building in Downtown Los Angeles. But the greatest thrill was experiencing the passion and excitement of the musicians a mere few feet away. I loved observing the glances and smiles between the musicians as they performed as one.
For the Bach and the Schumann pieces, Antonio Lysy performed on his gorgeous cello with his eyes closed; no score was required. Steven Vanhauwaert's accompaniment on piano was precise for the Bach and lyrical and flowing for the Schumann.
Between the two pieces, our cellist even commented on having to make a mental adjustment ("a different hat") and "finding his vibrato" in order to make the transition from the more clinical, mathematical Bach to the romantic Schumann. It was sweet to share this insight.
One relief was that there was no applause between movements, which is correct, and thunderous applause at end of each piece.
Then, when the others joined Lysy for Philipp Scharwenka's Piano Quintet op 118, the fireworks commenced! Each now following scores, our cellist even lost his glasses during the first fiery moments of his performance. The spectacles were quickly recovered.
My only tiny misgivings are that the chairs are a little hard, so do bring a coat to cushion your back. Plus, the room's carpet tends to dampen the harmonics…  But these truly minor quibbles are well outweighed by the superb experience.
Following the performance, each audience member was handed a flute of French Champagne to lubricate the Q&A segment of program. The intelligent questions from the audience, who are clearly well-versed in classical music, were refreshingly erudite. For one response, each of the musicians in the quartet of string described the historical provenance of their instruments, which was neatly split with two from the 18th Century and two from the 21st Century.
A delicious light sandwich and cake buffet (courtesy of Patina) and more French champagne was served thereafter.
This was a thrilling experience.  Next up on February 10, 2013;
TEREZA STANISLAV Violin,
SARAH THORBLADE Violin,
ROB BROPHY Viola,
CECILIA TSAN Cello,
STEVEN VANHAUWAERT Piano
FRANK BRIDGE: Fantasy Piano Quartet
ZAREBSKY: Piano Quintet in G minor op 34 (USA Premiere)
Don't miss the next concert!
This fourth concert of Le Salon de Musiques' 3rd season on January 13, 2013, was sponsored by the German Consulate of Los Angeles.
Photos by Ying Chia Huang.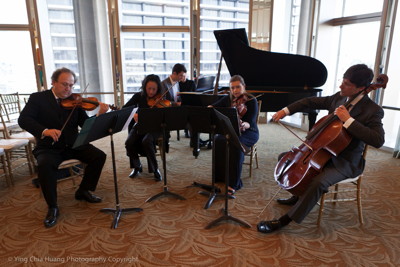 For information on upcoming concerts, please visit their official website.
Performances:
Every third Sunday through May 19th, 2013, from 4:00pm until 6:00pm
Where:
Dorothy Chandler Pavilion – Fifth Floor
135 North Grand Avenue
Los Angeles, CA 90012
TICKETS:
Regular price: $65.00 (The Concert + La Conversation )
Students price: $45.00 (The Concert + La Conversation )
BOOKINGS:
You may pre-purchase tickets here.
For more information about Le Salon De Musiques, please call 1 (310) 498 0257