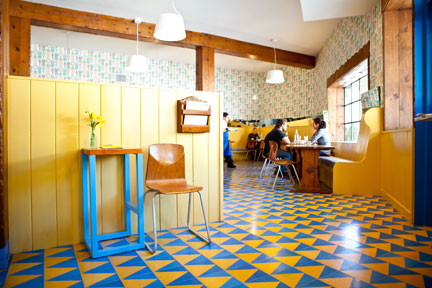 There's a tiny, almost secret little enclave in Hollywood, on your way to the scrub beneath the famous Hollywood sign in Griffith Park. Bronson Canyon's main street, North Beachwood Drive, runs north of Franklin, near Gower, and houses a small community in the Hollywood Hills. The upper portion of this canyon is the old 'Hollywoodland' district that was originally advertised in the 1920s by the Hollywood Sign. The canyon features its own market, coffee shop and stables.
At a tiny intersection sits Beachwood Café, formerly a local haunt called the Village Coffee Shop – a no-frills greasy spoon that offered mainly greasy fried breakfasts and burgers with a bit of attitude (read: comfy, cheap and unhealthy). The venue was recently taken over, overhauled and renamed to become a cute destination café boasting some seriously devoted local cuisine, courtesy of chef Minh Phan (Echo Park Artisanal) and café owner Patti Peck (former owner and chef of Millie's Cafe and Edendale Grill).
Following a full-on restoration and décor upgrade, Beachwood Café opened almost a year ago hoping to provide a more upscale dining spot for locals. At first it was just a daytime café, offering coffee, home baked goods and breakfast fare, also soups, sandwiches, salads including farro + beet salad and burgers (even vegan ones) for lunchtime and so on.
"We are all about creating community here," says Patti Peck, "A place where people connect and share good music, a glass of wine, and a nice meal."
Then Patti and Minh took the next bold step to offer dinner service, and here's where the creative talents of Minh really get to shine. Patti is all about warmth and friendly community while Minh supports that intent with her culinary flair, offering comfort and high-end (read: thoughtful and creative) cuisine.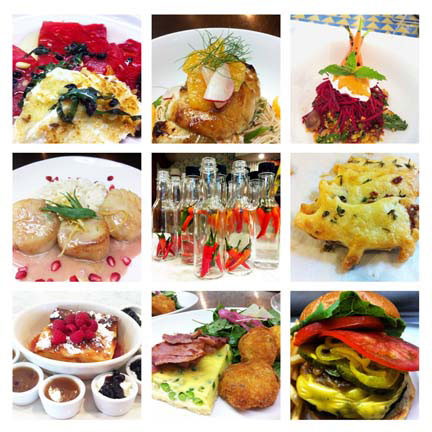 There's so much to love about Beachwood Café.
Drawing on 'la cuisine naïve' movement in France, Minh has created an eclectic menu full of global influences as well as a lifetime of enjoying her Vietnamese mother's home cooking. Hence you might see Lamb Kofta listed alongside a braised pork dish. While local and seasonal ingredients take precedence, Minh creatively applies everything from Asian to Mediterranean to Nordic influences to forge her cooking style.
Nota Bene:

Beachwood Café will celebrate their milestone with a Grand Opening/One-Year Anniversary party on Friday, March 1, 2013.

The event will feature an open house from 6:00pm to 8:00pm with free passed appetizers, mocktails and cocktails, followed from 8:00pm to 10:00pm with a $30.00 tasting menu debuting the cafe's new spring menu.

This event is open to the public.
A CREATIVE MENU:
Thanks to the concept and vision of this formidable duo, Beachwood Café now offers chic food in a stylish but informal setting. Patti owned and ran her own kitchens for decades, but now has handed over the daily tasks and menu responsibilities to her clever chef. The result? What's evident is a tremendous amount of detail and dedication to a seasonal menu that chef Minh Phan devises and executes.
For starters, everything on the plate – meaning the condiments, the pickles as well as the meal – is made by Minh's fair hands. We're talking house-made sodas, fennel ketchup and house-made crème fraîche for crying out loud!  And yes, you can tell the difference!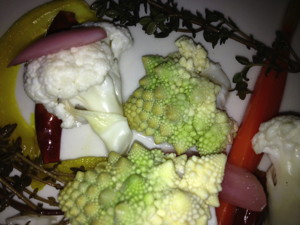 Vibrantly-colored pickled vegetables (house-made, of course) impart a lively flavor and include carrot, turmeric and thyme-infused red onion and exotic-looking Romanesco broccoli (aka Roman 'cauliflower' or fractal broccoli). There is a sharp and slightly sweet edge to this satisfyingly crunchy vegan dish.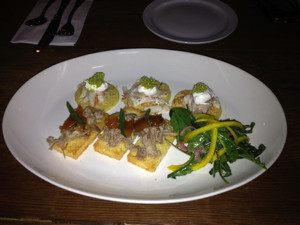 The Tuesday Tapas is a special that I loved. Delicate blue corn fennel-frond blini  were topped with smoked white fish (courtesy of ACME – a Brooklyn-based artisanal smoker) and delicious bright-green wasabi caviar, granting little juicy pops of crunchy, spicy flavor. Alongside three of those large-ish bites were three brioche toasts topped with Niman ranch fennel pork rillettes, and served with homemade pickles and peppery citrus cumquat marmalade, which beautifully cuts through the unctuous rillettes ($9).
Starters/Sides: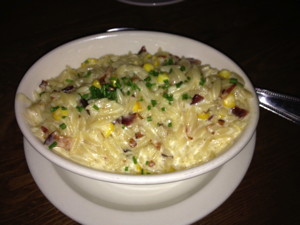 The corn + orzo braised in cream ($9) with smoked bacon($12) is a meal in itself. Comfort food has it's due in this hot bowl of rich, creamy orzo dotted with chunks of smoked bacon. It's silky yet firm textured, and creamy with a subtle (not overpowering) bacon kick. There's a good balanced to this dish; like a sophisticated mac & cheese. It's available with or without bacon, too, so that way it might not be vegan but it's a solid a vegetarian option.
Entrees:
The shiso + enoki stuffed dover sole, glass noodles, tamarind-ginger broth, baby bok choy, shallot confit, herbs($23). Worth every penny – this dish has a gorgeous broth in which floats a good portion of mung-bean glass noodles. Some crunchy steamed baby bok choy gives you the green factor. The filet of Dover sole is stuffed with exotic shiso leaf and enoki mushrooms, then rolled and steamed. Yummy crispy fried shallots are sprinkled on top.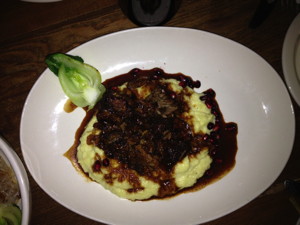 The ume sake braised pork, satsuma sweet potatoes, greens ($22) comes with pickled jalapeno. This slow-cooked comfort dish – not fattening! – has a luscious sauce, soaked up by the steamed sweet potato mash mixed with Satsuma plums, all sprinkled with pomegranate seeds for fresh pop of juice – Minh is all about the textures, people!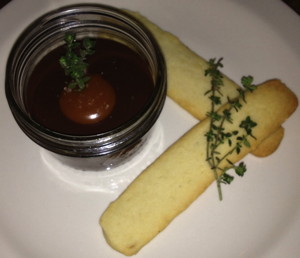 Desserts:
'Salted Twix' is a lovely, rich dark chocolate pot de crème cooked and served cold in its glass mason jar, with a silky-sticky blob of salted caramel in the middle and a sprig of thyme. The crumbly, buttery shortbread sticks (home-made) complete the 'twix' candy bar experience.
Check out their full (seasonal) breakfast and dinner menus on their site. The link to their current lunch menu is here, including a delicious-sounding vegan burger brown rice, wild mushroom, cashew, walnut, vegan mayo, avocado, arugula, tomato ($12).
THE VIBE:
There's no denying it – Beachwood Café is chic and cute, thanks to an award-winning design makeover courtesy of Architect Barbara Bestor. In fact, her whimsical redesign earned the café a 2012 AIA Restaurant Design Award.  Impressive!
Apart from the bright and sunny colors that greet you – the azure blue front door, the bright blue and golden yellow diamond floor tile throughout – Beachwood Café has an inviting, warm-yet-roomy and welcoming vibe. It's the perfect place to chill out with the newspaper over lunch or coffee, as well as a lovely venue to gather with friends or bring a date. There's a little 'secret' room off to the left of the front door that they call the 'writer's room' – probably because it's good for solo diners and you can easily get a cell phone signal. Actually, free wifi is available throughout the café, even this deep in the canyon. Also impressive!
There's a long marble counter (and baked goods display) to lounge at (on stools…), or you can hang out at a two-top or a four top or – my fave – in any one of the built-in booths that line the spacious main room. Remember, a lot of celebrities live in this canyon, so this café is fantastic for people watching; if you don't snag the booth seat, you can always sneak a peek in the floating mirrors that line the walls.
The pretty art wallpaper is designed by Geoff McFetridge, and artists Claire Cresbo and David Tagel have created several cute and whimsical mod dioramas set in to some little wall alcoves. The best one, (only in the boy's toilet – grrrrr), depicts a fanciful scene of every little boy's fantasy of rocket ships, Jurassic dinosaurs and toy soldiers.
Basically, Beachwood Café manages to combine a cozy and quirky local hangout feel with some seriously good cuisine. Check it out!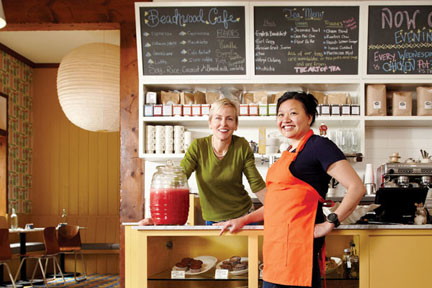 Beachwood Cafe
2695 N. Beachwood Drive
Los Angeles, CA 90068
Licensed.
Major credit cards are accepted.  Kids are welcome and take out is available.  Reservations for parties of six or more are accepted.  The restaurant is available for rentals, weddings, private parties, and special events.  Cafe capacity is 80 seated, 150 standing.
Free parking is available in the lot around the corner, next to the Beachwood Market.
Grand Opening/One-Year Anniversary Party

Friday, March 1, 2013
Open house from 6:00pm to 8:00pm, with free passed appetizers, mocktails and cocktails.  Drop in!
Sit-down dinner, 8:00pm to 10:00pm, with a $30.00 tasting menu debuting the cafe's new spring menu, plus a free glass of wine or mocktail with dinner.  Reservations recommended.
General Hours:
Tue-Sat 8 am – 10 pm   <<<<<<< Open at 8:00am for coffee and pastry, sit down or take out.
Sun 8 am – 3 pm
Closed Monday
Contact:
tel 323-871-1717
Daily/Weekly Specials
• Tapas Tuesday
• Pot Pie Wednesday
• Patti's Midwestern Dinner Special (+ patron's winning mom's recipes) – every Thursday
• Fancy Food w/ Chef Minh – Fridays & Saturdays
Cafe & Neighborhood Events – FEBRUARY, 2013