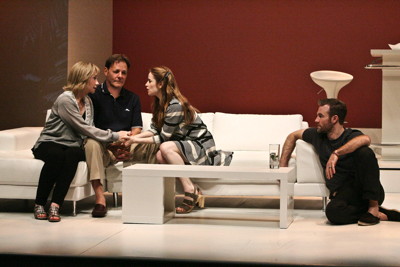 Opening at the Geffen Playhouse tonight is a satire that promises to divide audiences with its morally challenging twist.
I recently interviewed the two ferociously intelligent women who have transferred the production from Melbourne, Australia, to Los Angeles.
READ ALL ABOUT IT!
Here follows my interviews with Australian playwright Joanna Murray-Smith and the director of The Gift, Maria Aitken.
READ my interview & article on the LA STAGE TIMES site.
~ OR ~
You can just read it here!
Happy reading!
A Radically Revised Re-Gifting at the Geffen
Intro:
Australian playwright Joanna Murray-Smith returns to the Geffen with the US premiere of The Gift. Initially set in Australia, the play is now set in LA and the Caribbean. Here Murray-Smith and director Maria Aitken discuss the changes the script has undergone, the bewildering diversity of styles in the LA cast and how the characters strike the writer as "inherently LA."
Article:
Three years ago, Geffen Playhouse hosted Joanna Murray-Smith's 2006 comedy The Female of the Species, starring Annette Bening. Now the Australian playwright's The Gift is coming to the Geffen, marking its North American debut. And it now takes place in LA and the Caribbean — as opposed to the original Australian settings.
But The Gift has undergone a radical transformation since the Melbourne Theatre Company (MTC) first staged it in June 2011. When the morally perplexing drama — now in its third incarnation, following a New Zealand staging in 2012 — opens tonight, LA audiences will likely experience the version Murray-Smith feels is best.
"The LA production will benefit from having two very different versions of the play previously staged," the dramatist predicts, speaking over the phone from her home in Melbourne.
Joanna Murray-Smith
As she talks, Murray-Smith reveals a ferocious intelligence as well as a surprising combination of confidence and charming self-doubt. Reflecting on her successful 27-year career, she remarks, "I'm still touching wood! You always worry that this is the last thing you'll ever do, that no one will want to do your work any more," adding a self-deprecating laugh.
The Transmutation of a Stage Play
In 2012 The Gift enjoyed a second production courtesy of the Auckland Theatre Company. What had initially been presented by the MTC as a two-act evening evolved into a one-act piece, as interpreted by the company's artistic director, Colin McColl. "I had nothing at all to do with the Auckland production," the playwright says.
When Murray-Smith headed across the Tasman Sea to check it out, she was astounded. She explains, "When The Gift premiered in Melbourne as two acts, I felt uneasy about it. As a playwright, I don't like breaking the spell of the play." Hence, almost all of her plays are deliberately constructed as one-act, 90-minute plays.
But because the narrative of The Gift reflects the passage of one year, it naturally fell into two acts. So she went against her usual instincts because an intermission made sense. "Also," she adds, "the end of the first half is quite definitely a psychological cliff-hanger."
Yet somehow McColl's version, staged without an intermission, felt "completely natural," Murray-Smith marvels. "There was an intensity that was really fantastic. The NZ production had all sorts of aspects that I was apprehensive about, including a high-concept set. But when I saw it, it was absolutely fantastic. I was bowled over. It's very humbling to see a great production of your play that you had nothing to do with," she exclaims with a laugh.
The dramatist goes on to emphasize that there were many things about the original Melbourne production that she loved, extolling the virtues of her director, former British thespian Maria Aitken, whom she selected to oversee the Geffen production. "Maria is an absolutely superb director, with actors in particular. Naturally she completely understands everything from the actors' point of view, so she knows how to lead them to the conclusion she thinks is right, allowing them to discover it themselves."
Jaime Ray Newman and James Van Der Beek
Upon viewing the Auckland version, it was back to the drawing board for Murray-Smith. "For McColl, I'd edited the play so it was much shorter, with very few extraneous elements, and so I brought the benefit of that second production back to Maria. I told her, 'I've just seen this other production — I think we should think about making these changes.'"
Taking a break from rehearsals at the Geffen, Aitken concurs. "She did throw a spanner in the works, but you know I love her and here I am. It's been very interesting. It's given me many sleepless nights about how to do it, how to tackle it and I think we've solved it. I think it's really beautiful to look at, but it wasn't straightforward." Aitken goes on to explain that she had to wrap her brain around "a gigantic set change. Jo's totally not interested in how things work, but that's good because it forces you to solve it."
Eliminating the intermission may serve the reworked play, but it wreaks havoc on the transition. Aitken almost shudders as she describes the "absolutely diabolically fast costume change. Like, 10 seconds for one and 40 seconds for the other actors."
But there's a lot more to it than that. How does the play sit comfortably as a one-act, considering that a whole year passed within the story? Explains Aitken, "Actually it's quite complicated. The play is full of different tenses; present tense and past tense. In the beginning, when Sadie addresses us, we realize this is after it's all happened. I figured that she was already in the second location, speaking from it. So everything that happens in part one is a flashback. We actually start in Los Angeles and it shifts before your eyes to the Caribbean resort. We set the whole thing within Sadie's memory. Once we worked that out, then it was okay." Sadie is the elder of the two women characters, played by Kathy Baker.
Maria Aitken
Although she doesn't appear too stressed-out, it's evident that Aitken's continent-switching journey with The Gift has been challenging. Calm, smiling and early for our interview, Aitken has all the charm and polish you'd expect from a grande dame of the London (and international) theater world, where she is particularly known for her many appearances in Coward comedies. Movie fans probably remember her for playing John Cleese's bitchy upper-class wife in the 1988 Oscar-winning comedy A Fish Called Wanda.
The Irish-born actress turned director says she began to retire from "treading the boards" about 21 years ago. The transition into directing wasn't easy. Reveals Aitken, "I didn't make enough money as a director to begin with. The thing about England is, it's a lot more mean-spirited, really, than the United States or Australia, in that if you do two things, they just don't believe that you really do either of them. So I was like a performing bear — an actress who directed. Nobody ever bought it. People felt I should pick one and stick to it."
Aitken met and married her husband, the British novelist Patrick McGrath, 21 years ago. "I thought, 'I don't want to be out eight shows a week anymore, and I love directing, so I'm going to be a director.' After three years I was so broke I had to go back and star in the West End again. I remember sitting in the wings and thinking, 'This is ridiculous. I should be working at the checkout or something. But I knew I wanted to be in the building of theater, I just didn't want to be prancing about."
Over the past decade or so, she has gained acclaim for directing the ingenious spy parody The 39 Steps, first helming its 2006 London premiere, then earning a 2008 Tony nomination for directing its subsequent Broadway debut. The West End production won a 2007 Olivier Award for best comedy and is now enjoying its fifth concurrent year. She also recently helmed the Roundabout Theatre Company's 2011 revival of Man and Boy starring Frank Langella.
Jamie Jackson, Kate MacCluggage, Cameron Folmar and John Behlmann in Broadway's Roundabout Theatre production of "The 39 Steps" at American Airlines Theatre. Photo by Carol Rosegg
With Murray-Smith, Aitken believes she has found a like-minded creative soul. As for why they work so well together, Aitken muses, "Well Joanna is so smart. Her plays are fascinating and very provocative. She throws down some good ideas and upsets your moral applecart. But the great thing from the editorial view is that Joanna is a very rational human being. And she will adapt and change and pay attention so that actors never encounter difficulties or structural difficulties…She's extremely flexible."
Aitken adds, "What's special about her is the quality of her mind. Also she's intuitive and that somehow doesn't go together; if you're an intellectual sometimes your intuition is on the line. They're not mutually exclusive, but they can be. She's a glory to work with. In her private life she's also the warmest person, so welcoming."
"Australian actors, " Aitken adds, "are really wonderful. I've worked with some terrific people in Australia and they're diligent and they adore suggestions, and they're creative and they work like demons."
Aitken professes she loves her LA cast, but each of the four adhered to a dissimilar rehearsal process.
"They're totally different in the sense that their methodology, their process is utterly diverse. It's kind of a miracle to achieve a sense of coherence. It's been a slog to do that, to turn them into a unit, a team. But alchemy started to happen just in the last few days, which is really heartening, so that's great," she sighs with relief. "They've become a company, though they probably didn't start as one." This happened despite a rehearsal period of less than three weeks –  "almost nothing," Aitken groans.
Kathy Baker and Chris Mulkey in "The Gift" at Geffen Playhouse
A Tricky Plot
The Gift is purportedly a satire that shifts to more serious concerns by the second half. The controversial subject matter, and the moral dilemma at the center of the story, is likely to spark debate. In The Gift, a privileged older couple (played by Kathy Baker and Chris Mulkey), encounters a younger couple ( James Van Der Beek and Jaime Ray Newman), while on vacation in the Caribbean. Following a traumatic event, and feeling indebted, the older couple promises the younger couple an extravagant gift. The four re-unite a year later to decide what it will be. But can the older pair meet their shocking request from the younger couple?
Dancing around the central issue without spelling it out, Murray-Smith observes, "Some audiences thrill to the provocation of the play, while some audiences are horrified by it." But for the most part, she says, they are engaged with it. "I use a lot of humor in my plays, even in the dark and very serious plays, like The Gift, and the humor is essential. You want to seduce the audience so that they will travel into the dark heart of the play."
In this way Murray-Smith coaxes her audiences to open themselves up to the controversial ideas she is presenting. "Even though it provokes strong opinions, they actually feel the issues of the play in a visceral way. That's my job…to seduce the audience into going somewhere they may not normally go and give them an opportunity to explore their feelings about that topic.
"It is a play about morality on a certain level, and can be quite divisive."
The script requires balancing satire, irony, humor and drama, and Aitken says she hopes she has pulled it off. "It is busy, and it changes direction, which is always interesting. So the audience is lulled into a certain set of assumptions, though they aren't allowed to keep them. Meaning assumptions not only about what the people and the characters are dealing with, but about the nature of the play itself."
A Productive and Varied Career
While predominantly an internationally renowned playwright, Murray-Smith is also a screenwriter, novelist, a lyricist and librettist (notably for the 2002 opera Love in the Age of Therapy) and a newspaper columnist.
Her plays have been staged throughout Australia, most often by the Sydney and the Queensland Theatre Companies, in addition to the premier company in her hometown of Melbourne, the MTC.
Kathy Baker
Often compared with Australia's other prolific scribe David Williamson, she has actually surpassed Williamson as Australia's most internationally produced playwright. All of her 16 plays have been produced during her industrious 27-year career (she says she doesn't have any half-finished ones tucked away in a drawer). Her oeuvre includes Redemption, Rapture and Songs for Nobodies, and her works have been produced nationally and in Europe, the US, Asia, Israel and Mexico.
Her best-known work, Honour (1995), has been produced in over three dozen countries. It debuted on Broadway in 1998 at the Belasco Theatre starring Jane Alexander, Robert Foxworth, Laura Linney and Enid Graham. In 2005, Matrix Theatre Company's LA premiere featured Susan Sullivan, Robert Foxworth, Granville Van Dusen (rotating the role), Kirsten Potter and Becky Wahlstrom.
The Gift is the second of her plays to be staged by the Geffen. The Female of the Species ran to sold-out houses in 2010. Female also was produced on the West End, where it was nominated for an Olivier Award for best new comedy. Another possible Geffen production is in the works.
Adapting Her Play for the US Market
"Things usually happen after the first premiere in the northern hemisphere.," Murray-Smith notes. "They don't always take off, but generally that is kind of the springboard, globally speaking." Clearly Murray-Smith has high hopes for the Geffen opportunity. Were the Aussie and New Zealand productions "out of town tryouts"?
"Essentially, that's the way it works," she admits, adding, "Obviously, Melbourne was not an 'out of town tryout' for me, because it's my hometown. The hometown production always counts the most because it's where everybody you know lives. And it's usually the production that you're the most closely associated with, because you've gone through all the highs and lows of the journey towards opening night."
But she hastens to add that she's been heavily involved with the LA production. There have been detailed discussions and finicky changes pertaining to dialogue and idiom — nothing thematic, and nothing to do with character, she insists. All the essential elements of her play remain intact. But getting the local language right is key. "I like my plays to belong to the world of the audience that is watching them. I don't want them to stop and think, 'Oh — we don't say that!' Any language issues need to be resolved, because I don't want audiences to think, 'Oh, this is a story that could happen to Australians but not to us.' I really want them to feel like that could be them up there on the stage."
Kathy Baker, Chris Mulkey, Jaime Ray Newman and James Van Der Beek
Quite a lot of work — much more than for any play she can recall — has gone into making changes to the dialogue to make it feel inherently American.
A Broadway production is in the cards. New York producer David Richenthal has optioned the play, sight unseen. "He'll see how it goes here in LA, and then it becomes a jigsaw puzzle. It's about getting a top-notch — meaning famous — cast, then it becomes about the hunt for the theater, and that's when it all starts to feel real."
Murray-Smith says that Richenthal is "very committed" to The Gift and is also highly experienced on Broadway. "He produced Female of the Species on the West End. He's an honorable guy." She confirms that Aitken is attached to direct the play on Broadway.
There are not likely to be any further adjustments to the characters or the play's setting; it will retain its Caribbean and Los Angeles settings.
Explains Murray-Smith, "The two older characters somehow feel inherently LA, meaning wealthy and not immersed in a world of big ideas. I mean — they're very intelligent; they're just not culturally sophisticated. In New York, you do feel that even if you are not an intellectual or involved in the world of the arts, that world is very present and available to you, in a different way to LA."
Yet she goes on to add that she feels that LA theatergoers at Female of the Species were "the most switched-on audience I'd seen anywhere in the world. They got every joke, including the more highbrow ones."
Murray-Smith's LA Base
Murray-Smith says she enjoyed working here during the Female of the Species run. Regarding the Geffen, she says, "There are certain theater companies where you walk into and you feel as if everyone is completely focused on supporting the artistic elements of the production, and the Geffen is like that. They could not be more supportive of the artist. I had a fantastic experience last time. I miss [the Geffen's late producing director] Gil Cates terribly," she laments, "But I love [Geffen artistic director] Randall Arney [who directed Female], and he's been a great supporter of mine."
Annette Bening and Merritt Wever in the 2006 production of "The Female of the Species" at Geffen Playhouse
Murray-Smith has returned to sit in on previews and attend her opening night, but there's another reason for her to be in LA at this time. The Geffen commissioned a new play from her and its first reading took place yesterday. "It's lovely because it's a play that they own."
In fact, this year is a bumper year, with three commissioned works in various stages. "That's why I'm particularly worried about no one doing my work again. I feel like they're all doing it this year, and no one will want to do anything of mine next year," she jokes.
When Murray-Smith returns to Melbourne, her new play, True Minds, goes into rehearsal for the MTC. She describes it as "an out and out, full-on comedy." Then, a week, later she has another new play, Fury, going into rehearsal at the Sydney Theatre Company, commissioned by artistic directors Cate Blanchett and Andrew Upton, with Upton directing.
Meanwhile, the Geffen play marks Murray-Smith's first North American commission, something she's clearly thrilled about.
"It doesn't have a title yet, but it's the first time I've written a biographical play." All she will divulge is that the subject is a female American writer. Speaking before the reading, she says, "It'll be the first time I've heard it read aloud, which is always absolutely terrifying," but she's confident that her new play is a good fit for the Geffen.
The Gift, at Geffen Playhouse, 10886 Le Conte Ave., Westwood. Opens tonight. Tue-Fri 8 pm; Sat 3 pm and 8 pm; Sun 2 pm and 7 pm. Through March 10. Tickets $47-$77.  310-208-5454.
***All The Gift production photos by Michael Lamont