A tranquil, lush oasis with fine, grassy grounds scattered with wildlife, Two Bunch Palms in Desert Hot Springs is the perfect escape from the hustle and grind of L.A. Only 13 miles from Palm Springs Airport or just two hours drive east along the 10 freeway brings you to this famous resort, with its natural hot springs and notorious history. Legend has it that the infamous gangster Al Capone used Two Bunch Palms as his private hideaway during the 30s. It certainly endures as a popular getaway destination for the Hollywood crowd, thanks to the old world glamour and romance of this special property.
The 56-acre resort and full service spa is ensconced in a lush landscape of palm trees, gardens and wilderness preserves. You'll find a peaceful lake, swimming pools, two lighted tennis courts, even private sun bins for nude sunbathing. Several of their 52 guestrooms and villas are brand new additions, including gorgeous and spacious suites with king-sized beds, plasma TVs and their own huge and private backyards. Chirping pairs of hummingbirds sip floral nectar as you recline and unwind. You can spot serene ducks squatting and cute cottontail bunnies hopping lazily across the emerald lawns. The occasional roadrunner may dart across your path while you are en route to the clay cabana for one of their signature treatments.
Share a private booth with your honey and enjoy a romantic side-by-side mud bath (as seen in the movie The Player). This restorative thirty-minute, hot mud soak – hovering just below 100 degrees for maximum purging – envelops you in an earthy, indigenous dark green mineral clay blended with peat moss. That's followed by a mineral shower then a cozy, or chilled, body wrap and foot massage. This therapeutic treatment (totaling one hour, $115) not only draws out toxins but exfoliates and soothes your skin.
The curative artesian mineral waters from on-site wells at Two Bunch Palms are enriched with this same green clay that has been soaking in minerals for eons, granting it natural healing qualities.
Their watsu therapy is an unusual blend of assisted yoga and massage. A practitioner cradles you in one of the warm, private mineral water pools, gently stretching and manipulating your floating form.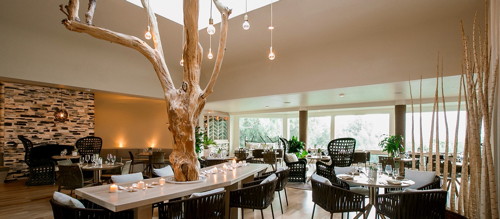 Every morning there is a complimentary Continental breakfast buffet laid out in the Casino Dining Room, where a giant fireplace glows during winter. Starting the day sipping coffee or juice, accompanied by eggs, pastries or toast out on the sweet terrace, with its exquisite view of the San Bernardino Mountains, is as relaxing as it gets. At lunch and evenings you can choose from low-fat and low-sodium meals such as organic chicken breast with steamed vegetables or fresh seafood to splendid herb-marinated rack of lamb or steak and then splurge on an indulgent dessert.
After dinner it's essential to soak in the hot baths under the stars and beneath the towering palms that surround the discreetly lit grotto. Here you can alternate between the smaller and hotter pool, with a temperature around 104 degrees, then lazily drift back into the larger, warm pool, around 96 degrees.
A serene oasis of peace and healing, Two Bunch Palms recently underwent some renovation and new developments, including a new boardroom suitable for corporate retreats.
Their restricted cell-phone, no children and no pets rule makes for a tranquil and restful getaway.

Two Bunch Palms
Address: 67-425 Two Bunch Palms Trail, Desert Hot Springs, CA 92240
Phone: 760-329-8791; 800-472-4334
Spa hours: Fri-Sun, 8.30am-8:30pm; Mon-Thurs, 8.30am-6pm