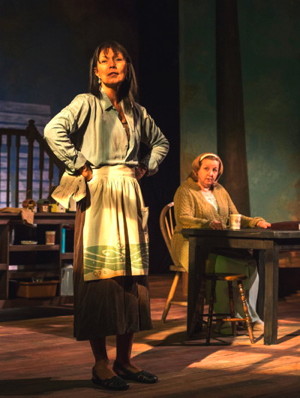 Dear readers! This week my theater review for the LA Weekly is of The Bird House, a poignant play, now playing at Native Voices at the Autry in Griffith Park.
Click here to go to the LA Weekly's theater page and scroll down to find it.
~ OR ~
You can just read it here!!
Happy reading!
The Bird House
Cherokee playwright Diane Glancy offers a sad slice of contemporary country life in a small, dusty town in West Texas.
Struggling with a dwindling congregation in his (almost) ghost town, evangelical preacher Jonathan (aka Reverend Hawk, played by Choctaw actor Randy Reinholz) and his dependent sisters face eviction from their church home.
Glancy crams several related themes into her play, from the bleak fate of the impoverished elderly to the cold-hearted business decisions of the church to the destruction of the environment when government sells out to developers. Glancy compares Reverend Hawk's imminent eviction with the plight of the Native Americans whose lands were taken over forcibly by white settlers. Ellen Dostal is good as Jon's older sister, Clovis, who, following a debilitating stroke, speaks to the audience directly, vividly describing her frustration.
Portraying Native American cowboy Rope, Lakota actor Robert Owens-Greygrass gives a passionate and disturbingly vivid speech that illustrates the rape and poisoning of the land and its water by the fracking process.
While Glancy offers few solutions for her beleaguered characters, her play stands as a heartfelt indictment of the deplorable predicament many are facing in today's tough economic climate. The play is beautifully staged and directed by Robert Caisley.
The Bird House
Native Voices at the Autry National Center,
4700 Western Heritage Way,
Griffith Park
Thurs.-Fri., 8 p.m.; Sat., 2 & 8 p.m.; Sun., 2 p.m.
Runs through March 17.
(323) 667-2000