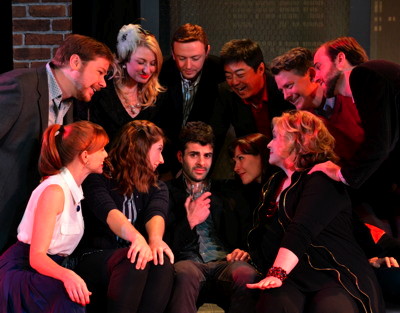 ::STOP PRESS::

Company has been extended thru Sunday April 28, 2013, at 3pm.
Previously reviewed:
Hello readers! Last week my theater review for the LA Weekly was of Stephen Sondheim's 1970s comedy musical Company, now playing at Crown City Theatre in North Hollywood.
Click here to go to the LA Weekly's theater page and scroll down a little bit to find it.
~ OR ~
You can just read it here!!
Happy reading!
Company
Stephen Sondheim composed the lyrics and score to his innovative "concept musical" in 1970, with book by George Furth. For a comedy musical about love, it proves resolutely unromantic and honest. And, surprisingly, its acerbic wit and laserlike scrutiny of marriage, dating and relationships does not feel at all dated.
Director Albert Marr's incorporation of cellphones and Facebook effortlessly adds a contemporary feel. The loose story centers on Robert (a charismatic Ben Rovner), a handsome, single, mid-30s New Yorker surrounded by well-meaning but smug married friends. Their cheerful efforts to push him toward joining their club are undermined by their conjugal lives, which are fundamentally flawed or dysfunctional.
The ensemble's vocal skills are good but not stellar, though Julie Black sings brilliantly as funky girlfriend Marta. Also impressive is musical director William A. Reilly's furious piano and synth live accompaniment. Despite some appealing performances, this company's average Company barely matches Sondheim's marvelous material.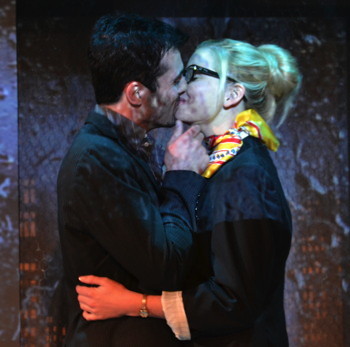 Company
11031 Camarillo St.,
North Hollywood
Thurs.-Sat., 8 p.m.;
Sun., 3 p.m.
Runs through March 30. (818) 745-8527