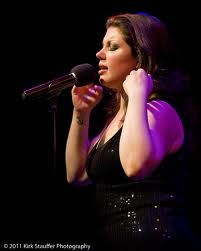 "Everything I'm singing now is a reflection of my truest self…"
That's Jazz vocalist Jane Monheit's description of her newest jazz CD, The Heart of the Matter.  In a recent interview with Ms. Monheit about this, her 11th CD release, it became evident that her statement is more than true; it is an absolute. Indeed, The Heart of the Matter covers body and soul. If combining the definition of 'matter' as being a subject of writing, and then adding the subject of which a physical object is composed, then this album is all this and then some.
Tapping into her roots as a jazz musician, The Heart of the Matter has a palpability created by Ms. Monheit's love and enthusiasm for music, family, and the world around her. Her intensity about this subject was a large part of our conversation; it's not just reserved for the stage or her recordings.
Listening to this album before reading anything about it, I formed my own impressions of the selections and her interpretations. Then, after reading the press releases and speaking with Monheit, it became easy to understand why this jazz album succeeds. Primarily, it's all about lyrics, lyrics, and more lyrics. In fact, our conversation kept returning to her lyrics. Her myriad intentions, interpretations, and results lie their core. It's this vision and inspiration that fuels the imagination of her listeners by creating images for their own interpretation.
About the artist:

Jane Monheit is critically-acclaimed Grammy-nominated jazz vocalist.  Her 11 CDs represent a broad spectrum of her repertoire, from well-known standards, Brazilian and contemporary music, to original compositions.
Among her thoughtful and oh-so-personal choices for The Heart of the Matter are the songs that represent her passion for Brazilian music, with two selections written by Ivan Lin. Combining Golden Slumbers with the classic tune The Long and Winding Road was the inspiration of her husband, Rick Montalbano. Regarding the pairing of these two songs, written by The Beatles, Ms. Monheit explains, "Taken together, the meaning becomes deeper than that of just a lullaby or a break-up song. I tend to go for darker interpretations, but it's nice when it's left a bit open for the listener to find their own meaning as well." I did just that with several of the songs.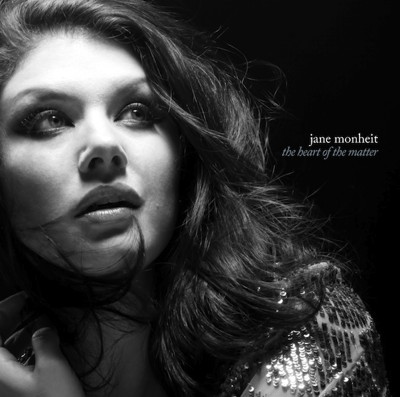 Upon listening to a favorite of mine for many years, Until It's Time for You to Go by Buffy Sainte-Marie, the uniqueness and interpretation of Ms. Monheit's version took it someplace entirely different than the traditional. Monheit's version transports this lovely tune beyond its 60s origin to a Parisian cafe. Opening with the throbbing drone of an accordion that quickly adds a cello and then her voice, Monheit transforms it into something reminiscent of 21st Century Edith Piaf.
When I mentioned this personal impression, Monheit seemed surprised to learn that the song was thought of in two such different ways. She imagined a carnival at closing time, not wanting to leave for a number of possibilities—creating a very different scenario. She revealed it also holds a special meaning for her as she watches her young son growing up.
All of this magnificence is achieved with the collaboration with Grammy Award winning Gil Goldstein as producer and arranger. Having worked in 2009 with Monheit on The Lovers, The Dreamers, and Me, Goldstein's arrangements are wonderfully unique, yet unpretentious in supporting the concept of the storytelling of this album. One can't help but notice the ornate arrangements, but only as an enhancing factor of the whole musical work.
With a choice of material from the past, the present (Monheit's own original Night, Night Moon) and interpretations looking towards the future, The Heart of the Matter is meant to be listened to over and over again since each time will bring something new.
The Heart of the Matter has an April 16, 2013 release date and is available now on Amazon for advance orders.
CD review and interview by Melissa Berry.