Choral group Vox Femina Los Angeles continues its stunning 16th season of concerts with Half the Sky: Voices of Women Worldwide, a divine choral concert celebrating the courage and compassion of women around the globe, on Sunday, March 10, 2013 at 3:00pm at the Church of the Blessed Sacrament in Hollywood.
The event features Vox Femina's first installment of an exciting musical cycle, which explores culture and stories of women around the globe.  Children from Creative Planet School of the Arts will dance on stage with Vox for "Beneath the African Sky," a special choral piece newly written by Paul Caldwell and Sean Ivory. The heartfelt musical work was inspired by genocide survivor Clemantine Wamariya's childhood spent in African refugee camps.
A new composition by Haitian-American composer Sydney Guillaume will also be featured.
Vox Femina Los Angeles gives women voice through the performance of quality choral literature.  Diverse in culture, age, race, belief, and sexual identity, Vox is a chorus committed to commissioning new works and raising awareness about issues that affect the family of women.  Through music, the chorus aims to create a world that affirms the worth and dignity of every person.
Upcoming Vox Femina 2013 performances include:
Sat. 3/16/13 [8:00pm] & Sun. 3/17/13 [3:00pm] – Awakenings – with Gay Men's Chorus of Los Angeles – First Congregational Church of Los Angeles [Koreatown]
Sat. 5/18/13, 7:00pm – Definitely Deco – Monte Carlo Night at the Black Bottom Club – location TBA
Sat. 615/13, 8pm – It's Our Party – A sweet/sassy 16 party – Zipper Concert Hall [Downtown LA]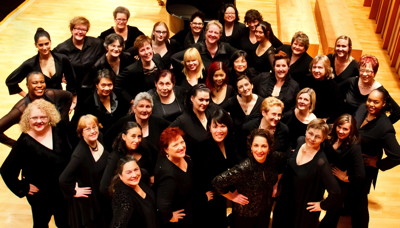 Vox Femina Los Angeles
Half the Sky: Voices of Women Worldwide
Sunday, March 10, 2013
3:00pm
Church of the Blessed Sacrament
6657 West Sunset Boulevard,
Hollywood, CA 90028.
Public parking is available at lots adjacent to the church.
Limited street parking is also available.
For more information, and to purchase tickets, visit their official site. Tickets are $25.00.
 

About Vox Femina:

Vox Femina Los Angeles is a women's ensemble dedicated to the performance of quality choral literature from a world perspective with an emphasis on music by women composers.  The chorus was founded in 1997 by Artistic Director Dr. Iris S. Levine.  The 21 founding members of Vox Femina first appeared on stage as guest artists with the Gay Men's Chorus of Los Angeles in April 1997.  Since that time, Vox has quickly established itself as one of the premier women's choruses in the United States with a demonstrated ability to perform highly eclectic repertoire, some of which can be heard on several recordings.  It actively fulfills its mission through an aggressive schedule of performances, touring and educational outreach. Vox has demonstrated its support and encouragement of living composers through commissioning new works.  Auditions are held every August.
Dr. Iris S. Levine, Artistic Director –
Nationally recognized for her excellence in choral conducting, Dr. Iris S. Levine is the founder and artistic director of Vox Femina Los Angeles, the city's premier women's chorus. Through her extensive experience with women's choral literature and innovative concert programming, Dr. Levine has charted Vox Femina's 16-year journey, building its prominence in the choral community by way of numerous appearances at ACDA (American Choral Directors Association) conventions, and over 100 appearances throughout the United States, Mexico and Canada.
Dr. Levine earned her Doctorate in Choral Music from the University of Southern California under the tutelage of Rod Eichenberger and James Vail, and she holds a Master's degree in Choral Conducting from Temple University in Philadelphia, where she studied with Alan Harler.  Dr. Levine is Department Chair and Professor of Music at California State Polytechnic University in Pomona.  She is also the Artistic Director for the Master Chorus at Stephen S. Wise Temple, where her choral arrangements are often performed.  Dr. Levine is also National Chair of the ACDA Repertoire and Standards Committee for Women's Choirs and is highly sought as a guest clinician and adjudicator for choral festivals throughout the country.
About Composer Sydney Guillaume:

Originally from Port-au-Prince, Haiti, Sydney Guillaume (b. 1982) blends his cultural roots with his American upbringing to create a sound unlike anything heard before.  The Miami Herald praised his work for its "impressive maturity and striking melodic distinction."  Guillaume, a University of Miami graduate, has been commissioned to compose new works for many nationally-recognized ensembles including Seraphic Fire, The Miami Children's Chorus, and The Westminster Chorus.  His music has been performed at ACDA, All-State conventions, and abroad.  Beyond choral music, Guillaume also writes film scores for Loyola Productions, a non-profit creative media company, aiming to promote awareness of cultural and social justice issues. Guillaume currently resides in Los Angeles. More info here.
Creative Planet School of the Arts:
Creative Planet School of the Arts is a private arts magnet dedicated to providing a space for accelerated academic training, intensive arts education, creative expression, and community outreach. Creative Planet, a non-profit private elementary school, provides students with personalized, high-energy instruction in both academics and the arts including all areas of dance, acting, music and visual arts. The school offers an accelerated approach to K-8th grade academia that believes all students have the ability to achieve high levels of education when given the self-esteem, discipline, and opportunity to excel in a safe, nurturing and positive environment. Creative Planet holds to the belief that students who are well rounded in the arts have higher levels of self-esteem, become outgoing leaders in high school and college, developing creative tools to tackle whatever they pursue in life.  Students of any race, color and national or ethnic origin are admitted. More info here.
Church of the Blessed Sacrament:

Founded in 1904, Church of the Blessed Sacrament was the first Catholic Church in Hollywood, built by the community on land donated by Marie Drouet in the early 1900s. The first mass was held in the church on September 12, 1904 and was attended by 14 adults and 21 children.  Today, there are 4,500 families in the parish.  The church's mission includes a celebration of  "our individual, family, ethnic and cultural diversity."

As it has for the past century, Blessed Sacrament continues to serve the greater Hollywood community through outreach to the homeless, ESL classes and Legal and Health Clinics.  On February 2, 1986, the establishment of the Archdiocesan Ministry with Lesbian and Gay Catholics was announced with the purpose of serving the spiritual needs of lesbian and gay Catholics and their families.

The Church sponsors a regular music series and Vox Femina is honored to have been invited to perform in this beautiful space. More info here. 
This is a sponsored Post.

For more information on sponsored posts, please get in touch with the author via the Contact page.