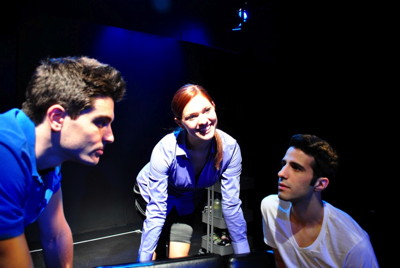 A gripping, disturbing and darkly funny study in psychosis, Steve Yockey's latest play, Wolves, subverts your expectations at every turn. The play opens as the audience is seated. A young guy is strumming his guitar and singing some sweet duets with a pretty gal, seemingly by a campfire – or is it really a woodpile embedded with an axe?
The young woman looks chic – perhaps too stylishly dressed for a campfire sing-along. She starts to make foreboding comments that unnerve the guy. She's playfully messing with his mind. Something's not right…
The woman (played by Katherine Skelton) begins to narrate the play with a snotty, supercilious tone. She describes how our hero Ben (played by Nathan Mohebbi) was always a bit of an outsider in his small home town, but when he came to live in the city found he was even more alone. Ben didn't know how to be alone, isolated in the big creepy city, she observes. "This isn't a pretty story," she warns us.
It's spooky stuff.
We learn about Ben's roommate Jack (Matthew Magnusson), an opportunistic fellow who is still crashing at Ben's place even though their love affair has cooled. Ben and Jack begin to argue after Ben detects Jack creeping out to hang out at pick up bars. Cheerful yet anxious, Ben equates the city with a forest, full of dangers. Jack counters that he's a hunter. Indeed, he's on the prowl.
Ben seems overly fearful – or is he? What will happen when Jack brings a sexy 'wolf' (played by Andrew Crabtree) back to the apartment?
The narrator jumps in from time to time and is seen to be filling Ben's head with whispered fears. It transpires that she is his neurotic inner voice. Eventually a torrent of anxiety pours out of Ben – something is definitely not right…
Wolves manages to be both disquieting and full of black comedy at the same time. Director Michael Matthews deftly negotiates the shifting tones throughout Steve Yockey's eerie one-act, 70-minute drama. Working with scenic designer Kaitlyn Pietras, Matthews has laid out the stage with tape markings on the floor, delineating bedrooms in the same fashion as an architectural blueprint. It's an intriguing staging approach that pays off.
Worth seeing.
Photo Credit: Matthew Brian Denman.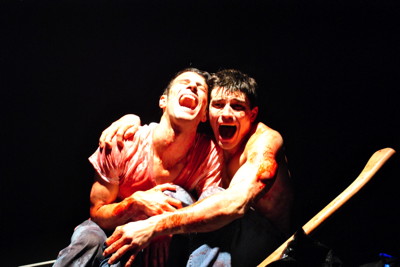 Wolves
Celebration Theatre
7051B Santa Monica Blvd.,
Hollywood CA
Runs through Sunday, May 5, 2013
Performances:
Thursday, Fridays and Saturdays at 8pm
Sundays at 2pm.
Tickets: $30.00.
Box Office:
Please call (323) 957-1884
Visit their official site to purchase tickets online or to view a complete schedule or for further details.