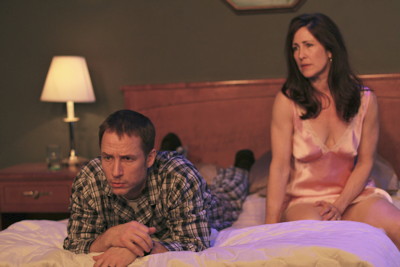 Gentle readers!
My theater review this week for the LA Weekly is of Orange Flower Water, now playing at the Stephanie Feury Studio Theatre in Hollywood.
To read it, click here to go to the LA Weekly's theater page and scroll down a tiny bit.
~ OR ~
You can just read it here!!
Happy reading!
Orange Flower Water
In Craig Wright's 80-minute domestic drama, a pair of mid-western married couples face the dissolution of their respective marriages. David and Cathy Calhoun (Jeff Denton and Leslie Liberman) and Brad and Beth Youngquist (Mick Thyer and Sarah Ann Schultz) have been friends for a few years before David comes to the realization that he and Beth have been married to the wrong people, instigating an adulterous affair.
Stephanie Feury demonstrates a sure directorial hand, opening the play with a tableau vivant depicting all four characters frozen in each corner of the single set—a multi-purpose bedroom—implying a boxing ring battle ground for the acrimonious fight that is to come. Soon thereafter, Feury stages a scene of impatient lust literally behind the back of the cuckolded wife Cathy as she departs for a work trip. Wright's dull dialogue ploddingly charts the histrionics of two crumbling marriages, but is somewhat redeemed by an ineffably beautiful concluding monologue.
Photo credit: Keith Myers.
Orange Flower Water
Stephanie Feury Studio Theatre and Acting Conservatory,
5636 Melrose Ave.,
Hollywood CA
Performances:
Wednesdays, Fridays, Sundays, 8 p.m. Runs through April 20, 2013.
323-463-7378