The Norris Center for the Performing Arts will present the West Coast premiere of Real Men Sing Show Tunes… and play with puppets April 26—May 12, 2013.  The new, song-filled adult musical comedy about men is a madcap and hilarious romp through the all the many stages of manhood.  The show gives an inside glimpse of what it takes to be a man in a modern world shared with women, children, and yes, even puppets.
Featuring a book, music and lyrics by Paul Louis and Nick Santa Maria, the three-man musical pays homage to all things male, and takes on such issues as fatherhood, mid-life crisis, dating, marriage, aging, and sex (or the lack of it) in a hysterically funny way.  The light-hearted show makes clever use of puppetry to fill out the cast of zany characters.  Be advised—the puppets are not always G-rated, so audiences should be prepared for some adult humor.
The musical opens as one of the characters visits a puppet-wielding therapist in search of a cure for his male angst, and he is given a self-help book outlining 12 steps towards reclaiming his manhood.  Each of these points is brought to life in song, and along the way, many humorous stereotypes are exposed in a way that will ring true for every male.
Unlike popular female equivalents like Menopause the Musical, the show features all original music and lyrics.  The 29 songs include such witty tunes as "Guy Talk," "I'm Not Gay," and "Married Man's Lament," as well as more poignant ones such as "Mortality Blues" and "Sweet Mother of Mine."
Real Men Sing Show Tunes had its world premiere in 2012 in Florida, where it garnered rave reviews and won that year's Broadway World award for Best Original/New Work.  The Miami Herald called the show "Hilarious, poignant and ingenious," and the News Leader said, "There is only one word to describe this play – hysterical."
                "Finally, men have a musical comedy that speaks to them, and lampoons life from a guy's point of view," says James Gruessing, artistic director at the Norris Center for the Performing Arts. "Nick Santa Maria and Paul Louis are tremendously talented comedic writers, and this brand new show will have both men, and the women who love them, laughing from beginning to end."
The production is directed by Nick Santa Maria and James Gruessing Jr., with music direction by Daniel Thomas.  The show contains mature language and situations and is not intended for children under 16.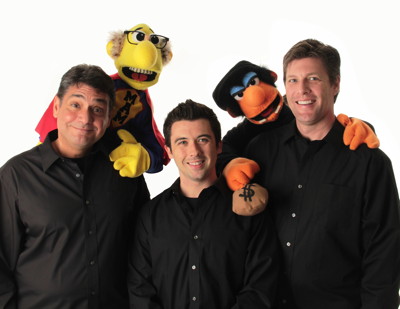 Real Men Sing Show Tunes
27570 Norris Center Drive
Rolling Hills Estates.
Free parking is available adjacent to the theater, and the facility is wheelchair accessible.
Performances:
April 26-28, May 3-5 and May 10-12, 2013
Fridays and Saturdays, at 8 p.m.
Sundays at and 2 p.m. on.
Tickets: $38.00
For more information or to purchase call (310) 544-0403 or go online here.
Discounted group ticket sales are available (310) 544-0403, ext. 222.
This is a sponsored Post.

For more information on sponsored posts, please get in touch with the author via the Contact page.