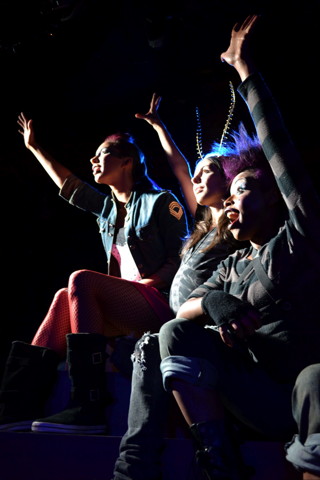 Hello readers! This week my theater review for the LA Weekly is of The Anatomy of the Gazellas, now playing at Atwater Village Theatre in Atwater Village.
Click here to go to the LA Weekly's theater page and scroll down a little bit to read it.
~ OR ~
You can just read it here!!
Happy reading!
The Anatomy of Gazellas
Pregnant and suicidal, fragile teenager Alex (Eliza Saldana) flees an abusive, junkie mother and goes in search of her grandmother, a woman she believes to be a powerful Shaman. Along the way she is assisted by a pair of funky spirit guides who take the shape of feisty, tough-talking grifters, Hopey (Elizabeth Francis) and Maggie (Bianca Lemaire). Alex holes up at a half-way house for young ex-con women, run by an Evangelical leader Dona Lydia (Cristina Frias), whose preaching and strict rules clash with Alex's more prosaic beliefs. A creative loner, Alex sketches gazellas – half female, half gazelle creatures – and wears wire horns to honor her 'tribe.'
Janine Salinas Schoenberg's all-female, one-act drama trains its empathetic focus on the lost young women on the fringes of society, but with one hoof in a fantasy realm and the other planted in a harsh world, the parallel stories never quite jell. The assembled characters – gang girls, street toughs and psychos – captivate our attention despite some exaggerated performances. Saldana is good as our autistic-savant protagonist. Director Jon Lawrence Rivera stages the action well, employing surreal touches such as projected animation and water imagery to good effect while Mylette Nora's costumes perfectly complement the characterizations.
The Anatomy of Gazellas
Fridays, Saturdays, 8 p.m.; Sundays, 3 p.m.
Continues through May 19, $25.
3269 Casitas Ave.,
Atwater Village,
323-644-1929.