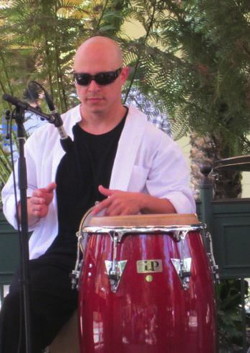 Skin and Bones—the first track on Johnny Sandoval's self-produced solo album @ conga has a confident kick off. The haunting, echoing pound of the conga calls to the bass trombone, which responds with its dirty, braying reply. A handful of notes are exchanged, and then the layered sounds of the conga start its mesmerizing rhythm. In come 12 trombones, punctuating the drumming before launching into a melody that complements the star of the track—Sandoval's impeccable pace on the conga. It's a self-assured, jazzy tune that grips you in its groove. Welcome to @ conga—a dazzling blend of Jazz and Soul with spicy Salsa and Calypso beats. This lively and highly creative CD expertly infuses Classical and Jazz themes with funk and rock riffs, as well as Brazilian and even Middle Eastern flavors.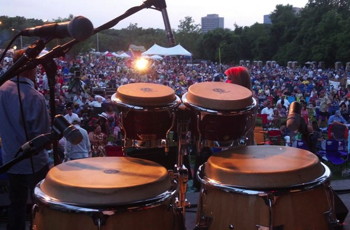 The restrained, jazzy intensity of African Sea (track 3) keeps you on your toes, starting with an initial slow groove—like the oceanic ebb and flow—adding a pretty piano theme (courtesy of Joey Navarro) and trumpets (Lee Thornburg and Chris Tedesco), before ramping up to an intense salsa dance track.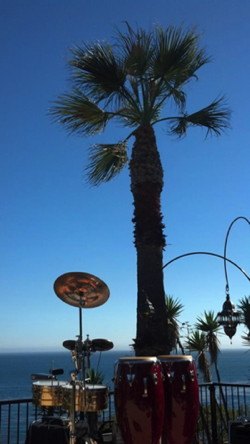 Buleria Americana (track 5) feels like an epic song as it builds from its complex conga baseline rhythms, then adds elegant Flamenco guitar (courtesy of the fleet-fingered Alfredo Calceres) and a sultry duet between Alexandria Kaye and Sandoval, the latter surprising us with his earthy vocals. A love-letter to Sandoval's gifted dancer cousin Alexandria, the tune showcases her smooth vocal flair. The ancient Azerbaijan musical instrument—the Saz—is an appropriate opening for Istanblu (track 8), played by Nyofu Tyson, before the track surrenders to its funk rock essence. In concert, Sandoval exudes cool. An accomplished percussionist and singer/songwriter who has performed all over the world, @ conga is a beautiful album and, above all, a soulful and poised culmination of his influences and wealth of experience.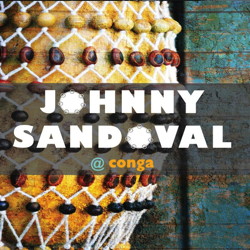 @ conga is available for purchase on Johnny Sandoval's website, for $14.50 (including shipping and handling). Also available for purchase or download on CDBaby.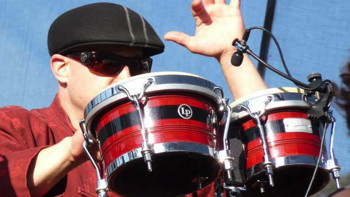 About the artist: A native of Miami, Arizona, Sandoval was introduced to music by his family, who migrated to the USA from Almeria, Spain. Influenced by a cousin who danced Flamenco with Charo and the Jose Greco family, and uncles who maintained a Swing/Mambo/Rumba band, Sandoval began his career at a young age. He started playing bongos and continued to hone his skills as a multi-talented musician, songwriter, and recording artist. His new album entitled @conga has a unique blend of Salsa, Flamenco, Funk, Rock, Middle Eastern, Brazilian, Classical and Jazz and will be available in January 2013! Sandoval cherishes everyone he plays with and his opportunities to travel the world sharing talents with many wonderful artist and audiences. Some key credentials include recordings and performances with Greg Adams, Tom Scott, Arturo Sandoval, Brandon Fields, Ron King, Michael Paulo, Chuchito Valdez, Ry Cooder, Jim Keltner, David Foster, Phil Perry, Wally Minko, Smokey Robinson, Tom Breckline, Bernie Dresel, Joey Heredia, Lenny Castro, Herman Mathews, Justo Amarillo and thankfully many more!
Musicians assembled for @ conga: The musicians on the album are well-known artists with whom Sandoval regularly works, most often in the Los Angeles area. Horn heavy with the sounds of Tower of Power founder and arranger Greg Adams joined by Lee Thornburg and Chris Tedesco on trumpets, George Shelby, Glen Berger, and Ed Wynne on saxes, and co-producer Jim McMillen on trombones. @ conga is expanded by Fury, Funky, and Flamenco, the three different styles of guitar played by Mike Romo, Fino Roverato, Bobby Solakov and Alfredo Caceres. Large portions of bass from Rene Camacho and Keith Jones fill up the bottom end, while Sandoval writes and plays on every instrument he owns. And to take it completely over the top, Sandoval invites one of his favorite drummers Bernie Dresel to join him on the album's last two tunes.