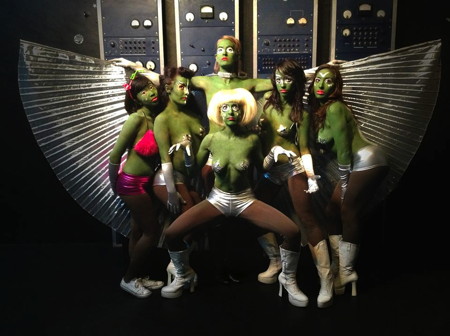 Greetings Earthlings! This week's theater review for the LA Weekly is of the hilarious retro sci-fi romp "Captain Dan Dixon vs. The Moth Sluts from the Fifth Dimension," now playing at Zombie Joe's Underground Theatre in NoHo.
We gave it a 'GO'!
Click here to go to the LA Weekly's theater page and scroll down to read it.
~ OR ~
You can just read it here!!
Happy reading!
"Captain Dan Dixon vs. The Moth Sluts from the Fifth Dimension"
A nicely acted, crisply directed and neatly written piece of 1950s sci-fi comedy, featuring nearly naked, green-painted, go-go-dancing space aliens — what's not to love?! Playwright Matthew Sklar stars as Captain Dan Dixon in his creature-feature retro romp through space. Panels of switches, buttons and analog meters signify the interior of a spacecraft as he and his crew of seven rockets into the fifth dimension, causing a purring, whirring sextet of moth-like minxes to materialize.
Clad in teeny, gold-lamé hot pants, white go-go boots and pasties, the jiggling, shimmying erotic powers of the Vulvulans gradually infect the brains of almost all on board. The only person apparently immune is Dr. Canigulus (incisively portrayed by Jonica Patella), the ship's brainiac — thanks to her massive, mutant cerebellum. It's up to her to decipher the true intentions of these insectile invaders.
Sebastian Muñoz directs his cast of 14 extremely well; all have fun with the rapid-fire '50s lingo, playing the trashy, B-movie sexploitation tone straight without overly camping it up. Jeri Batzdorff and Corey Zicari (also a blond-wigged moth slut) created skimpy costumes for the babes and Star Trek-inspired suits for the crew. R. Benjamin Warren devised the clever props. Gloria Baraquio is great as Urania, the ship's android and captain's concubine, unhappily ousted by statuesque moth leader Empress Syphla (a sexy and sinister Katherine Canipe).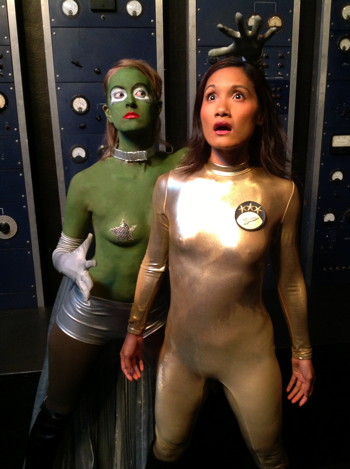 "Captain Dan Dixon vs. The Moth Sluts from the Fifth Dimension"
Fridays, Saturdays, 8:30 p.m.
Continues through Sept. 14.
Zombie Joe's Underground Theatre,
4850 Lankershim Blvd.,
North Hollywood,
818-202-4120.