Filmmaker Jem Cohen's Museum Hours strives to be a meditation on art and life, a reflection on the interchangeability between the painting and sculpture housed in a great museum and the ways of the world outside its gates. Shot in Vienna in and around the famous Kunsthistorisches Art Museum, it features works – by Breughel and others – whose greatness erupts across the screen. The film also serves as something of a travelogue for old Vienna.  Unfortunately, the vivid power of this art, contrasted with the bleak but evocative views of the city, is not enough to transform Cohen's earnest effort to be liberating and profound into an engaging or interesting film.
The movie's pivotal character is a contented museum guard named Johanne (Bobby Sommer), who enjoys  people-watching the museum's visitors while relishing the profound quiet of his surroundings. It wasn't always this way for Johanne; in his youth he was a roadie for rock bands, loving the noise and excitement then as much as he now appreciates the peaceful tedium of his current circumstances.
One day he becomes engaged in conversation with  Anne (Margaret Mary O'Hara), a tourist from Montreal who's come to Vienna to be with her dying cousin, who is in a coma and confined to a hospital bed. Johanne undertakes to show Anne the city, during which time they ramble on about their lives in the way that mature people do, with the shadow of Anne's terminally ill relative overshadowing their chats.
And that's pretty much it, from the story standpoint. Anyone expecting a romantic relationship to develop, as I did, or the characters to deepen or become enriched, will be disappointed. In fairness that isn't Cohen's aim.  In his notes he talks about viewers "making their own connections" and "being unsure of what happens next." In the latter he succeeds; I kept searching for the direction of this movie but couldn't find it. In the end his libertarian approach failed to provoke my curiosity; it put me to sleep.
Sommer, who is not a professional actor, has a wonderfully warm and rugged face, one that makes you want to know more about what lies beneath its exterior. The same can be said for the other visuals in this film: the paintings, the sculpture and the cinematic landscapes. But while the film's ambling unfocused style may suit some viewers, those who prefer a stronger narrative will be bored to tears.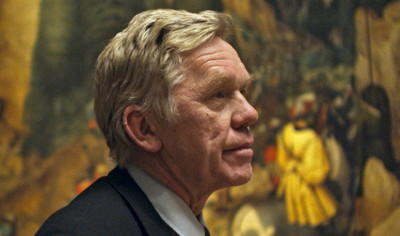 Opening August 16th at Laemmle's Playhouse 7 and Town Center 5.

Review by Deborah Klugman.