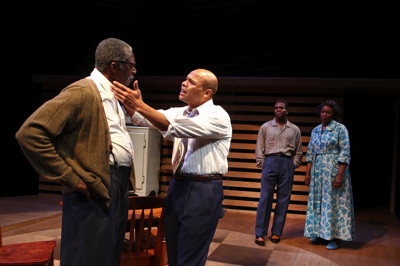 Stagey Performances and Poor Tech Choices Sabotage a Great Play
Death of a Salesman, the classic drama by Arthur Miller, is about American capitalism and the price it extracts from the everyday working Joe. It's about dreams and expectations, and what happens to someone when these go unfulfilled. It's about honesty and the ultimate consequences extracted from those who self-deceive. And, of course, it's about fathers and sons – that primal connection that can blight a life once corroded or destroyed.
None of these poignant themes come anywhere near full expression in this disappointing rendering at South Coast Repertory Theatre, under the direction of Marc Masterson.
The production's singular feature is Masterson's atypical casting of an African-American ensemble, composed of veterans of their craft who have distinguished themselves over the years on local stages and elsewhere. For example, Chris Butler, who portrays Biff, appeared in the 2005 Fountain Theatre's production of Yellowman and delivered one of the most intense and memorable performances I can recall. (Yellowman is a work by Dael Orlandersmith – a writer of at least equal power as Miller – which deals with intra-racial bigotry and in which Mr. Butler also depicted a son at harrowing emotional odds with his demanding father.)
But whereas Yellowman played out as a gripping drama that I have yet to forget, this Death of a Salesman is a stumbling effort bafflingly marked by empty performances and clumsy stagecraft.  Neither Charlie Robinson as Willy Loman nor Butler as his lost elder son have been able to immerse themselves in their roles, to express in any but the most superficial ways the splintering disconnect, both within themselves and with each other, that Miller's characters are experiencing. The same holds true for most of the supporting performances. Within the ensemble, the only performer who never strikes a false note is Toby Windham as Bernard, Biff's earnest studious cousin, who achieves not only material success but also the sense of fulfilled manhood that eludes both Willy and his sons.
One also wonders what Masterson may have been thinking when he approved Michael B. Raiford's visually distracting set, with its backdrop of horizontal brown slats that befuddle the eye and detract from the audience's ability to discern the performers (especially if, like myself, you are sitting towards the back).  Brian J Lillienthal's random lighting design does little to improve visibility. In the last scene, a spotlight is inexplicably focused on Willy's grave, instead of on his widow Linda (Kim Staunton) as she stands there summing up his tragedy and laying out her grief. It's an emotion you want to share, but the lusterless presentation makes it difficult.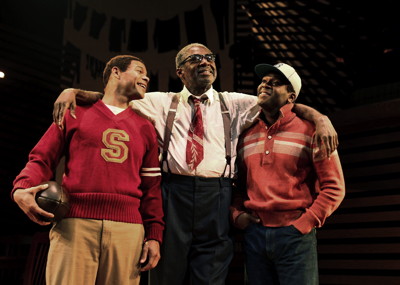 Death of a Salesman
655 Town Center Drive
Costa Mesa
Tues.-Wed. and Sun. 7:30 pm,
Thurs.-Sat. 8:00 p.m.,
Sunday matinee 2:30 p.m.
Runs through September 29, 2013
For tickets, call (714) 708-5555 or go to their official site.
Review by Deborah Klugman.