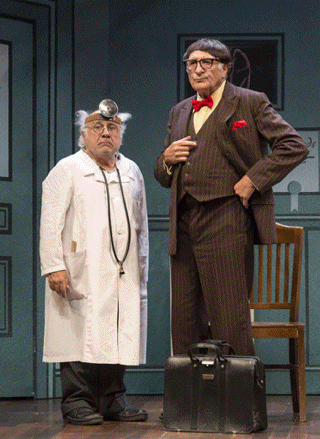 Legendary comedy writer Neil Simon's 1972 play The Sunshine Boys has an excellent premise: two old vaudevillian stars who worked together for over 40 years, but who haven't spoken in over a decade, are reunited for a TV spot. (In fact, it was a good enough premise for Fellini to copy for Ginger e Fred for his comedy/drama in 1986. But that's by the by…)
Simon's play is a tribute to the early days of comedy, when tried and tested routines were played out over and over again on vaudeville stages across the nation. The Marx Brothers famously took their shows on the road, testing the gags and bits and gauging audience reaction before laying them down on celluloid.
Whether or not this play is for you depends on a fondness for Neil Simon-style comedy (with its sit-com-esque standard of set up lines and punch lines) as well as your tolerance for a plot that is driven by the rehashing of simmering resentment and the nursing of grudges between two old men. There's even a bittersweet ending that feels like a glacé cherry on top of a sugary cupcake.
This re-staging, now at the Ahmanson, retains the play's (formerly contemporary) 1972 setting, though the casting of these two leads seems to have toned down the thick, New York "Borcht Belt" accents from previous theatrical versions.
Reprising his recent London performance, Danny DeVito is really great as Willie Clark, a cantankerous old shut-in, his silver hair fluffy and uncombed, his PJs and dressing gown rumpled. When his agent nephew stops by for his weekly Wednesday visit, Ben (Justin Bartha) mentions a TV show is doing a tribute to comedy and wants the famous pair—known as "Lewis and Clark"—to appear. Willie is dead against it. Ben begs him—a refusal would stain his reputation as a talent agent if he couldn't even get his own uncle to sign on the dotted line. Plus, they're offering a wad of dough. Willie relents, provisionally…
Judd Hirsch plays Willie's old partner Al Lewis with just the right degree of dignity and humanity. In the substantially larger role, Willie is the provocateur—the troublemaker—and DeVito plays that element to the hilt. My only misgiving is that the tone of the play seems overly serious. I craved more of a hint of mischief beneath the needling between the characters. Willie keeps getting the names of his nephew's children wrong because he's doing it on purpose just to aggravate him and because it's a funny gag to repeat; the names he throws out are different every time. That same notion of deliberate mischief could have been applied to all the arguments within the play, levitating them above the too-serious plane.
Despite this foible, Thea Sharrock directs the show extremely well and the entire cast gives really solid and great performances. Some highlights include a few scenes of comedy pantomime, such as when the old guys rearrange Willie's apartment furniture to undertake a rehearsal.
Added resonance is in the clever casting: Danny DeVito and Judd Hirsch last performed together the TV sitcom Taxi, about 30 years ago…
The Sunshine Boys is good for some solid laughs.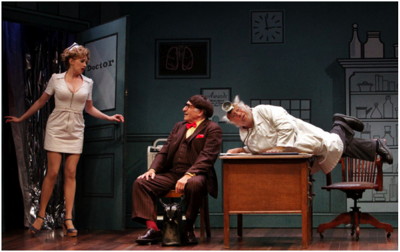 The Sunshine Boys by Neil Simon
135 N. Grand Ave., L.A.
When: 8 p.m. Tuesdays through Fridays, 2 and 8 p.m. Saturdays, 1 and 6:30 p.m. Sundays. (Please call for exceptions.) Ends Nov. 3.
Price: $20-$115 (Ticket prices subject to change.)
Contact: (213) 972-4400
Running time: 2 hours, 10 minutes