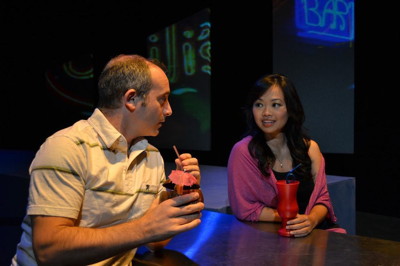 Gentle readers! This week's theater review for the LA Weekly is of a bittersweet comedy Dallas Non-Stop, now playing at Atwater Village Theatre.
We gave it a 'go!'
Young and naive, Girlie (Sandy Yu) has moved from her Philippines village to the city to train at a regional call center for a major American airline. Obsessed with the TV soap Dallas, Girlie fantasizes about moving there to live a dream life. But her single-minded pursuit and ultimate triumph have a price. Christopher Scott Murillo's simple set design of two long platforms flanked by projection screens effectively indicates both an airport runway and the tropical setting (Manila, which we don't learn until 30 minutes into the play). Playwright Boni B. Alvarez maintains a playful tone with flashes of melodrama in this bittersweet but brutally honest story, and the characters are endearing and well delineated.
To read the remainder of this review, go here to the LA Weekly's theater page and scroll down halfway.
Dallas Non-Stop
Playwrights' Arena
Atwater Village Theatre
3269 Casitas Ave.,
Atwater Village
Performances:
Saturdays, 8 p.m.;
Sundays, 3 p.m.;
Mon., Nov. 18, 6 p.m.; Mon., Nov. 25, 8 p.m.; Mon., Dec. 2, 6 p.m.; Mon., Dec. 9, 8 p.m.
Continues through Dec 9, 2013.
Box Office:
323-644-1929