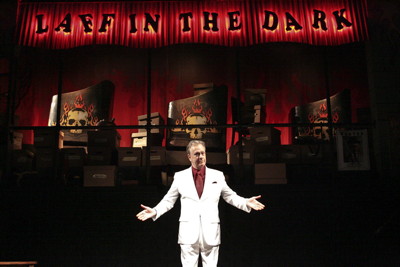 Striking the perfect balance between scares and laughs, Play Dead delivers plenty of delicious thrills, macabre chills and giggles. The one-act show features Todd Robbins as our ghoulish host and runs through December 22 at the Geffen Playhouse.
The raised stage in the Geffen's dimly lit smaller space is crammed with all manner of random junk. We see icons such as a lit jack o' lantern, a large 'Jesus Saves' neon cross, axes, nooses, shotguns, a crystal ball, death masks… There are cardboard boxes marked with names of the deceased and their corresponding birth and death dates, such as Edgar Allen Poe, S. S. Adams, Willis O'Brien and Dorothy Bembridge, an unknown whose sad story is related to us.
To the ghostly tinkling of an unmanned piano, Robbins promises us, the nervously shivering audience, that he is "going to invite death to come out and play." What unfolds is an exploration of the limits of terror and hilarity as his immaculate white suit becomes daubed with blood.
Soon after the beginning of the show, the theater doors are dramatically locked tightly and we settle in. Every now and again we are plunged into absolute pitch darkness and then all manner of disquieting things happen around us in the dark. Shrieks of terror mixed with laughter can be heard. Ethereal shapes can be seen. Wraiths drift behind you, harmless tiny objects are tossed at you… It's all in good fun.
In the vein of "spooky amusement," Robbins performs a series of terrifying stunts including an unholy resurrection, the staging of a séance, the conjuring of spirits, the horrifying murder and disposal of a willing audience member in a vat of acid—even a circus side-show geek act involving a live rat and the visceral and bloody psychic surgery on an unsuspecting audience member to remove a "demon."
Robbins proves an excellent storyteller, relating ghastly tales of hideous acts such as Albert Fish (1870—1936), a real-life serial killer and cannibal from NYC who preyed on dozens of children. Robbins provides grisly details of his gruesome deeds and eventual execution via electric chair.
 Worth seeing!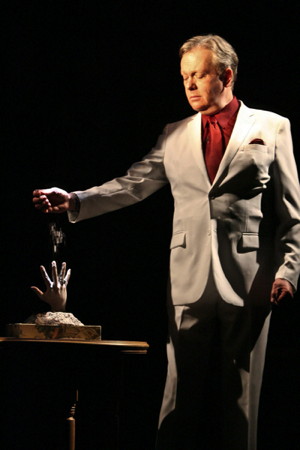 Play Dead
Written by Todd Robbins & Teller
Directed by Teller
Geffen Playhouse
in the Audrey Skirball Kenis Theater
10886 Le Conte Avenue,
Westwood CA 90024
Running time: approximately 100 minutes, no intermission
Performances:
Monday                                    Only Monday, November 25 at 8pm (Thanksgiving week)
Tuesday – Friday                     8:00pm*
Saturday                                   3:00pm; 8:00pm
Sunday                                     2:00pm; 7:00pm
*No performance on Thanksgiving Day, Thursday, November 28
Runs through Sunday December 22, 2013
Ticket Info:
Ticket prices range from $57 to $87 and are available in-person at the Geffen Playhouse box office, online here or by phone at 310-208-5454.