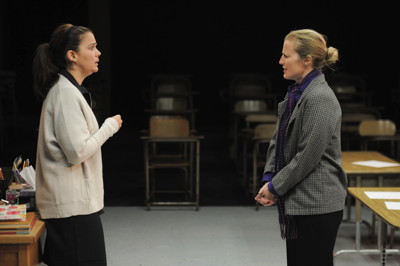 Gentle readers! This week's theater review for the LA Weekly is of Gidion's Knot, presented by Furious Theatre Company and now playing at the Pasadena Playhouse, upstairs.
We gave it 'Pick of the Week.'
Gidion's Knot
Aaron Francis' bold scenic design has the audience seated in school desks for Gidion's Knot, getting you into the right frame of mind for Johnna Adams intense one-act showdown between a 5th grade teacher and a parent.
Corryn (Vonessa Martin) shows up for a teacher-parent conference, having been summoned a few days earlier by Miss Clark (Paula Cale Lisbe) after she inexplicably suspended Corryn's son Gidion. The 11-year-old child has since committed suicide, so Miss Clark assumed the meeting wasn't going to happen, and is ill prepared when Corryn shows up anyway, wanting answers. The bereft mother becomes increasingly incensed by the teacher's evasive behavior. Throughout the play, certain details are clawed into the open…
To read the remainder of this review, go here to the LA Weekly's theater page.
Gidion's Knot
Furious Theatre Company at the Pasadena Playhouse
39 S. El Molino Ave.,
Pasadena
Fridays, Saturdays, 8 p.m.;
Sundays, 2:30 & 7:30 p.m.
Continues through November 24, 2013.
626-356-PLAY