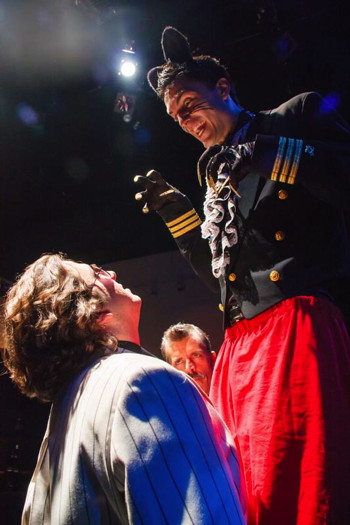 City Garage is known for staging edgy and provocative avant garde theater and their latest production, Moskva, is no exception. Written by Steven Leigh Morris, Moskva is a bizarre and satirical fantasy based on the (posthumously published) pre-WWII Russian novel The Master and Margarita by Mikhail Bulgakov.
Weaving black magic with black humor, this is a zany—and somewhat incomprehensible—Faustian tale of a despondent writer lamenting a stolen manuscript. Juggling the wildly vacillating moods of fantasy, action/adventure and love story, Morris has updated Bulgakov's sharp jabs at Stalin's regime to attack today's oppressive oligarchy under Putin.
The story begins when Satan (under the guise of a magician named Professor Woland) and his havoc-wreaking entourage descend upon present-day Moscow, encountering all manner of motley types such as mafia bosses, drug-dealers, hit-men, rock stars, reality TV "celebrities"—even Pontius Pilate and Christ.
The 13-strong ensemble delivers bold and brave performances, with some truly menacing characters amidst the mayhem. A highlight is a carnivalesque naked parade of infamous despots and underworld criminals…
With a decapitation, a vodka-swigging giant cat, and a nude witch running around clutching her broomstick, Moskva may not be your cup of tea, but it's certainly a unique experience!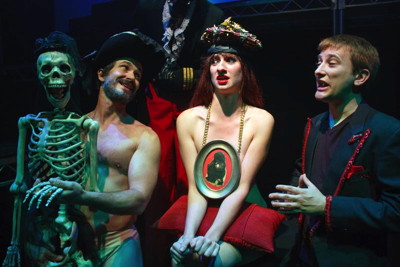 Moskva by Steven Leigh Morris
City Garage, building T1
Bergamot Station
2525 Michigan Ave.
Santa Monica, Ca. 90404
Runs through Sunday December 15, 2013
Performances:
Fridays, Saturdays 8:00pm; Sundays 4:00pm
Tickets:
$25.00, Students/Seniors w/ID $20.00
Sundays: "Pay-What-You-Can" at the door only
Box Office/Information:            (310) 453-9939