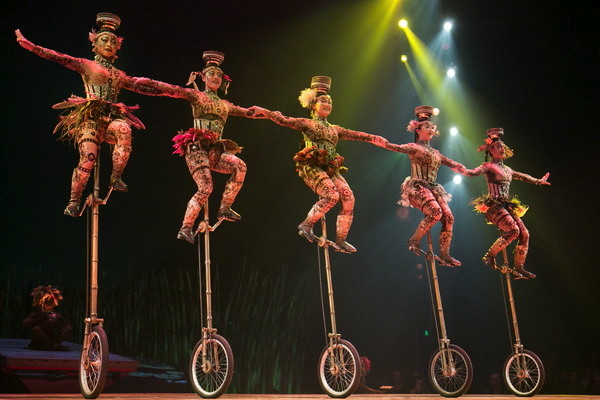 Stunning spectacle, breathtaking artistry, effortless grace and elegance—Cirque du Soleil's has done it again. Their dazzling, gasp-inducing production Totem provides all the acrobatic mastery and dramatic wizardry that audiences have come to expect.
The troupe is an assemblage of some world-class performers who perform mind-boggling feats of strength and agility with balancing and death defying trapeze stunts as well as some clown antics for light comic relief.
Written and directed by Robert Lepage, the visually breathtaking production employs gorgeous staging, kaleidoscopic costumes and dreamy video effects to present a fascinating journey that traces the evolution of mankind. We see all sorts of creatures such as lizards that evolve into amphibians and later to chimps, eventually realizing the ultimate desire to fly. There is also a Native American theme in the shape of musicians as well as a pair of rollerskaters, Massimiliano Medini and Denise Garcia-Sorta, who perform amazing feats while whizzing around on a small round drum platform.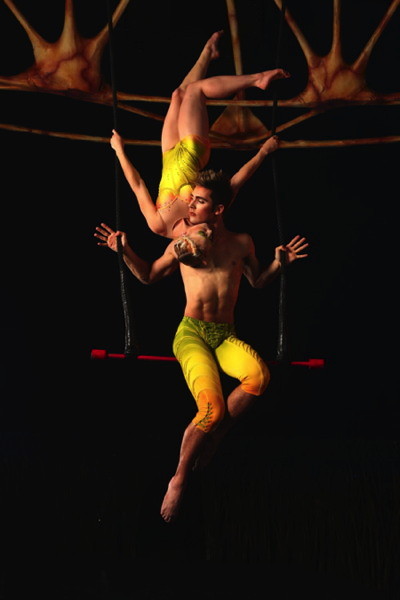 The pervasive theme of romance sweetens the 'evolution' storyline. Guilhelm Cauchois and Sarah Tessier are yellow-clad lovebirds suspended from the trapeze demonstrate a playful and cute game while defying gravity.
One of my favorite acts involved a quintet of women (Bai Xiangjie, Su Rina, Wang Xue, Yang Jie and Zhang Jie) all smiling and balancing on unicycles throughout their performance, tossing and kicking little metal bowls high into the air and having them land on each other's heads with astounding accuracy and precision.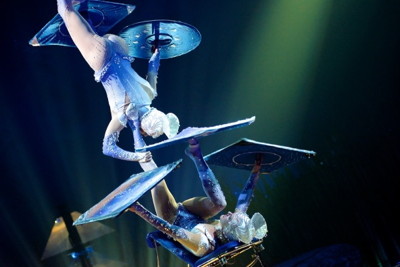 Twins from Ukraine—Marina and Svetlana Tsodikova—manage to balance and twirl large fabric pieces on their outstretched feet and hands.
A gravity-defying team of ten acrobats bounces on flexible planks to execute leaps, somersaults and high tumbles while catapulting through the air.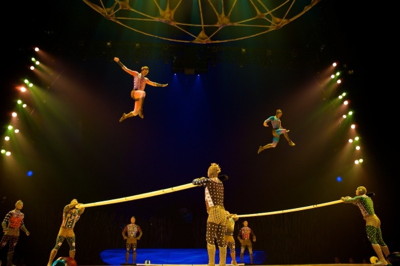 Totem is a spectacular show that should not be missed!
Totem is currently performing through Sunday, November 10 under the blue-and-yellow big top at the Port of Los Angeles-San Pedro,
Berth 46
Miner Street
Los Angeles, California 90731
From November 21, they will reopen at their Orange County Great Park Festival site.
Following Orange County, the production travels to Santa Monica pier beginning January 17.
Tickets for all Totem performances are available online here.
About Cirque du Soleil:

From a group of 20 street performers at its beginnings in 1984, Cirque du Soleil is now a major Quebec-based organization providing high-quality artistic entertainment. The company has 5,000 employees, including more than 1,500 performing artists from close to 50 different countries. Cirque du Soleil has brought wonder and delight to more than 100 million spectators in nearly 300 cities on six continents.

For more information, visit their official site.
Sponsors
Cirque du Soleil gratefully acknowledges the official sponsors of the TOTEM Southern California tour: Infiniti, CGI, XEROX, and its presenting sponsor Visa Signature in partnership with Wells Fargo.