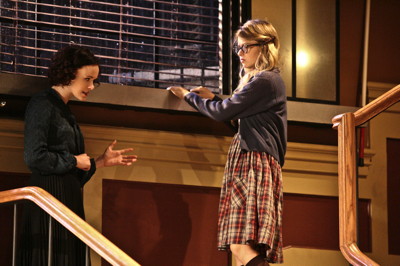 A hoary old thriller, Wait Until Dark still holds some scares for 21st century theatre audiences and can be seen at the Geffen Playhouse until Sunday, November 17.
The stage play by Frederick Knott—first performed in 1966—was famously filmed the following year and starred Audrey Hepburn. For this handsomely staged production, Matt Shakman directs Jeffrey Hatcher's world premiere adaptation.
Alison Pill plays Susan, a recently blinded woman living in a large, two-level, subterranean Greenwich Village apartment. (Scenic design is by Craig Siebels.) Susan is unwittingly in possession of a doll filled with contraband which her husband Sam innocently transported from Canada as a favor to a woman, who we learn has since been murdered.
Three sinister con men have tracked the missing doll to Susan's place and so she becomes their target. The leader of the trio, a murderous criminal named Roat (played with sadistic relish by Adam Stein), concocts an elaborate scheme to trick her into handing it over to him. While the plot is rather predictable (lots of heavy signaling and convoluted intrigue), Wait Until Dark is still an exciting psychological thriller with a twist—the audience knows exactly what's going on but the suspense lies in watching our vulnerable heroine try to figure it out.
Alison Pill does an excellent job as the fragile yet plucky Susan, engaging our sympathies throughout. As Susan slowly comes to realize the peril she's in, it's both nerve racking and fun to see how she tries to outsmart her ruthless tormentors.
Hatcher's adaptation curiously alters the story's time frame from the sixties to the late forties, presumably to include some post-WWII connection and to permit the play to feel less dated by being set in a more distant era. Of course, the reliance on a phone booth for important plot development means that this story could never be told in the present day of cell phones. The contraband item hidden in the doll was also changed from heroin (again, more appropriate for the sixties) to a precious item more relevant to the earlier setting. Hatcher's adaptation also borrows heavily from the detailed screenplay by Robert Carrington and Jane-Howard Carrington.
There's plenty of intense acting from the entire cast, including Mather Zickel, Rod McLachlan, Matt McTighe, while Brighid Fleming is good as the young girl from upstairs.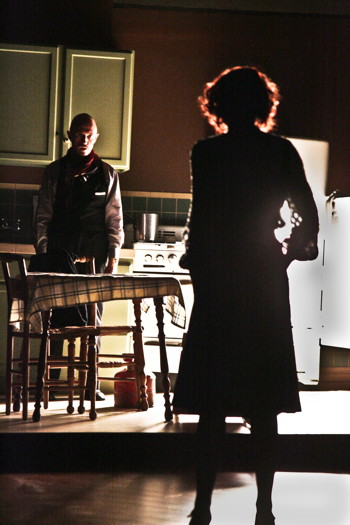 Wait Until Dark
10886 Le Conte Ave.,
Westwood
Performances:
Tuesdays-Saturdays, 8 p.m.;
Saturdays, 3 p.m.;
Sundays, 2 & 7 p.m.
Box office:  310-208-5454
Runs through Nov. 17, 2013.