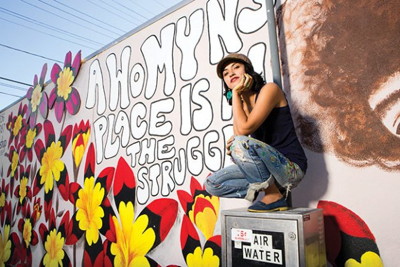 A recently overturned LA ban on hand-painted murals is preserving a beautification effort aimed at one of the most blighted areas of the Valley. It's also opening doors for a new wave of young artists focused on improving neighborhoods and boosting careers.
Article written by Pauline Adamek, photographed by Monica Orozco
"Your murals are the best part of my daily drive to work, nothing but pure inspiration to conquer the day at hand. Thank you!" That's an effusive comment from a fan on the Facebook page of artist and muralist Levi Ponce. A notation on a Facebook photo of one of Kristy Sandoval's self-created murals sunnily proclaims, "With a paintbrush in my hand and an idealist's mind, I will create a more colorful world!"
For the past couple of years, a dedicated crew of young art enthusiasts has quietly been changing the face of their beloved northeast Valley neighborhood. Formerly infamous for its gang activity during the seventies, today Pacoima—just east of the 5 and south of the 118 and 210 intersection—is a tight-knit community. Some citizen-led concerted activism quelled crime and gang activity during the 90s through co-operation with police and the banning the sale of individual cold containers of beer to discourage public consumption of alcohol. In joining forces, the business owners and their neighbors helped to clean up their 'hood. Now this recent push against the blight of graffiti and efforts to beautify their neighborhood has paid off, with dozens of appealing murals popping up on walls across the city. Dubbed the Valley's 'Mural Mile' by KCET, today close to thirty hand-painted murals grace the walls along a mile and a half of Van Nuys Boulevard, between Arleta and Norris Avenues.
To read the rest of this report, please go here.