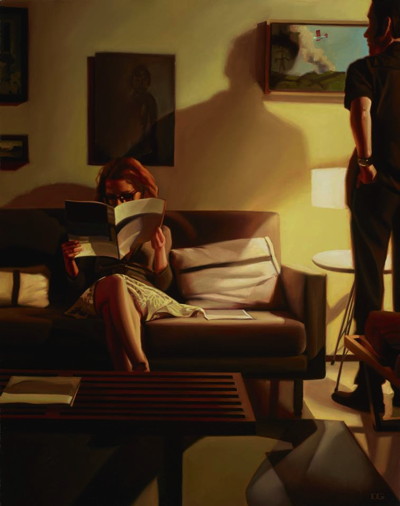 Pauline Adamek from ArtsBeatLA.com recently went out to the Californian desert to interview fine artist Carrie Graber – creator of exquisite oil paintings and handsome furniture.
About the Artist:
An American Romantic Impressionist painter, Carrie Graber is considered to be among the most talented and exciting artists in the market today.
A child of Southern California, Carrie draws on the soft light and warm hues of her landscape to create gorgeous oil paintings of architecturally important mid-century modern homes and also elegant women in stylish surroundings, often caught in a private moment.
She creates a feeling of intimacy, permitting us a glimpse into her subject's inner dialogue. Her style is reminiscent of one of her main influences, Dutch master painter Vermeer. She also designs and builds some truly lovely furniture.
Carrie Graber has always been fascinated with the human figure. At the early age of 3-4, it was evident that she was destined to draw and paint. Her artistic family encouraged her studies at the esteemed Art Center in California, where she received a full scholarship and graduated with distinguished honors. Carrie released her initial body of work in 1998, at only 23 years of age. She continues to accumulate an impressive amount of accolades and awards with each new collection. Scholars and experts from several different institutions have predicted that as our aesthetics evolve, art will become less reliant on overt color, and come to depend more on the subtle interplay of light and shadow. Carrie's work is perfectly suited for the new millennium.

Occasionally positing herself as the shadowy subject of her paintings, thanks to her use of timed photography.
More info about Carrie can be found on her website.
Giclees of a selection of her paintings are available here.
Go here to view my interview with Carrie.
<iframe width="560″ height="315″ src="https://www.youtube.com/embed/_TmL5GqKaPY" title="YouTube video player" frameborder="0″ allow="accelerometer; autoplay; clipboard-write; encrypted-media; gyroscope; picture-in-picture" allowfullscreen></iframe>
Video info:
Video produced and hosted by Pauline Adamek.
Edited and styled by Ash Revell.
Filming by Ash Revell.
Musical theme composed by Ash Revell.