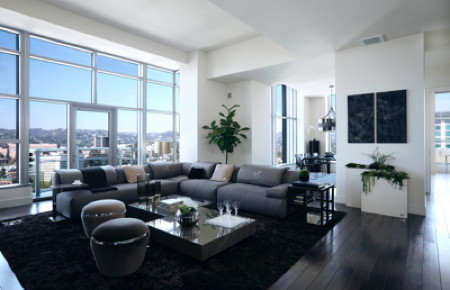 Do you know that feeling, when you walk into a home that's beautifully appointed—so exquisitely decorated—that you could just move in tomorrow? That's exactly how I felt when I entered FENDI Casa's residence at The Carlyle. The new residence is furnished almost exclusively from FENDI's Contemporary Collection designed by Toan Nguyen – which introduced distinguishing belts and buckles, leathers and fabrics of primordial origin and tone, and the rich elemental colors of cuoio (reddish brown), lava and earth—all of which befit the understated and subtle luxury of modern interiors.
The Carlyle, along with Luxury Living—the exclusive retailer of FENDI Casa—has created a striking new model residence high above the Wilshire Corridor. The 2,837-square-foot two-bedroom, two-and-a-half bathroom luxury residence, priced at $3.275 million (not including furniture), is located on the 21st floor of The Carlyle Residences, affording breathtaking east, south and north-facing views.
But of course, you'd want your cool pad to be decorated with the FENDI Casa furniture, currently on display…  Prices available on request.
The spacious apartment's interiors are an original display of one of the newest aesthetic sensibilities from FENDI Casa. The artful composition of inherently modern furniture and prestigious objects expresses beguiling, subtle luxury. The full collection of Luxury Living furnishings in Residence 2101 adds to the sophisticated dynamic that is present throughout the building, as FENDI Casa's distinctive furnishings create an elegant ambiance for residents and their guests in The Carlyle's lobby, lounge, salon and private dining room.
"Elad Group is thrilled to be continuing our relationship with FENDI Casa at The Carlyle with the debut of this incredible apartment," said Samantha Sax, Director of Sales and Marketing for Elad Group, the building's developer. "FENDI Casa's sophisticated interior design reflects the extraordinary luxury high-rise living on the Westside, and also highlights the opportunity to live in a turn-key apartment, a concept that appeals to many of our buyers."
In addition to the elegantly appointed FENDI Casa furnishings, the model residence features a hand-picked art collection from local art dealers, Art Angels.
"FENDI Casa's furnishings are the perfect complement to the aesthetic at The Carlyle Residences," said Raffaela Vignatelli, president of Luxury Living USA. "We are very proud to provide the backdrop for this unique apartment, which provides an eclectic and contemporary context that further enhances the excellence and magnificent workmanship of FENDI Casa furniture."
The FENDI Casa collection on display pairs modern style and comfort with innovation of form. Understated elegance is expressed in sinuous lines of natural wood, sofas of commanding volume, and in the pleasant tactility of the materials.
Highlights include: an Agadir sectional sofa with Villa Borghese embroidery; a Serengeti dining table in seamless ebony macasar paired with Blixen chairs with gunmetal grey frame and buckles unique to the Contemporary Collection; and a Mirandus Ambra mirror framed in layered hide inspired by FENDI Fashion's layered hide heel and integrated 40" LED TV.
"It's great to see The Carlyle Residences and FENDI Casa partner for the design of Residence 2101," said Mauricio Umansky, CEO and Co-Founder of The Agency, the exclusive sales and marketing team at The Carlyle Residences. "Residence 2101 is one of only a few remaining high-floor apartments, has a fabulous layout, has 12-foot ceilings and touts panoramic northeast views of the city and the Santa Monica Mountains. FENDI Casa has expertly furnished and curated this apartment and we are confident that their style and décor will resonate well with our discerning buyers."
For a full list of furnishings available at The Carlyle's newest model, please see the list below.
For additional information on The Carlyle, where homes start at $2.475 million, visit their official site or call the sales center at (310) 209-0000.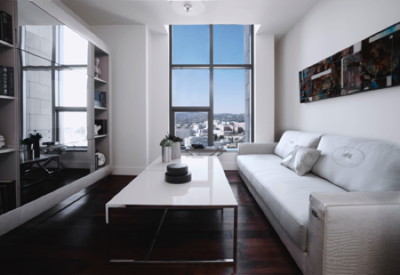 THE FENDI CASA RESIDENCE AT THE CARLYLE
FOYER
•       Canova chest of drawers in dark chocolate lacquer with signature Spy Bag leather handles
•       Chocolate brown Diamond table lamp with mirrored effect option on base
•       Alupel Mirror with chocolate brown croco embossed leather frame
LIVING ROOM
•       Voluminous Agadir sectional sofa with custom left arm configuration and Villa Borghese embroidery; back cushions in leather are movable
•       2 asymmetrically placed Quadrum marble coffee tables in gris pulpis finish
•       2 Hemingway side tables in walnut
•       4 Hemmingway totems in walnut with 360 degree swivel
•       Mirandus Ambra mirror with integrated 40" LED TV and layered hide frame 
inspired by FENDI Fashion's layered hide heel
•       Astra floor lamp in gold leaf
•       2 Polaris table lamps
•       2 Pandora poufs in Castagna velvet and Pergameo velvet
•       India Rug in chocolate brown silk viscose shag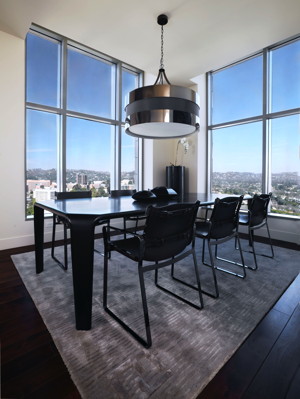 DINING ROOM
•       Seating for 6
•       Serengeti dining table in ebony macassar with matt finish
•       Blixen chairs in Lava leather with coordinating hide belts and gunmetal frame and 
buckles unique to the Contemporary Collection
•       Ring 3 chandelier in aluminum with Swarovski crystal option in center
•       Tigri wool & bamboo rug in a soft beige 
KITCHEN
•       Highball bar table in embossed black croco leather
•       2 Bibendum bar stools in ivory leather
MASTER BEDROOM
•       Zaffiro king-size bed in ice gray with Villa Borghese option and Ascott stitching detail
•       Dedalo bedside table in ebony macassar with high gloss lacquer finish and drawer 
handle in horn
•       Dedalo lady desk in ebony macassar with high gloss lacquer finish
•       Via Lattea 12 arm Murano glass chandelier in Porcellana
•       Murano glass Venere table lamp in Porcellana
•       Venus chest of drawers in ebony macassar with high gloss lacquer and horn handles
•       Baguette rug in chocolate brown
STUDY
•       Felix sofa in ice gray, embossed croco high-gloss leather with back cushions in interwoven silver and ice gray cotton and viscose.
•       Mirandus bookshelf in ice grey, embossed croco high-gloss leather with 40" LED TV integrated
•       2 Chic Coffee Tables in ice gray high gloss lacquer with hidden pocket drawer 
BEDROOM
•       Diamante queen-size bed in Stardust leather with high headboard option; note the large tufted geometric pattern of the headboard and the iridescent finish
•       Flanking bedside tables in deep purple embossed galuchat leather
•       Domus chest of drawers in taupe high gloss lacquer with croco embossed leather 
drawers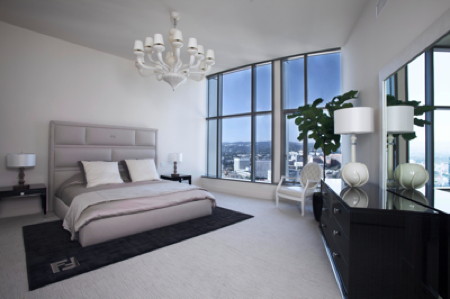 About FENDI CASA:
The FENDI Casa home collection was created in 1989 with an aim of outfitting rooms in a similar fashion to how FENDI furs, clothes and accessories have dressed generations of women. FENDI Casa is dedicated to delivering a fashionable approach to residential interiors by offering pieces for the entire home in a range of styles from contemporary to modern to classic. Each piece is the result of thorough research, meticulous care and fine workmanship. Furnishings are characterized by signature FENDI details, such as the iconic double 'F' logo, Villa Borghese embroidery, the unique Spy Bag drawer handles and saddle stitches. Italian made, FENDI Casa prizes craftsmanship and attention to detail as an integral part of the unabashed extravagance that is FENDI.
About The Carlyle Residences:
The epitome of modern and luxurious living, The Carlyle is located at 10776 Wilshire Boulevard, nestled between the upscale locales of Westwood and Beverly Hills' finest restaurants and world-class boutiques. Offering some of the largest high-rise residences in Los Angeles, The Carlyle is comprised of two and three-bedroom residences with up to four-and-a-half bathrooms starting at 2,772 and 3,535 square feet, respectively, with approximately 11'-high ceilings and penthouses up to 5,716 square feet. The building was developed by Elad Group, one of the nation's leading real estate companies responsible for the acquisition, development and conversion of architecturally significant residential and commercial properties in key markets throughout North America. All residences feature high-end Poggenpohl and Miele appointments with a centered kitchen island, polished Breccia Oniciata marble in the baths, floor–to-ceiling windows, a balcony, 42- inch living room fireplace with beautiful limestone hearth and private elevator bank that opens directly into each residence's personal foyer. Amenities include 24-hour white glove concierge service and valet, in addition to a year-round pool, fully-equipped fitness center designed by Sports Club/LA, 40-bottle, temperature-controlled wine cellar storage with private lockers, and gorgeous gardens featuring lush landscaping and private seating areas. The building, which brought in $80 million in year-end sales in 2013 alone, is currently over 60% sold.
About The Agency:
The Agency redefined real estate when it created a culture based on the concepts of collaboration, cooperation and partnership. With over 15 years of experience and $2 billion in transactions, CEO Mauricio Umansky led The Agency to over $700 million in sales in its first full year of business. By creating a multi-disciplinary, holistic approach to the representation of new development. The Agency is further "redefining real estate." The Agency has assembled a team of experienced professionals who have been responsible for more than $20 Billion in prime property and multi-family new development. The Agency is the only West Coast-based organization to combine the on-the-ground knowledge and experience of a real estate brokerage with the expertise and vision of a dedicated new development marketing, design, research and strategic planning team.
With a long-standing reputation for selling some of the country's most prominent properties, as well as those of particular architectural and design significance or celebrity provenance, The Agency is uniquely qualified to provide bespoke insight and strategy for high profile clients and buildings. For more information visit their official site.